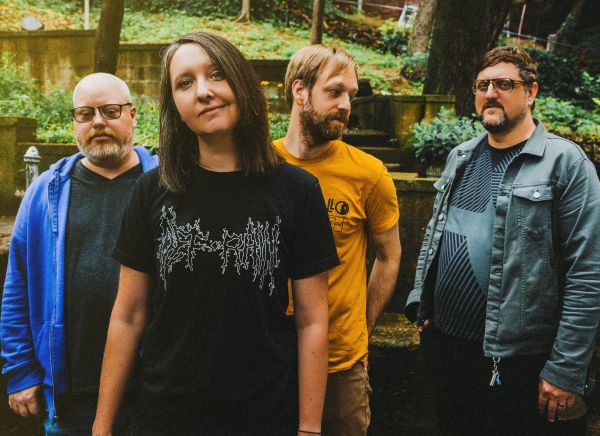 1 July 2021
Abbreviations (L-R): Chad Walls, Ashley Leer, Tony Wann, Matt Leer. Photo Credit: Leyton Cheek
Abbreviations are an alternative rock/pop band from Dallas, Texas who are a kind of supergroup as well, featuring members who have played in many of the city's most active bands over the years.
As Abbreviations, Ashley Leer (guitar, vocals), Matt Leer (guitar), Chad Walls (bass), and Tony Wann (drums) have unveiled their debut single "Turn On You" a couple of weeks ago via Red Zeppelin (the female-owned and operated McKinney, Texas-based label that's a recent outgrowth of the beloved local record store).
The track was produced by Grammy®-winning producer Stuart Sikes (Loretta Lynn, The White Stripes, Modest Mouse, Phosphorescent, Cat Power).
Big Takeover is pleased to host the premiere of the music video that accompanies "Turn On You."
The number radiates an understated power with the strength of Walls' concise bass playing, the interplay of the Leer's melancholy guitar lines, the subtle crack of Wann's snare, and Ashley Leer's hypnotic vocals all coming together to leave you wanting more.
The song is deeper than most dreampop songs will go, typically awash in too much gauzy sonics to be this lucid. Chiming guitars slide and gently shimmer amid the subtle drum pace and unobtrusive bass line. Ashley's lyrics reveal a candor about personal relationships gone awry.
Ashley explains, ""Turn On You" is about that moment where you realize you have feelings for someone other than the one you're with and the internal conflict that creates. Are these feelings real or am I just bored? The song feels like a love song. And it is. But it's also about that guilt you have for having those feelings."
"The title is just a lyric from the song. The song isn't about intentionally trying to turn on someone, but rather, turning on someone is actually the effect of turning away from someone. The song shifts towards the end when the 'ahs' come in and it's like a sort of 'aha!' moment. That moment when your heart has already made up its mind and is just waiting for the brain to catch up."
The performance music video reflects these conflicted feelings that can envelope the mind, with footage that displays each member playing the song individually, separated by time and distance, yet each of them performing within the same little house-studio… A case of missed connections that feeds into the meaning of the song.
Ashley relates another way the video can be taken, explaining, "The video expresses the simplicity of the song's idea and the sincerity of the vocals. It channels the laid-back feel of the song while conveying our desire to play music together again after a year on forced break."
Facebook
Instagram
Spotify
Apple Music