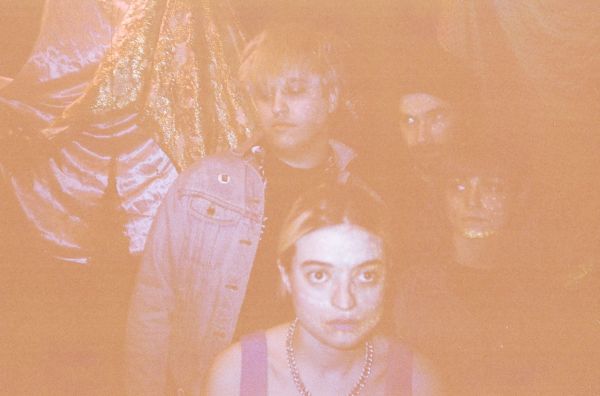 22 April 2021
Sculpture Club – Photo Credit: Makenna Williams
Atmospheric indie rock/post-punk band Sculpture Club will be releasing their second album, Worth, on May 14th via Funeral Party Records.
Sculpture Club made a name for themselves as party-punks, throwing the kinds of glitter-coated shows that their hometown of Salt Lake City had never seen before, and would not soon forget. While cannon-blasting confetti onto crowds at the climax of a set, Sculpture Club was also crafting a genre-blending kind of rock 'n' roll that both distinguished them stylistically from other bands in the scene and paved the way for the project to confidently grow and evolve.
Core members Chaz Costello (Choir Boy, Fossil Arms) and Madison Donnelly (Big Baby, Foster Body) generously applied sparkly, driving guitar parts and irresistibly thundering drum beats to the foundation of their sound, building on it with the addition of bassist Chris Copelin for their 2016 album A Place to Stand.
In the time since that release, Sculpture Club has expanded into a four-piece, losing Copelin, but gaining Bret Meisenbach (Baby Ghosts) and Halee Jean (Hoofless), two prolific Salt Lake musicians cut from the same cloth as Costello and Donelly.
With Jean's cello and the multi-instrumentalist Meisenbach, a new vision for Sculpture Club has been realized—one where the band finds more complexity by diving into a gauzy delicacy.
On Worth, open-hearted melodies lend a tender hue to the songs, making Sculpture Club's sound softer around the edges. Even so, their colorful, partying roots are not far behind them, but still present in deftly driving guitar flow. Meanwhile, the darkly wandering experimentalism they've honed along the way is transformed on Worth into a vehicle for Sculpture Club to relax into shimmery melancholy.
Big Takeover is pleased to host the engaging performance music video for the delightfully bittersweet and emotionally ranging "Twirl For Me," a broodingly atmospheric Goth-tinged track from Worth.
The video clip focuses on a friend of the band's named Dyana, an expressive creative who displays a spectrum of moods and attitudes in the footage. As the pastel candy color scheme moves from pale pink, rose, and baby blue to bright scarlet and darker environs, Dyana acts her heart out, flitting through joy, confusion, surprise, boredom, regret, and anger like a butterfly haphazardly roaming over the flowerbed in search of the sweetest blooms.
Madison Donnelly puts the performance in context, addressing the meaning behind the music video: "I wanted the video to feel light, lonely, and dream-like, reflecting my most unhinged moments in 2020. Dyana, the main performer, and I both struggle with ADHD and its perceived obstacles, but this year I've tried to reframe my 'disorder' around its benefits, like creativity, boundless energy, intense focus, and qualities that define some of my favorite parts of Dyana and myself."
"Without it, Dyana wouldn't be the quick-witted, hilarious, musical genius that I love, and I'm trying to be that kind to my brain too. I wanted to show multiple facets of a compelling person who I see so much of myself in, therefore most of my direction was along the lines of, "Dyana! Be you but bigger!""
"This video was the creative catharsis of our quarantine pod after a long and dark winter. We used practical lens filters like pantyhose and great uncle Carl's kaleidoscope lenses from the '70s. This summer I am leaving Sculpture Club and SLC to attend graduate school on the East Coast, so this video was also a parting gift to my beloved bandmates."
– Madison Donnelly
Pre-order Worth at Funeral Party Website
Facebook
Instagram
Twitter
Bandcamp