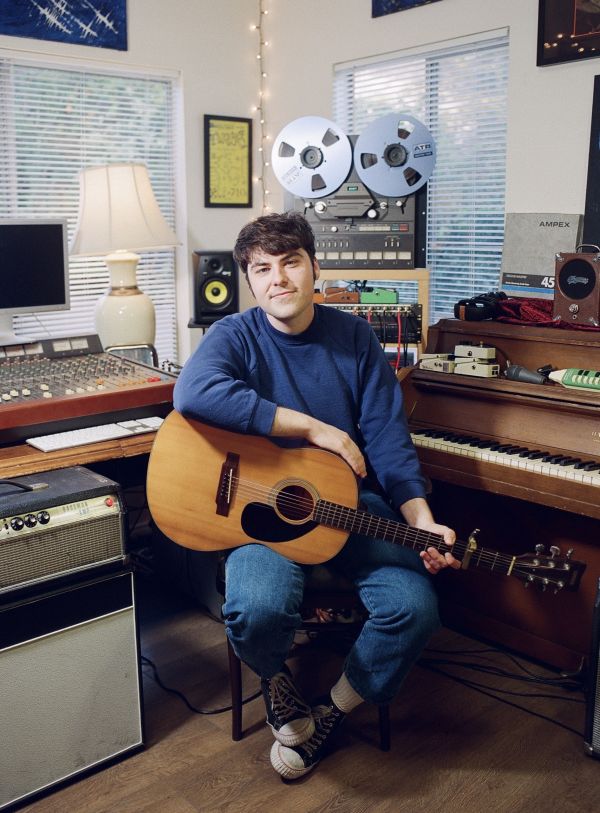 30 September 2021
Gabriel Bernini – Photo Credit: Taylor Thompson
"We're rolling and we're making it sweet and it's beautiful," are the opening words to "Honeybee" from Gabriel Bernini's fourth record You Got Me. Ordinarily throwaway studio chatter, those words might as well be the thesis for the record.
While Sweeties, Bernini's first record for Dadstache Records, started out as an attempt to make a harder rock record than his previous records, You Got Me is a more gentle affair. Drawing from the folk-indebted rock of Wilco, Neil Young, and JJ Cale – the sounds on the album lean mellow and contemplative, like the afternoon sun drifting through an open window.
"I wrote You Got Me in my first apartment in LA. It was the first time in a while that I had nowhere to record new songs as I developed them," Bernini recalls. "In Western MA I had a studio set up in my basement where I could record constantly. This record was written fully on acoustic guitar and then brought to the band for a 3 day recording session."
Whereas Sweeties was precise, rootsy power pop – a product of Bernini playing every instrument on the record, the songs on You Got Me stretch out, his backing band keeping it loose and laid-back. Themes of love, support and a sense of home play out throughout the record, uplifted by a band made up of Bernini's close friends and family.
Big Takeover is pleased to host the premiere of the music video for "Under All Summer," a copacetic folk-pop track that's threaded with a wistful line of longing.
""Under All Summer," Bernini notes, "is about missing people and the effect it has on your life. Attempting to feel triumphant in the face of difficult times."
Mellow moments recall The Velvet Underground's "Sweet Jane" before heading off in a direction more akin to something from JJ Cale's Naturally. Like that record, the Bernini's songs drift in and out, leaving their mark but never overstaying their welcome.
The video itself is part lyrics music video and partly an ode to the end of summer, with Bernini and a young woman shown rambling through the city and natural environments. The images are shot in lo-fi, vintage-videocam-style and hark back to happy and playful days – carefree moments in time that are captured as favorite memories in the music video.