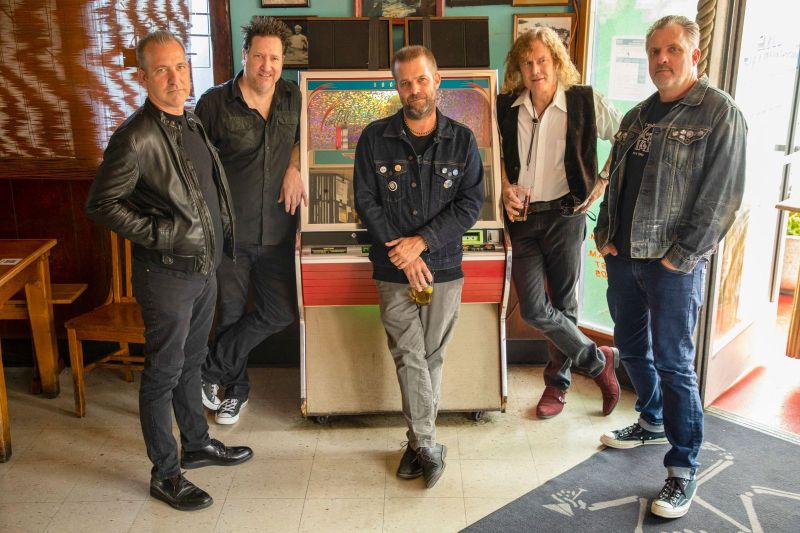 24 March 2021
The Streetwalkin' Cheetahs – Photo Credit: Sarah Remetch
Renowned veteran Los Angeles-located punk rock-spirited garage rock/power pop outfit The Streetwalkin' Cheetahs unleashed their first album in nearly 20 years, One More Drink, this past Friday (March 19th) via Dead Beat Records.
The venerable band is led by original Cheetahs Frank Meyer on lead vocals/guitar, Dino Everett on bass, and Mike Sessa on drums, and currently include Bruce Duff on guitar and Geoff Yeaton on saxophone.
Paying homage to their roots, the self-produced album features guest turns from Dramarama frontman John Easdale, Adolescents founding guitarist Rikk Agnew, and Screamers / 45 Grave keyboardist Paul Roessler.
In addition to tuneful power popper "We Are The Ones," the LP features catchy hook-laden numbers like "Ain't It Summer," "Bad Vacation," "Let Me Out," and the raucous title track, alongside the fast 'n' furious tunes "Switchblade Knights," "Rumblin' Train," and more.
One More Drink is available on vinyl and CD at Dead Beat Records and all digital platforms. It will be supported by more music videos and a webcast concert, with an eye on live shows as soon as restrictions are lifted.
In a round of huge mutual love, Big Takeover and The Streetwalkin' Cheetahs are celebrating the release of their new album with an exclusive made-for-Big Takeover acoustic version of LP track "We Are The Ones (We've Been Looking For)" performed by Frank Meyer in all its stripped back, yet poignant glory.
Listeners will immediately fall under the spell of Meyer's heartfelt and up close and personal rendition of a song that already feels like a familiar good friend. Meyer embraces the vulnerability found in the song's touching lyrics, but also buoys the words with a vibrant performance that showcases the inherent melodicism of the core composition.
It's super-fun to watch Meyer's passionate performance while his dog Mojo remains unfazed by the proceedings, either sleeping through the footage, or peering with a calm resignation at the camera lens. Mojo is most likely wondering when dinner will ever be served…
Meyer delves into some details about the meaning behind the song and the process of recording it, revealing, "Been a fan of Big Takeover since the '90s and was thrilled to perform this exclusive acoustic version of the new Streetwalkin' Cheetahs single "We Are The Ones (We've Been Waiting For)" from my apartment in Long Beach, CA."
"This song is real personal to me as it was written about a couple I knew in the '90s named Peter and Viv who ran a CD store in the Valley called Heavy Rotation. It was like my Cheers and hung there all the time. I ended up dating their niece for a spell."
"Sadly both Pete and Viv died of cancer within months of each other and during those dark days, I wrote this tribute song to them, Heavy Rotation, and to our goofy relationship. She [Viv] even had a cat named Master Minou ("master of the cats") and at the end of the song you can hear me sing "Minou, Minou, Minou" like I'm calling the cat! And since she loved '80s music, I made the song kind of homage to New Wave and John Hughes flicks, with lots of synthesizers courtesy of Paul Roessler."
"But when you strip it down, it's just a good old-fashioned power pop tune like Cheap Trick or ELO might write. At least that was our hope. Enjoy this version you can only find here at Big Takeover!"
The original song is available on the album One More Drink, out everywhere now on CD/LP via Dead Beat Records and on all digital platforms.
Facebook
Instagram
Spotify
Apple Music