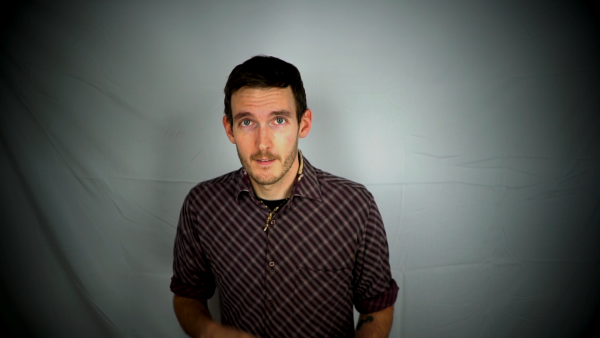 4 March 2022
Ryan Struck of Scary Hours – Photo Credit: Daily Grime Media
Ryan Struck grew up on the ethos and sound of punk and hardcore, honing his songwriting craft through the years to represent diverse genres and formats under the moniker of Scary Hours.
His self-produced solo anti-folk record Live to Serve was released in 2018 with critical success. In 2020, with rising political tensions and his newfound sobriety, Struck ditched "witty and unsettling anti-folk, informed by his past in hardcore punk bands" (Ghettoblaster Magazine) in favor of the more brazen sonic onslaught of the hardcore and punk he grew up on.
In May 2020, Pyrrhic Victory Recordings released the "incendiary and socio-politically on-target "Bullet Fairy," which rails against unchecked police brutality, especially against minorities" (Big Takeover) as worldwide tensions boiled over into the streets.
In November 2020, Scary Hours returned with Margins (Pyrrhic Victory (US) / Engineer Records (EU) – an 8-song blistering hardcore punk attack that is full of anger, intensity, and Ryan's desire to be a voice of change.
Last year, the band released "Precision Grooming," a scathing and loathing criticism of the American justice system protecting racist murderer cops in the wake of Derek Chauvin's lenient sentence.
2022 sees a newly invigorated, yet equally-pissed-off incarnation of Scary Hours with the new single "Western Thirst."
While many Americans have been quick to demonize the imperial actions of Putin as a sentiment of solidarity with Ukraine, the exploitative, resource-thirsty Western oligarchy they themselves live under goes unacknowledged; it is often poorly veiled nationalism in the name of spreading democracy that fuels this ignorance.
Scary Hours is ready to take on 2022 with with fully fledged lineup featuring members of Ides and former members of Knuckle Up, as well as good friends and comrades of Struck's.
The band will be releasing singles through the summer of 2022 in anticipation of a new untitled full-length and is looking to play as many shows as possible.
Ryan Struck gives more salient details about the furiously blazing and relevant "Western Thirst," stating, "The track satirizes Rudyard Kipling's 1899 ode to imperialism, The White Man's Burden. From the Philippines to the Middle East, the Western media continually seizes every opportunity to bolster the neoliberal imperialist agenda by demonizing any country that uses its land, labor, capital, and resources for the benefit of its own people."
"As long as there are resources to exploit, the West will continue this cycle. Retaliation for sovereignty abroad panders to US superpatriots and conservatives, stifling union participation and worker solidarity here at home as well as inflicting violence and oppression upon the international community."
" We've seen this rhetoric most recently in response to the Cuban protests in the summer of 2021. John Steinheimer poignantly captures the spirit of exploitation through his brilliant cover art design. The music is influenced by modern hardcore bands like Glassjaw and Incendiary, as well as d-beat and punk like Discharge and F-Minus."
The video was produced by Daily Grime Media and features a raging vocal performance by Struck backed by images and footage procured by Marxist educational collective Prolekult Films from their "History is Marching" series.
"Western Thirst" Lyrics:
We've hit the cycle again
The blacktop's starting to fade
The pussing sore you paved over's started showing its face
White collar greed turning whispered dreams into tropic screams
The duck-and-cover generation's swords are unsheathed
You serve to stigmatize the exodus
The trending buzzword of the day for Fox and Redstate to push
The phrases change, but the story's the same
Natural resource exploitation and a market to claim
Just call it manifest destiny
Round up the salesmen
Decorate them with uniforms and
Stand them up behind the puppet while we
Finance their war
Retaliation for sovereignty
Sugar cane or your life
Take up the white man's burden
Send forth the best ye breed
Our terror riddled with pride
Irrigate the land with imperial parasites
Just call it manifest destiny
Retaliation for sovereignty
So send forth the best ye breed
Introduce the half-devils to the infantry
The sun never sets on the western thirst
Spotify
Instagram
Facebook
Twitter