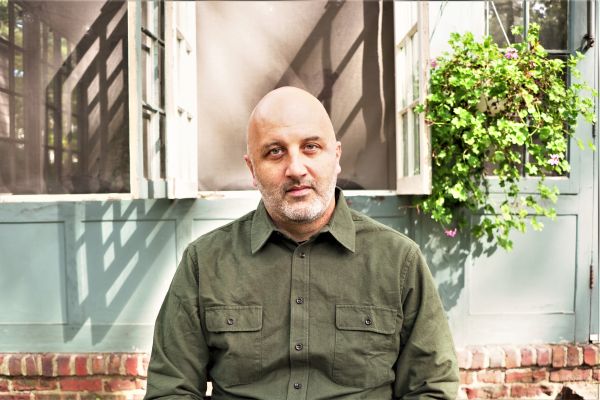 19 October 2021
David Wilson of David Wilson and the Summer Husbands – Photo courtesy of Daily Grime Media
NJ-based indie rock band David Wilson and the Summer Husbands return with a new music for the track "What End" from their upcoming EP A City, A Marriage, due on November 29th via Pyrrhic Victory Recordings.
An introspective track with an emotive feel and excellent instrumentation, Wilson sings about questioning the motive and reasoning behind creating art and music, as well as confronting the heavy topics of love and death.
In the chorus Wilson bluntly asks the question, "What end but love can stare death in the eye?" – a challenging idea that forces the listener to confront their own conceptions. Wilson adds, "Mostly I just think that sounds great, but it also has the added benefit of being true."
Having spent well over a decade in the guitar-driven indie rock band Miss Ohio – whose 2008 record Low was mixed by Eric Ambel (Del-Lords, Blackhearts, Steve Earl), Summer Husbands has a more laid-back feel, a more relaxed sound that equals the intensity of Miss Ohio, but from a different angle and perspective of Wilson's writing. Wilson discusses this and more as he shares the following:
"I was mostly trying to move away from having guitar be the central sonic element on my songs. Though I've always written on guitar, I started writing more and more on piano, which led me to different sounds and voicings. Lyrically, the songs wrestle with the past, but I like to think it's not all hopeless."
""What End", for instance, borrows a few lines from William Carlos Williams. In it, I try to wrestle with my own doubts about being an artist and a writer. At the same time, I try to think about what's been truly important in my life, which is relationships."
"As a project, the Summer Husbands started as a side project for songs that didn't quite fit in with my main band Miss Ohio. Over time, it's become its own thing: quieter, more introspective, more nuanced music that might be less suited for a crowded bar and more suited for listening to alone on headphones."
Big Takeover is pleased to host the premiere of the engaging music video for the heartfelt and bittersweet "What End."
The video shows Wilson performing near a lake and in a parking lot, with shots of buildings, streetlamps, and cars passing by in the night interspersed throughout. The contrast of night and day create a melancholy and atmospheric mood, perfect for the nuance and immediacy of the song.
Ryan Struck of Daily Grime Media, who filmed and edited the video adds, "I love the sadness in the overall sound, the brightness of the chorus, and the poignancy of Dave's lyrics on this track. To me, the best visual representation was the juxtaposition between urban decay, suburban comfort, and an open autumn sky. Much like the song, I was trying to convey that darkness and daylight can both be bold and beautiful."
The new EP features Ed Roessler on bass, Paul Sherrard on drums, Ryan Anselmi on saxophone, and Wilson on guitar, vocals, keyboards, and bass. It was mixed by Wayne Dorrell, mastered by Greg Thompson, and tracked at 9Ballard, with live drums tracked at Homebrew Studios.
Pre-order A City, A Marriage at Bandcamp
David Wilson and the Summer Husbands Pyrrhic Victory Recordings Website
Daily Grime Media Instagram