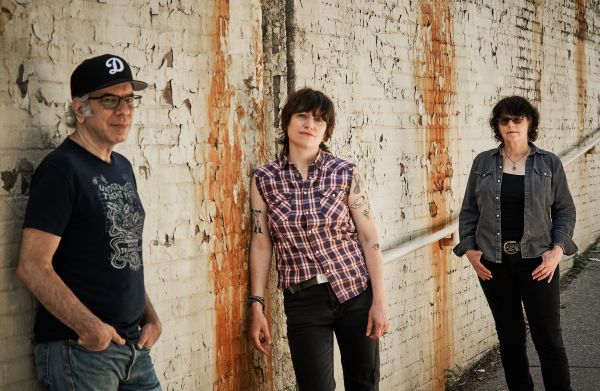 22 September 2020
Girls on Grass – Photo Credit: Andrew B. White
Brooklyn's Girls on Grass have downsized to a trio that includes original members Barbara Endes (vocals, guitar), Nancy Polstein (drums, vocals), and Dave Mandl (bass).
After releasing their second album, Dirty Power, and touring the East Coast and Southeast US in 2019, they spent a few days in January 2020 at Tape Kitchen with Mark Spencer (Son Volt, Blood Oranges) to record songs for a 7" to be released this Fall.
Girls on Grass have recently performed and recorded with a series of talented side players who are expanding the band's sonic palette, with the new songs as politically pointed and country-punk in style as ever.
The A-side of this 7" release, "Spill Your Guts," features Glenn Spivack on harmonica and was inspired by bandleader and songwriter Endes' process around coming out. The track premiered with B-Sides & Badlands last month, on the approximate 20 year anniversary of her coming out:
Big Takeover is pleased to be hosting the video premiere for "Who's Gonna Cry,", the B-side of the 7". Right before the music video proper commences, there's a quick socio-politically on-target clip that shows the disgusting and destructive Trump as a puppet (which he is in real life as well!) at the 'pulpit' with the image of a ravaged city in the background.
The briskly upbeat "Who's Gonna Cry" then drives forward on an agitated drum pace, twangy guitar reverb, low-slung bass line, and shaken percussion. Like a Spaghetti Western gone wild, the instrumentation radiates with a propulsive energy that also emanates from Endes' brief, but urgent vocals, as she pointedly exclaims (and yes, the lyrics need to be heard in full:
"When you go down / down for all time / we'll have a ball / This whole fuckin' town / will go crazy / When you go down / who's gonna cry? / We'll lift the poor up with the sick / and not look back."
The band give a super-fun, kick-ass performance of the track In the music video – as hand-crafted stuffed felt puppets, who whale away at their instruments (and wail out the trenchant lyrics) against cartoon-drawn backdrops of a Western US desert, complete with blazing sun, cactus, and cattle skull.
Endes spills details about recording "Who's Gonna Cry," revealing, "I carried this one around with me for a couple years, thinking about how I would take the guitar riff and turn it into something more. There are dozens of demos of this song. I'm proud of this one because I stuck with it, and I'm also proud of this recording because it captures my relationship with my Creston offset (a lefty Jazzmaster-style guit[ar] made by Creston Lea in Vermont). This was the first Girls on Grass recording session I got to play it on. Our engineer (Mark Spencer) also offered the use of his vintage Fender Harvard amp on this one, and it totally screamed. For the band in general this was a different kind of song and I think Nancy and Dave fully rose to the occasion."
In the past few months, Endes has live-streamed with multiple outlets to test-drive new songs and the band has taken to rooftop rehearsals while they await the opportunity to get back into recording, performing at music venues, and touring. They also encourage music fans to sign on to the "Save Our Stages" petition to help pass legislation to support independent music venues across the US during the pandemic.
Save Our Stages Website
Girls on Grass Website