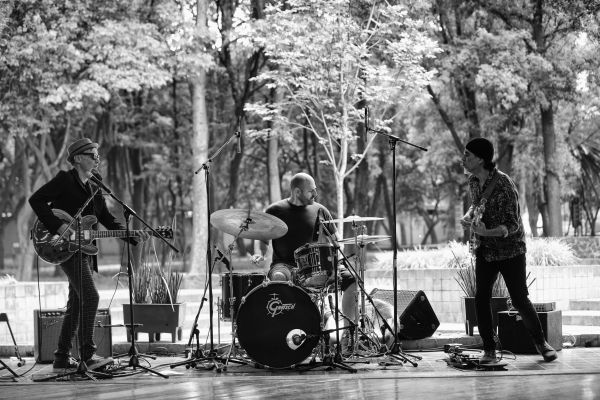 21 September 2020
A Love Electric – Photo Credit: Jesús Cornejo
A Love Electric is a critically acclaimed international power trio born out of Mexico City's jazz scene and with NYC ties. The outfit is set to release their upcoming album, Permanent Immigrant, this fall.
The band is led by guitarist and vocalist Todd Clouser, a Minnesota native now based in Mexico City, where he runs Ropeadope Sur Records, the non-profit Music Mission, and is co-editor of the books Musicians in Mexico City Vol. 1 and 2. Clouser is joined by Hernan Hecht and Aaron Cruz and they have been recording and touring the world for the past seven years.
All three celebrated artists in their own right and have released seven records on labels in the United States, Mexico, and Europe, creating music on their own terms, and performing over a thousand shows on four continents. Power psych, punk jazz, post-genre, and freak rock are a sampling of music writers' descriptors for the act's sound.
A Love Electric performs regularly with luminaries of the New York downtown scene, including John Medeski, Cyro Baptista, Billy Martin, and a number of Mexico's most daring independent artists, from free jazz legend German Bringas to emerging hip-hop acts, and alongside communities throughout Mexico, most notably working regularly with young musicians from the Oaxacan Sierra, the pocket brass band Tlayuda.
A Love Electric has resisted conforming to any established genre-identified market, a trend that continues with Permanent Immigrant. It's all about the dedication to exploring the creative act. Risk, commitment to the music, and a powerful dynamic between the three band members that can only be developed through years of collaboration.
Big Takeover is pleased to host the premiere of the captivating video for the reflective track "Losing Touch." Softly gleaming acoustic guitar reverberations, a hushed bass line, sporadically pulled bittersweet strings, and a measured drum beat forms a contemplative bed for Clouser to lay down his gently wistful vocals.
The ruminative video clip focuses upon a man lost in his thoughts as he washes the day away from his face and body, where he's unable to see his features in a steamed-up mirror. He then heads out into the darkening forest, shrouded by pine trees, and begins to gesticulate and articulate his frame, showing his emotions through movement.
He runs through the wilderness to a clearing, reaching out with his arms in supplication, and falling to the ground…
Clouser divulges some details about the song's meaning and video production, revealing, "The "Losing Touch" video was filmed between downtown and the forest outside Mexico City here. Mauricio Rico is a contemporary dancer and dear friend of the band and it is all his vision and doing. We feel fortunate to be apart of the creative arts scene here in this always surreal place in evermore surreal times."
"The song is about losing the center of one's personal compass, when perceived truth turns to certain doubt. In Spanish the sensation is sometimes called feeling "mareado". Like a combination of being dizzy, seasick, and in wonder. Maybe it is sad until you release it, which is the last chord in the song. It ends in hope."
Todd Clouser Website
Todd Clousser Bandcamp
A Love Electric Facebook
Todd Clouser Facebook
A Love Electric Instagram
Hernan Hecht Website
A Love Electric Spotify
A Love Electric Apple Music