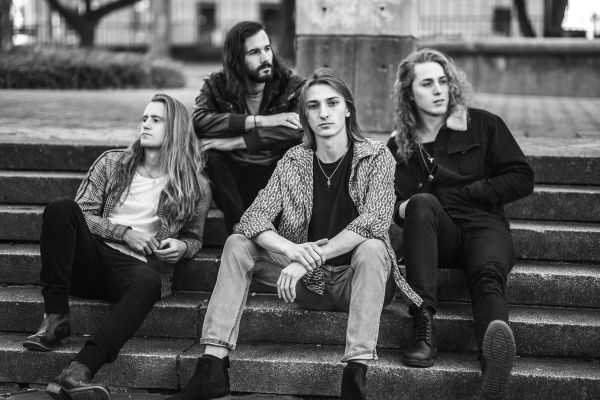 11 March 2021
Lovely World – Photo Credit: Maddie Baldinelli
On March 12, Spartanburg, South Carolina's Lovely World will release their new single "You Know Darlin'" via Dark Spark Music and Brookstone Party Music.
Landon Rojas, Cade Rojas, and Cameron Smith formed Lovely World in 2015 and built up their musical foundation based on a love of '70s rock and pop music and anthemic modern rock.
Landon Rojas (songwriter, vocals, guitar) and his brother Cade Rojas (drums) have been close friends with Smith (lead guitarist) since elementary school; Bassist Michael Gilbert joined the band in 2019.
These young musicians blended their musical tastes with deep lyrics reflecting a consciousness beyond their years. Expressing the turmoil of unrequited love, drug addiction, social afflictions, and political conflict through a prism of passionate vocals and solid musicianship, Lovely World have created a vibrant sound that invites further listening.
Upcoming heartfelt single "You Know Darlin'" continues this trajectory. Produced by Rick Parker (Black Rebel Motorcycle Club, The Dandy Warhols), the song presents a deep meditation on relationships, despair, and escapism delivered through vivid, emotional lyrics and melodic expression. Working with the band led Parker to express that, "Landon has one of those voices that you don't care what he is selling, but you are going to buy it."
""You Know Darlin'" was written during a really strange time. Let's face it, 2020 has been a real horror show. [It's] kind of as a farewell to a particular era and point in time. Everything was changing and honestly still is rapidly changing. It's about searching for a life raft in the mist of a chaotic situation," Landon Rojas reveals.
He also shares that the song was inspired by, "all the strong women in my life… We can all name a few women who have helped us keep the puzzle pieces together. "You Know Darlin'" is a tribute to those women."
Big Takeover is mighty pleased to host the poignant music video for "You Know Darlin'," which was directed and edited by Ridge Beck. In times of uncertainty one can still hope for a better future and find solace in each other, and this video clip shows how missed connections can finally turn into a serendipitous encounter.
The storytelling video focuses on various scenarios that zoom onto the screen through footage from TV/computer monitors where Landon Rojas is so wrapped up in daily life situations that he doesn't notice the young woman who is always near him in the frame. She is also unaware of his presence as she deals with the day-to-day activities. So close, yet so far…
The other band members become extras in the scenes that take place at the thrift store, laundromat, move theater, and diner, and there are brief images of the whole band stormily performing the song. As the narrative develops, Landon and the girl are shown alone together, with their back to each other, not recognizing each other's presence until the final shot in the diner, and then…
Website
Facebook
Twitter
Instagram
Spotify
Apple Music