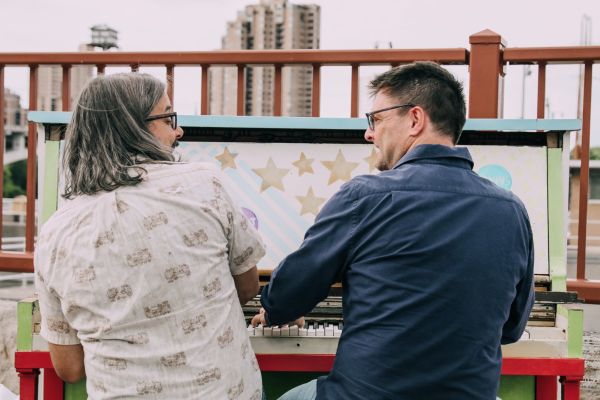 24 November 2020
The Persian Leaps – Photo Credit: Rouse Productions
Hailing from the Twin Cities (Minneapolis and St.Paul), power pop outfit The Persian Leaps present their new single 'Your Loss', a fun, catchy track that harks back to Teenage Fanclub's Bandwagonesque days – the band more closely seems influenced by Teenage Fanclub on this release, unlike other tracks from the album, which also share aspects of The Lemonheads, The Smiths, and Guided By Voices.
The Persian Leaps are Drew Forsberg (vocals, guitars, keyboards, drum programming) and Jon Hunt (bass, vocals). Big Takeover is pleased to host the premiere of the music video for "Your Loss" today. The bittersweet clip was edited by Rouse Productions, with videography by frontman Forsberg.
"Your Loss' was originally written to express my frustration with the local scene in the Twin Cities. The Persian Leaps never really fit in with most other bands or trends that were popular, and any support we got from local radio and press seemed half-hearted at best. That's partially why we retired from playing live shows a few years ago and really gave up the idea of trying to be a 'local' band," says Drew Forsberg.
This single is from the band's new Smiling Lessons record. Embedded on a magnetic alternative rock foundation, this batch of 7 new songs continue the band's tradition of churning out power pop earworms with a Midwestern charm, with topics as diverse as prescription medicine and failed 20th century British prime ministers. Earlier, they released the whimsically infectious lead track 'Lost Cause'.
"I had always wanted to make a video for this song, featuring local landmarks, but it took on a much different tone when I started filming it in the aftermath of the pandemic and the looting and vandalism that tore apart the Twin Cities after the police murdered George Floyd. The video features footage of many of the local venues we loved playing as a band (or dreamed about playing, in the case of the legendary club, First Avenue). However, at best, the venues are now shuttered indefinitely. At worst, two of them were gutted by arson. So, I'm left performing a song with a certain amount of bitterness towards the local scene in front of the charred remains of that same scene," says Drew Forsberg.
"We tried to end it on a hopeful note, with some footage of the text "This is a blank slate" painted on the side of a local business. It's depressing what's happened to live music and venues in the Twin Cities, but maybe it's also an opportunity to build it back better."
'The Persian Leaps', as a band name, came to Forsberg in a daydream during a college Greek Archaeology class. He wrote music independently under that name for years until finally assembling a full band in 2012 to perform and record music. Driven and chiming, it is influenced by such artists as The Smiths, Guided by Voices and Teenage Fanclub.
From 2012-2017, the Persian Leaps released an EP of five songs every autumn. NME Magazine described their debut Praise Elephants EP (2013) as "celestial guitar jangle". From their sophomore Drive Drive Delay EP in 2014 to their fifth Bicycle Face EP, their music has been met with praise by fans and critics alike.
Delivering one perfect power pop cocktail after another, finally in 2018, the 18-track Pop That Goes Crunch best-of anthology marked the end of an era, while celebrating and revisiting some of the Persian Leaps' best work.
In 2018, the Persian Leaps retired as a full live band, returning to their roots as a studio project. Together with Jon Hunt, a musician and graphic designer who created the cover art for most of the band's releases to date, Drew Forsberg recorded Electrical Living, a full-length album of irresistibly catchy power pop released in September 2019.
The Smiling Lessons EP is out now, available via Land Ski Records, both digitally via Apple Music, Spotify and elsewhere, as well as on CD. It can also be obtained directly from the band via Bandcamp.
CREDITS
Drew Forsberg – Vocals, guitars, keyboards, drum programming
Jon Hunt – Bass, vocals
Written by Andrew Milton Forsberg
Recorded and mixed by Neil Weir at Blue Bell Knoll
Mastered by Bruce Templeton at Microphonic Mastering
Cover art by Jon Hunt
TRACK LIST
1. PRN
2. Chamberlain
3. Patience
4. Lost Cause
5. Your Loss
6. Spoon-Fed
7. The Entertainer
if you enjoyed this, 'Smiling Lessons' is definitely an album you want to check out
The Persian Leaps
Website
Bandcamp
Facebook
Twitter
SoundCloud
Instagram
YouTube
Spotify