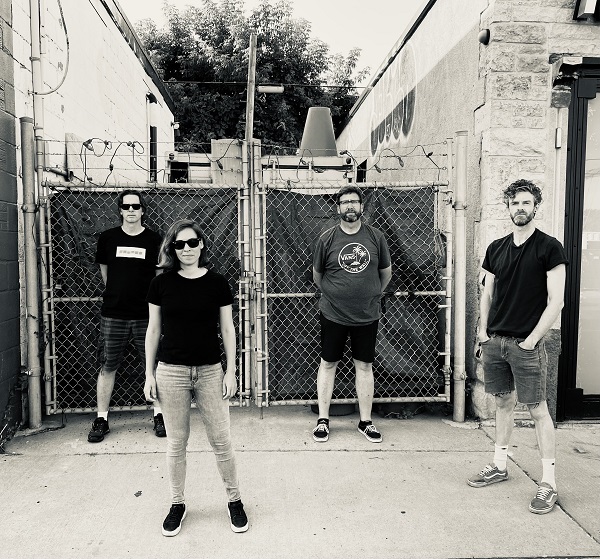 2 May 2022
Swiims, Photo Credit: Neil Sabatino
When label owner Neil Sabatino of Mint 400 Records got a teary phone call from one of his artists he admits "It was one of the most heartbreaking phone calls I've ever received". A long time artist on their roster, drummer Zoe Ekonomidis of the Jersey City band The Components had called Sabatino to talk about an abusive home situation she had been dealing with for years. Immediately the two started to discuss how to bring awareness to the situation and what could be done to help others that were trapped in similar situations. The two came up with the idea of doing a compilation, benefit shows, charity events and more. Then Covid hit in 2020. The project had to be shelved for quite awhile when artists were all having a hard time getting back into the studio. So a new plan came to light mid-pandemic. Sabatino emailed the entire roster and asked "Who has stuff laying around that has not been released?" It seemed like the logical place to start.
Soon the label had collected over 30 songs all from different artists on the label who wanted to help out. The compilation bears the name of the brave person who put this all in motion and is aptly titled "Zoe's Project". The new plan was for the compilation to be available for just $5 and 100% of the proceeds from Bandcamp are being donated to Janie's Fund. Janie's Fund is a philanthropic initiative created by Steven Tyler in partnership with Youth Villages to bring hope and healing to girls who have suffered the trauma of abuse and neglect. As well the label offers a direct link for anyone who just wants to donate to support the cause. That direct link to donate is HERE. Also if you are feeling generous that link works now and you may donate today!!!
The album will also be made available on all streaming services but the hope is that people feel strongly enough about the situation touching someone they might know personally. The first goal is set at the reasonable amount of $500.00 and Sabatino has said, " We have to start somewhere and hopefully this inspires others to get involved."
Ekonomidis had this to say about the outpouring of support, "Thank you Mint 400 and family for giving me an opportunity to speak out about Domestic Violence and including music as part of this mission. Music is one of the most powerful ways to send a message." She then added, "If my bad situation helps to shed light on the amount of domestic abuse that happens around this country then I am happy to have said something. Domestic abuse is something that does not get talked about a lot and this compilation of music represents a whole bunch of artists that care enough to say something."
Today Mint 400 Records is excited to premiere some tracks from the epic compilation including Toronto, Canada's indie rock darlings Swiims, along with New Jersey artists aBIRD and Sonofdov. Dennis King of Sonofdov had this to say about the compilation, "I can't imagine being trapped in a situation or relationship where family violence thrives. I'm a lucky one and my family means everything. I feel safe and loved, everyone deserves that. I'm honored to be part of the compilation and hopeful we can raise money and reach people through songs and art." and Adam Bird, long time indie rocker added this, ""I am proud to add my voice to the growing sound of people speaking up against domestic abuse".
Now when it comes down to it, the hard part was having artists figure out what kind of song to use for such delicate subject matter. Eventually the idea of an underlying theme was entirely impossible to come up with but having the roster that Mint 400 has ensured that the songs were heartfelt and genuine. So although a concrete theme was not established the full compilation feels cohesive and like an intended result.
Here's what Swiims, aBIRD and Sonofdov had to say about their contributions:
"Find explores that overwhelming feeling you get when you come across a strong connection with someone, and the ever present thought that it may not last forever. Moments of bliss are colliding with a sense of ending. And like life itself, all that is left to do is enjoy it."
-Colin Thompson of Swiims
"NLGHTN is the theme song for the app of the same name, which, in the spirit of the latest commercial trend of commodified mindfulness, promises you enlightenment immediately, because who has time to sit around staring at walls? Download it now and become a bodhisattva before all your friends!"
-Adam Bird of aBird
"Boy On Fire is near and dear to my heart and this early version of the song was recorded at a time a loved one was going through a difficult period. Sometimes the most gentle of all humans have a tendency to snap, but he kept it together and I am still an awe of his control."
-Dennis King of Sonofdov
The full compilation drops May 20. To show your support, pre-order is available via Bandcamp.