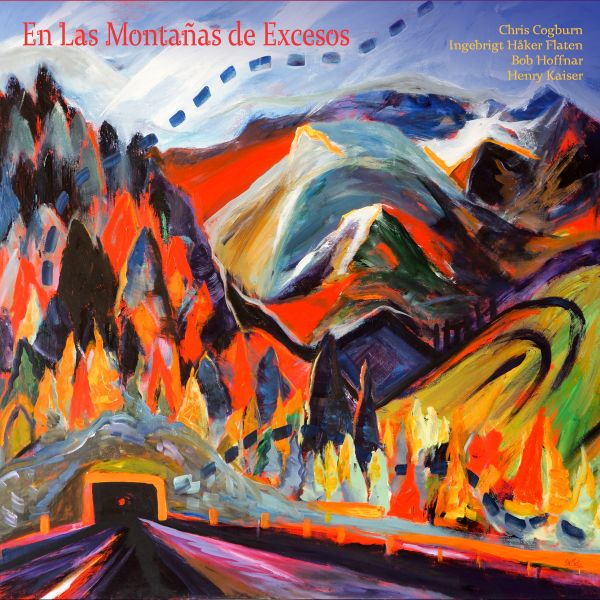 3 April 2018
Chris Cogburn/Ingebrigt Håker Flaten/Bob Hoffnar/Henry Kaiser – En Las Montañas de Excesos
The quartet of spectacular musicians Chris Cogburn / Ingebrigt Håker Flaten / Bob Hoffnar / Henry Kaiser share their entire album, En Las Montañas de Excesos, with The Big Takeover today. Veteran guitarist Kaiser defines the music project as just rock 'n' roll and that it's a contrast to most of the music currently in the 'popular' charts.
En Las Montañas de Excesos is the unease and frisson of scaling a mountain; a trek with long moments to peer over the edge or stare far off into your thoughts. From the collective fingertips and minds of drummer/percussionist Chris Cogburn (SSBT), prolific bassist Ingebrigt Håker Flaten (The Young Mothers; Atomic), composer and pedal steel guitar maestro Bob Hoffnar (The Mood Illusion; Indoor Life), and renowned guitar experimentalist Henry Kaiser, the album is a towering edifice of free rock, fusion, and new music.
In its digital format, En Las Montañas de Excesos is four unedited peaks; the LP version is two contiguous sides (of combined edited peaks).
The album comes out Friday, April 6th via Self Sabotage Records (Pre-order at Big Cartel-Self Sabotage ) and digital format at Bandcamp
Chris Cogburn – drums
Ingebrigt Håker Flaten – electric bass
Bob Hoffnar – pedal steel guitar
Henry Kaiser – electric guitar
Recorded April 3, 2015 at Congress House Studio (Austin, TX)
engineering: Andre Moran and Mark Hallman
mixing: Simon Tassano and Henry Kaiser
re-mastering: Jeremy Goody and Henry Kaiser at Megasonic Sound (Oakland, CA)
LP mastering: Rob Halverson at Halversonics Recording (Austin, TX)
art direction and cover painting: Brandy Gale
production: Henry Kaiser
Artist: Chris Cogburn / Ingebrigt Håker Flaten / Bob Hoffnar / Henry Kaiser
Album: En Las Montañas de Excesos
Record Label: Self Sabotage Records
Release Date: April 6th, 2018
01. The Shadow Over Overkill
02. The Colour Out Of Superfluity
03. The Luxuriance Horror
04. The Dream Quest Of The Unknown Plethora
05. En Las Montañas de Excesos, part I
06. En Las Montañas de Excesos, part II