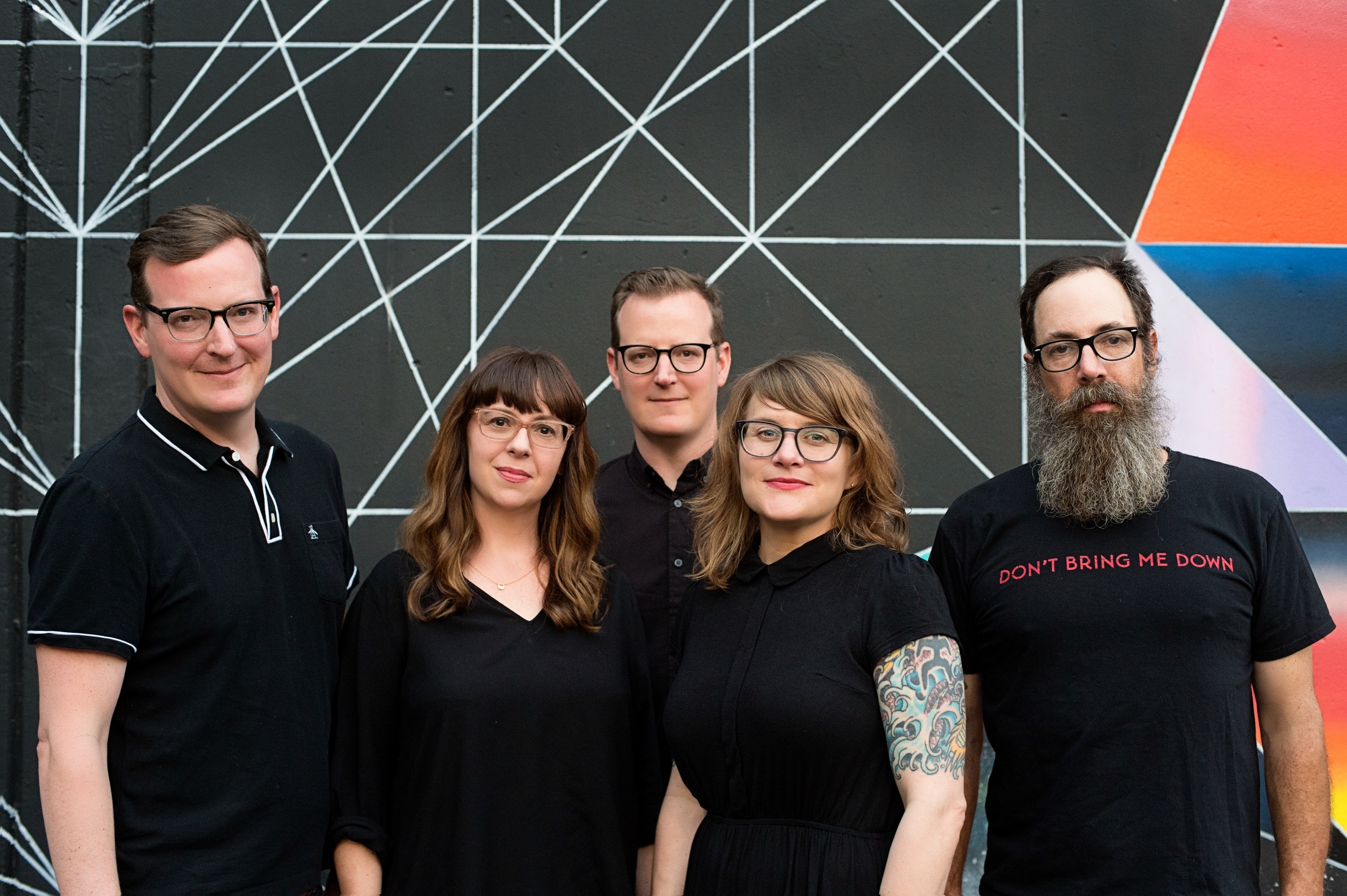 7 September 2023
Photo Credit: Chantel Elder
Lines – Track-by-Track Breakdown
Ross Levine and Katie Haley took some time to offer a few lyrical, musical, or interesting insights about each of the songs on Lines:
'Low'
'Low' is the only track where Hans Munz, our electronics secret weapon, came up with an idea first, and then the rest of us built on top of it. He shared this epic soundscape with us and it instantly got our gears turning. The first song of an album – when you think of it as a connected work and not just a bunch of tracks – is important and the goal with 'Low' was to draw the listener into the record like the first few pages of a good book that you then can't put down. We think it's a great opener as it slowly draws the listener in, building up like a swelling wave that grows and grows until it crashes onto the shore and then drains back out to sea. It sets the mood for the rest of the album.
'Grip'
This song was one of the first songs Ross Levine conceptualized for the album. We actually started working on it and playing this song live towards the end of shows we played in support of our last album, Maps. Somewhat ironically, the lyric in the chorus, "make it through by force of will," feels in many ways like a theme for this album. We intended to finish this album in about a year or so but the pandemic made it very difficult for us all to get together so progress on Lines was very slow. We were not able to complete the album in the timeframe we had hoped but in the end, where there is will there is a way, and it feels rewarding that we finished.
'Deceiver'
The starting point for 'Deceiver' was the interplay between the verse, bass, guitar line, and the synth plucks. They play off of each other to combine into a single melodic line. With the guitar line on top, it really elevates. The inspiration was from bands like Depeche Mode and The Cure who will have multiple melody lines going at the same time, each of which is its own hook, working together to where the whole is greater than the sum of the parts. Lyrically, it's the closest thing Soft Science has to a vaguely political song, which generally really isn't our bag. It's just that the world has gone crazy and it's hard not to notice.
'Sadness'
When writing the lyrics to 'Sadness', I was thinking of it as a kind of pep talk – everyone struggles and it can be easy to fall into a negative loop, something I'm really good at. When one is feeling down, that emotion can cloud everything; it's about coming to that realization and trying to refocus on the positive. Sometimes the glass is actually half full. However, it's not meant to be judgmental. It's just a reflection on the concept that sadness exists – it's part of the human experience – but also to not beat yourself up for having those feelings and to remind yourself if you look for it, happiness can also be found.
'Kerosene'
A while back we did a cover of House of Love's iconic track 'I Don't Know Why I Love You' for a tribute compilation. To put our own spin on it, Hans came up with these amazing arpeggiators that added a lot to our version and helped give our own spin to it. When we were writing the music for 'Kerosene' we were basically trying to come up with a cool template for Hans to again do something in that style and he didn't disappoint. Katie Haley came up with the laid-back melody on the verse, which perfectly draws the listener in and sets you up for the full-on dream blast of a chorus.
The lyrics on 'Kerosene' in concept are about a relationship where you see someone you love drifting away or out of control, being fake, or making questionable decisions and you start becoming concerned. The concern is not only for them but for yourself because of what they mean to you, because the more you care or love someone the more you expose yourself to the pain if and when things go wrong. The chorus is a type of plea to the person you love to step back and get perspective before it's too late.
'Stuck'
Driving guitar, tambourine, feedback, super layered dreamy vocals – 'Stuck' is kind of "classic" Soft Science. It's a really straightforward, catchy song but with an added moody/edgy flare. It's one of those songs that seemed to just arrive and when we started playing it we were all on board and knew what to do. And lyrically, yes, it is an unrequited love song. It's not our first, and it probably won't be our last. We're suckers for it if you couldn't tell.
'Hands'
Oh, the long difficult road of 'Hands'. We rewrote the melody and the lyrics three times. Musically it's a full-on ode to baggy Manchester. We left a lot of room for Hans to do his thing. Ultimately, the lyrics feel perfect for what the song became – feeling like you have no control. This song almost didn't make it. And in life as much as we may try, it's very true that much of the time there are very few things that we have real control over.
'Zeros'
Lyrically, it was inspired by watching a couple of documentaries on technology such as The Social Dilemma. I used "zeros and ones" as the key line in the chorus as it's the foundational language of computers – commonly referred to as binary code. Zeros and ones kept floating around in my head, so in the verses I tapped into the commentary regarding the vast technology at our fingertips: how it's changed the world and how human connection is also being altered. Everything is easier to access – but deeper connection feels like it's becoming harder to obtain and/or maintain.
'True'
Our song 'True' explores the loss of a dream or the realization that the relationship you want or the pretty picture is just not going to happen or has disintegrated. With this realization, there is still hope and desire for something real, something "true". It's kind of a different take on a lyric theme throughout our album Lines that acknowledges hardship and challenges as a part of life, at the same time hoping for peace or a happier path. Musically, we were inspired by '80s sounds and textures from bands like Echo & The Bunnymen, Yazoo, and The Jesus and Mary Chain. When we were brainstorming video ideas, we thought it might be cool to put this song with an old movie that followed a complicated love story. Then our manager Jeremy P. Goldstein reached out to Kev Bolus (Are We Static) who really came through. Kev used clips from a 1946 feature starring the great Barbara Stanwyck called The Strange Love of Martha Ivers and we instantly knew it was perfect for the song.
'Polar'
Taking inspiration from bands like The Stone Roses, we had the idea of taking a track and playing it in reverse to see what we got. We tried it with the LP's opener, 'Low'. We made some edits and it came together really quickly. We all knew right away it was a keeper and thought that it was the perfect bookend with which to complete the LP. It makes the record really feel like it is a journey that comes full circle.
Social Media Links
Soft Science
Twitter
Facebook
Instagram
Album Art – John Conley, BlkBrix
facebook
instagram
Band Line-up, Support, and Album Production Information:
Soft Science – Band:
Katie Haley (she/her)- vocals
Ross Levine (he/him)- guitar, synths, backing vocals
Matt Levine (he/him) – guitar
Tony Cale (he/him) – drums, percussion
Becky Cale (she/her) – bass, backing vocals
Hans Munz (he/him) – electronics
Album Production Credit and Support:
Production on Lines- Tony Cale and Ross Levine
Engineering and Mixing – Tony Cale
Mastering – Peter Maher
Art Direction and Design – John Conley/Blkbrix
Management – Jeremy P. Goldstein