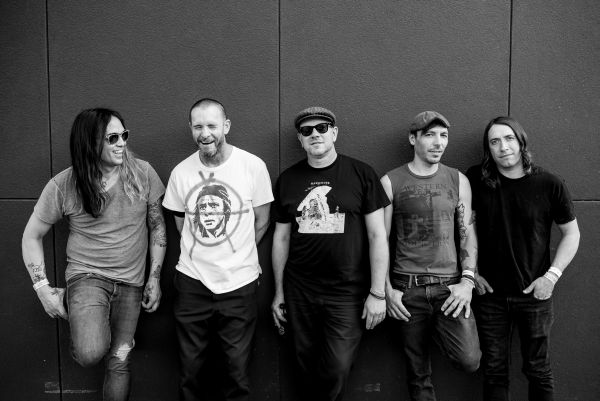 30 August 2018
Swingin' Utters – Photo Credit: Alan Snodgrass
Punk rock in its various forms has been a consistent presence on the musical landscape for more than 40 years. You might be surprised to know, however, that the Swingin' Utters have been around for most of that time. The band celebrated their 30th anniversary with a greatest hits collection last year. Hell, the Bay Area street punks are so well-respected among their peers, there's even a whole tribute compilation dedicated to their extensive catalog, including covers by the likes of Dropkick Murphys, Fucked Up, and Teenage Bottlerocket.
Since that comp came out in 2010, the Utters have issued three more full-lengths, each more fiery than the last, and they now sit on the verge of releasing their ninth studio album. Recorded at Nu-Tune Studios in Pittsburg, California this past March by Chris Dugan (Green Day, Iggy Pop), the LP is titled Peace And Love, but don't let that fool you into thinking this is some '60s-throwback hippie trip. Aaccording to guitarist/vocalist Darius Koski, Peace And Love's content is as politically outspoken as the Utters have ever been.
"This is, by far, our absolutely most political record we've ever done," Koski says. "We don't generally write very pointedly political songs. We tend to be a little more vague and abstract. But this one is pretty pointedly disgusted and pissed off and really directly attacking these fuckin' people in office."
"I agree it is our most political record," remarks singer Johnny Bonnel. "When sexism, racism and nationalism is the agenda, it's time to speak up."
The Big Takeover is excited to premiere the powerful and tuneful Peace And Love in its entirety before its official release on August 31st via Fat Wreck Chords. It a passionate and dynamic album that we need right now – One that lyrically defies current rancid partisan politics and destructive White House power games that are decimating the lives, livelihoods, and environments of most of the U.S. population. And one that seeks a path of, yes, peace, and love, and hope in the midst of ignorance, hate, and fear.
Peace And Love certainly pulls no lyrical punches — We'll give you three guesses as to whom "Yes I Hope He Dies" is about, and the first two don't count — but the Utters also keep things interesting from a musical perspective, whether it's the Ramones worship of "E.C.T." (think of it as the long-gestating counterpoint to "Gimme Gimme Shock Treatment"), the surprisingly melodic, Beatles-esque "Seeds Of Satisfaction" (which Koski lovingly refers to as his "surf-goth song") or the gorgeous, haunting closing track "H.L.S.", written and performed by guitarist/vocalist Jack Dalrymple and inspired by the sudden death of his former One Man Army bandmate Heiko Schrepel, who passed away in 2015.
The rebellious spirit of the Swingin' Utters is as present as ever on Peace And Love, although the band looks and sounds a little bit different this time around, thanks to their dynamo new rhythm section of Tony Teixeira on bass and Luke Ray on drums. who have both been playing together for years in other bands like Cobra Skulls and Sciatic Nerve.
Koski relates, "This is the first album we've released with a completely new rhythm section, and they've definitely mixed up our sound and announced their presence! The writing and recording process was a nice (and much needed) respite from the scary and surreal state our country's in. It's called "Peace and Love" for a reason."
Pre-Order Peace And Love
TOUR DATES There are a ton of 'em, so check out when the Swingin' Utters play near you!
Website
Facebook
Twitter
Instagram
YouTube