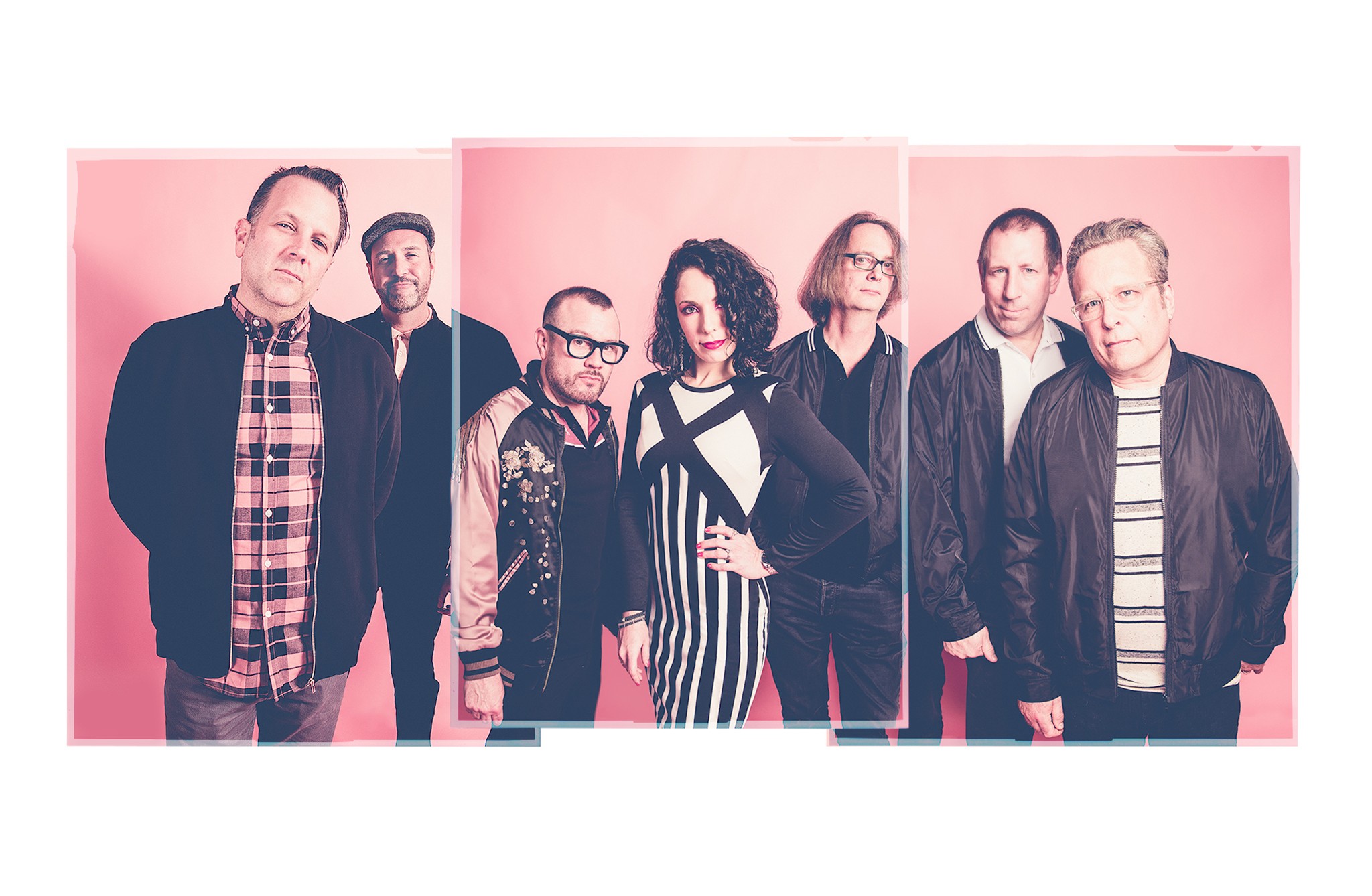 28 April 2023
Photo Credit: Jenny Bergman
Designed for extended listening in the attention-deficit age of the single, Eddie Japan's new album Pop Fiction is all about choices – and what happens after decisions are made. With inspiration that draws across centuries, from Danish existentialist philosopher Søren Kierkegaard's 'Either/Or' to modern-day glam rock thinkers like David Bowie and Frank-N-Furter, the Boston cinematic-pop septet have crafted an entire world that unfolders with each song like chapters to a novel. The album, released today (April 28) to the streams and on CD by Boston independent label Rum Bar Records, is officially premiering on The Big Takeover.
"The first song I wrote for the record was 'The Dandy of Suburbia,' and it had a strong visual appeal, almost film-like, so I felt it could be the beginning of a larger story," Eddie Japan vocalist and songwriter David Santos tells us. "Characters like Alfie Elkins and Don Draper came to mind. It evolved into a classic anti-hero tale, as seen through the eyes of a strip mall Don Giovanni/Juan. Ultimately, it's a record about the consequences of one's choices."
Those decisions play out across the album's 11 theatrical tracks, which include two collaborations with The Cars' iconic synth pioneer Greg Hawkes, an honorary member of the band who not only joins them on stage, but also appears on two Pop Fiction songs: March single "Time Machine" and album track "I Can't Wait." Knowing full well today's listeners are more inclined to digest music in bite-sized two-minute singles fit for the streaming era, Eddie Japan have leaned into their musical drama and knack for storytelling through Pop Fiction's grand, ambitious reach.
"We've been hearing for the last decade or so that the album format is dead," Santos adds. "We hope this record does something to beat back that notion. Pop Fiction is a definite album experience and we would love for listeners to enjoy the record from start to finish at least a few times so that the connections between the songs are discovered. In that same spirit, we hope folks who may have grown up listening to LPs get the sense that we trust their intelligence and that this record is for them."
Of course, Eddie Japan have made a career out inverting expectations and presenting the unexpected, from conquering the stage (winning the 2013 Rock and Roll Rumble, performing the music of The Cars on stage with Hawkes, and touring with Martha Davis and the Motels) to conquering the screen (2015 single "Albert" spawned new musicians around the globe in Rock Band 4, all while garnering more than a million streams on Spotify).
Now they unveil perhaps their most ambitious effort to date. With tone-setting artwork by acclaimed graphic artist Todd Alcott, Pop Fiction takes the 2019 EP The Amorous Adventures of Edward Japan and applies six new tracks to complete the kinda-sorta concept album, including a pair of recent singles: last fall's infectious "Walk Away" and the aforementioned pop-rock swirler "Time Machine." It was mostly recorded, mixed, and produced by guitarist Eric Brosius at his home studio, which also doubles as the official Eddie Japan rehearsal space.
Pop Fiction and its libretto styling takes the musical force that is Eddie Japan, a sterling sonic cocktail stirred with glam, new wave, indie, pop-rock and soundtracked for a retro-futuristic Great Gatsby party for our redefined '20s, and pulls the listener inward, furthering its themes of boredom, loneliness, love, betrayal, fantasy and regret.
"The record is really about this lost character who has sort of checked out of the system, so to speak, and is attempting to create what he imagines as an idyllic life of pleasure in the margins of suburbia, but always with the pull of what he left behind," adds Santos.
In addition to the thematic stylings and engrossing storyline, there's also a musical evolution at play here in the core sound of Eddie Japan, one that arches forward beyond 2017's Golden Age and their slightly Spaghetti Western and baroque-pop beginnings in the late 2000s. "As time went on, there was a natural progression away from such a specific sound, and there was a desire to go in new directions," adds Santos. "Eventually, guitars became more prominent, and we began experimenting with more modern keyboard sounds. But however we've evolved, I think there is an elegance to our sound that connects our various time periods. We describe our music as cinematic-pop, which we think conveys a certain dramatic, widescreen appeal."
It's a sound that deserves the type of attention only an album can provide. And once the listener presses play, the choice of how to proceed from there, like the trials and tribulations of the album's main protagonist himself, is solely up to them.