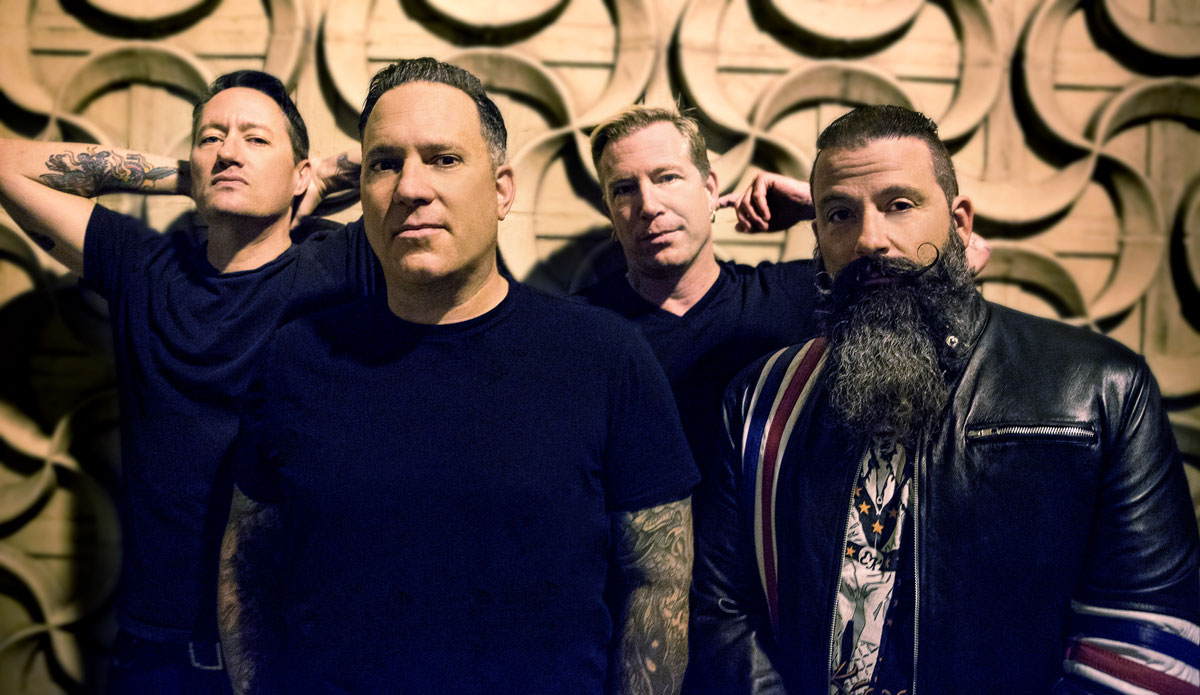 29 February 2016
Photo by Ben Pier
Whoever said that you can't go home again never told face to face. The melodic punk institution, who will celebrate their 25th anniversary as a band throughout 2016, return to Fat Wreck Chords —the same label who released their classic debut Don't Turn Away — for their ninth full-length studio album, Protection. As vocalist/guitarist Trever Keith explains, this wasn't coincidence.
"The decision to go back to Fat was a no brainer," he says. "We knew we wanted to make a more back-to-basics punk rock record, something more like our early days. Fat Wreck Chords was an obvious choice. After 25 successful years in punk rock, it's a label that speaks for itself. In lots of ways it feels like coming home."
Protection draws from the energy and passion of face to face's early records but is filtered through Keith's unique worldview as a true "lifer" in punk rock, someone whose songs have influenced an entire generation of bands. The result is an urgent and powerful 11-song effort that borrows from the melody and angst of the band's early days with lyrics that are thoughtfully written from the perspective of a "40 something" veteran punk rocker, from "Double Crossed" and "Say What You Want" (Keith's personal favorites) to the vicious barb "14:59" and the emotionally moving "Bent But Not Broken."
"'14:59' is a commentary on Western culture and its obsession in the past few decades with reality-based fame that comes for people who have no skill other than just being famous. I think it's disgusting. I hate it," Keith remarks. "'Bent But Not Broken' is about people who aren't willing to listen to opposing viewpoints because they are so mired in their own beliefs, they can't see they are bent." There's even a rare burst of motivational positivity in "Keep Your Chin Up."
Credit can be shared with producer Bill Stevenson, who in addition to being Descendents' erstwhile drummer, has produced classic albums and fan favorites from NOFX, Propagandhi, Anti-Flag and more. Amazingly, Stevenson is the first outside producer face to face has worked with in nearly two decades, as the band usually self-produces their work, but Keith said the partnership was nothing short of incredible. "It was a fantastic experience," he says. "Bill was great to work with. I met Bill on the Warped Tour something like 15 years ago, but we never really had spent time together until now, and we hit it off great."
With that trust in place, it allowed face to face to spend less time in the control room and more time focusing on their performances and on the songs themselves, resulting in what feels like an instant classic from the first listen. "This is the first time where [bassist] Scott [Shiflett] and I were willing to take a reduced role [in production]," Keith says. "We were laid back, open minded, and open to suggestions. Bill's influence on the song arrangements and background vocals was key in giving the record the sound that it has. Not every idea Bill had ended up being used, but we certainly listened to everything that Bill, Jason Livermore and Andrew Berlin had to say and I think it's a better record for it."
Since returning from their self-imposed hiatus in 2008, face to face has been on a tear, touring worldwide and writing tons of new music; Protection is their third full-length in five years. "To celebrate our 25th anniversary as a band in 2016, we plan on re-releasing special edition vinyl copies of our early albums, plus playing as many shows as possible to promote Protection," Keith said.
Protection comes out this Friday, March 4; you can pre-order it here.
Tour dates
March 6: Costa Mesa, CA – OC Fair & Event Center – Musink Festival
April 30: Meerhout, Belgium Groezrock
May 30: Las Vegas, NV Punk Rock Bowling