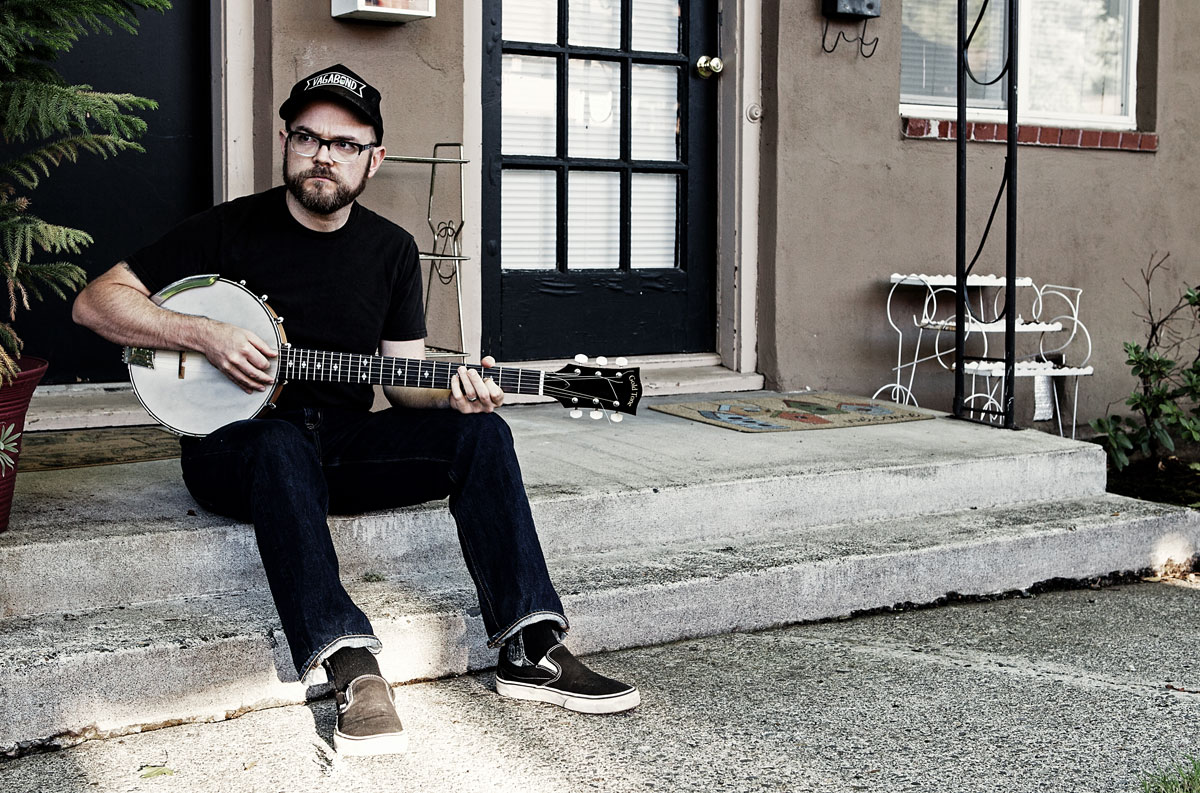 23 May 2016
"These songs have helped me through some very struggling times and are a reminder that I've got so much to be excited about and thankful for, no matter how I feel," says McDougall, the Portland, Oregon-based singer/songwriter and multi-instrumentalist who recently finished up his eighth full-length, Reaching For Some Light.
Whereas McDougall's previous releases stuck to the premise that if he couldn't play it live, by himself, it didn't get recorded, Reaching For Some Light finds McDougall creating without walls, breaking free of his self-imposed restrictions and just making a record. A record where he played the majority of instruments himself.
"This album expands into more complex ideas and sounds. I incorporated a wider variety of instruments, breaking from my usual one-man-band format, developed the instrumental and vocal parts a lot more, and did not hinder the process with any preconceived genre," McDougall says of his process on this album. "The songs all have a common sensibility to them and generally share similar types of instruments, but vary in style from one to the next. It's nothing like any of my previous albums. Lyric-wise, I tried to go deeper than I have gone before."
Further commenting on the new album and recording without so many limitations, McDougall says, "It really enabled me to actualize the ideas in my mind a lot better and create a bigger, deeper sound overall. This allowed me to convey the feelings behind the lyrics a lot more clearly, which is important to me since I spend so much time on lyrics."
The result is an album that has realized McDougall's vision more so than its predecessors; a record that moves beyond the more folk-based songs of the past and allows his ideas to reach a wider audience, with big, upbeat melodies and a constantly changing sound that is hard to pigeonhole. That changing sound is what surprised McDougall the most while making this record. "I had no idea they would vary so much from each other."
One thing longtime fans of McDougall may be stunned to not find on Reaching For Some Light is the traditional banjo instrumental tunes that have been scattered throughout his previous releases. This was deliberate; something McDougall felt he didn't need on this album.
"I go back and forth, whether I should have done more instrumental songs. I didn't do any of the classic style banjo-tunes that many people expect of me," he says. "But, I kind of feel that the instrumentation is developed enough in the songs with words that it wasn't really needed to find that balance I usually go for."
Lyrics are something McDougall has always put a lot of time and energy into, which is especially true on this album, with a theme of hope and light filling the album.
"It's an album about seeing beyond the darkness that surrounds us, inside our minds and in the world. So, the theme of light and darkness are repeated throughout," says McDougall, talking about how he came up with the album title.
Now, with a new album, a newfound confidence, and growing view of what faith, hope, and love look like, McDougall hopes that Reaching For Some Light will find its way into the ears and hearts of old and new fans, and mark the start of a new direction he was too hesitant to go before.
Buy Reaching For Some Light from McDougall's Bandcamp.
Tour Dates
May 25: Thirsty Sasquatch, Vancouver, WA
May 27: McMenamins Hotel Oregon, McMinnville, OR
May 28: Rhythm & Rye, Olympia, WA
Jun 02: 3 Kings, Denver, CO
Jun 04: Choice City Stomp, Fort Collins, CO
Jun 09: McMenamins Kennedy School, Portland, OR
Jun 16: Backwoods Brewing Company, Carson, WA
Jun 17: Anderson School, Lake Forest Park, WA
Jun 18: McMenamin's Edgefield, Troutdale, OR
Jun 24: Loowit Brewing, Vancouver, WA
Jul 07: Backwoods Brewing Company, Carson, WA
Jul 16: Wildwood Music Festival, Willamina, OR
Jul 22: Calapooia Brewing Company, Albany, OR
Jul 23: McMenamins Grand Lodge, Forest Grove, OR
Jul 27: Mississippi Studios, Portland, OR
Jul 29: McMenamins Hotel Oregon, McMinnville, OR
Aug 13: McMenamin's Edgefield, Troutdale, OR
Aug 19: Adrift Hotel, Long Beach, WA
Aug 20: Adrift Hotel, Long Beach, WA
Aug 27: Loowit Brewing, Vancouver, WA