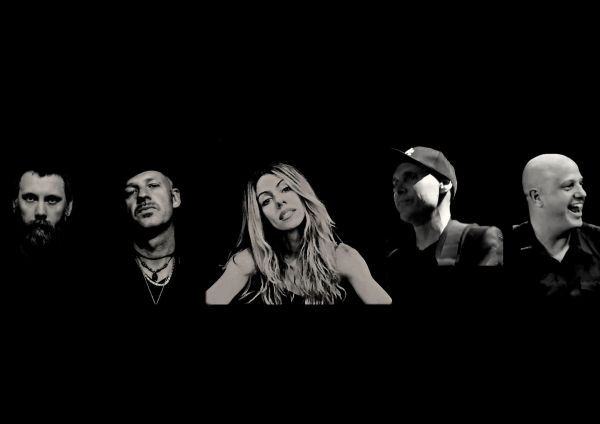 29 September 2017
Kings & Associates; Photo courtesy of Kings & Associates
With their new album, Tales of a Rich Girl, which is currently #1 on the Australian Blues Charts, Kings & Associates, continue the steady ascent started with their win for Most Outstanding New Act at the prestigious 2014 Adelaide Roots and Blues Awards in their native Australia.
Those who have followed this exceptional band from the beginning likely won't be surprised; over the course of their career, Kings & Associates have developed into one of Australia's most unique and exciting modern blues ensembles. A mere two years on, they've quickly become a regular draw at such topnotch Australian music festivals as Mordi, Geetroit, Blenheim, Echuca, Semaphore, and Bendigo, as well as premier venues such as the Cherrybar (Melbourne), Lazybones (Sydney), and the Gov (Adelaide).
The ten original tracks comprising Tales of a Rich Girl,, mark the culmination of two years of writing, touring and recording. Another landmark release for the band, it boasts the talents of several highly respected collaborators. The tunes were originally tracked over six days in Los Angeles a year ago with seven-time Grammy winner Jim Scott (the Rolling Stones, Tedeschi Trucks, Sting, the Red Hot Chilli Peppers, Foo Fighters, Matchbox 20, Crowded House) producing and engineering the sessions. Scott himself personally reached out to the band to express his interest in taking part.
After a brief nine day trip across the Pacific, the album was tracked and the tapes were taken back to Adelaide for a final edit. The band returned to the States to mix the album in Music City having secured the services of another industry legend, Nashville-based engineer Vance Powell. Powell's credits include Grammy wins for his work with the Dixie Chicks and Jack White, and most recently, production for Chris Stapleton's breakthrough effort.
Ultimately, between tracking in LA with Jim Scott, and mixing in Nashville with Vance Powell, the band racked up over 34,000 miles during the eight months of recording.
"Unlike our last album, Red Dress, where we felt we were finding our feet stylistically, Tales of a Rich Girl is a lot closer to our heart emotionally and spiritually," notes lyricist and vocalist Angie Portolesi. "This album was written from real life experiences…including friends dying, relationships breaking up, overcoming personal tragedy, and significant life changes. In essence, these are all the stories of our lives. The songs represent who we are today in so many respects. They speak back to us like our children, and we can say we're proud of them."
With the new album under their collective belt, the band continues to nurture their relationship with global NGO World Vision. The partnership was birthed with last year's Red Dress album, which was produced as part of World Vision's #nochildforsale campaign to help raise awareness of childhood sex slavery. Kings & Associates have developed a close relationship with World Vision as a partner artist, and the issue of sex slavery remains an important cause for the band as well as having a profound impact on their music.
"We're not about bashing people over the head with a social message, or pointing the finger at anyone in particular," Portolesi states. She continues, "The impact that it's [slavery] had on humanity is something we need to continue to address. It's not about saying, 'there are the bad guys over there,', but rather for us to point out what allows us to tolerate the fact that the repressed of this world to remain enslaved."
Kings & Associates will be performing a string of shows throughout Australia to support their new album. Plans are also in place for their first full tour to the US and Europe.
Tales Of A Rich Girl is available on CD from the band's official site and Facebook page, as well as iTunes, Amazon, and most other online outlets.
Kings & Associates detail the making of the album, revealing, "'We're so excited to be finally at the point of releasing our new album. It was a little over a year ago when we tacked the bulk of the album with Jim Scott in LA, lots has happened since then and we're extremely grateful to all the people who have helped us get the album to this point. We hope listeners capture the heart of the lyrics… Angie pens her songs from real life experiences for the most so I'm sure almost anyone can relate to them."
The band continues, "'Musically were very proud of this album. We've had some incredible talent working with us who've helped make it a reality from our great friend Luis Higuera on keys, to our amazing gospel ensemble in LA, to Jim and Kevin at Plyrz Studios, to Vance Powell in Nashville… Not to mention our friends back home and our wonderful team in the US."
"'Tales is made up of around two years of solid writing and performing. We've had some incredible experiences in that time both good and bad… Through all of this as a band we've become closer as friends, we love each other's company and absolutely respect the gifts and unique talents each person brings to the whole,", the band members confess, concluding, "Our influences are diverse, you'll hear bits of blues, soul, plenty of gospel, a little bit of hard rock….and maybe even a reference or two to Charlie and the Chocolate Factory!'
Video for "Evergreen":