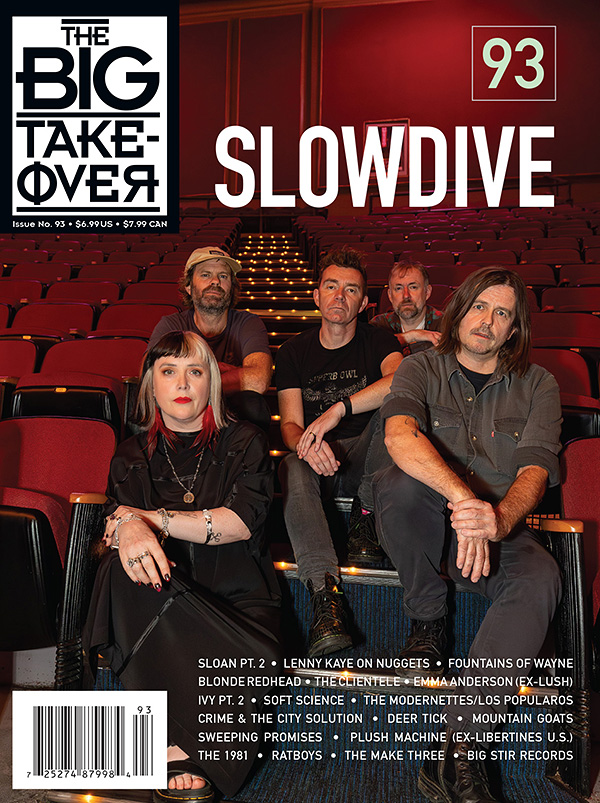 10 November 2023
Once again the big news is that Big Takeover issue #93 Fall 2023 is at the printer now, from completed sessions in Brooklyn, NY and Oakland, CA this month! The issue stars beloved original shoegaze/dreampop stars Slowdive on the cover, and features fabulous history interviews with ageless Halifax/Toronto rockers Sloan part 2, and grieving New Yorkers Ivy part 2, plus power-pop legends Fountains of Wayne and others looking back at their noted Welcome Interstate Managers LP, Lenny Kaye discussing his famous 1972 Nuggetscompilation album, shoegaze greats strong>Emma Anderson from strong> Lush on her first solo album, Blonde Redhead, and Sacremento's dynamite Soft Science, a lookback on late-'70s/early 80s Vancouver punk/post-punk staple John Armstrong (Buck Cherry) from The Modernettes and Los Popularos, and a feature with English veterans The Clientele.
Plus there are shorter chats with Crime and the City Solution, Deer Tick, Mountain Goats, Sweeping Promises, Ratboys, The 1981, The Make Three, Plush Machine ex- Libertines U.S. and Big Stir Records, and more! A full description of its contents is just below.
The magazine will begin shipping any week now, so you should see it quite soon! Remember, we only come out twice a year, every Spring and Fall, so you don't want to miss one of our jam-packed 180-page issues!
IMPORTANT!!: If you are a subscriber and you need to update your address, please tell us right away. The post office almost never forwards our issues even if you have a forwarding order in place. Quickly, send updates to me at jrabid@bigtakeover.com
REMEMBER, since this upcoming issue #93 will soon be shipped to subscribers and those who pre-order it by itself, but will sometimes be unavailable in the usual stores that used to carry us that closed or grew limited for social distancing, it is imperative if you want a copy of the magazine that you order it now, so that we can put in the right number of copies for our order with the printer! It is likely we will sell out of our own office stock thereafter, and once they're gone, they're gone. And of course, it can't be impulse-bought like previous issues when you're out and about. Don't delay!
So if you want the issue, you must order right away before the printer finishes its work, so that we can ship it directly from there in the appropriate number of copies!
This you can do by ordering just the one issue at our online shop. (You can also buy any or all of our 92 back issues there that have been released over the past 43 years!), or subscribe if you've been meaning to, or renew your subscription if it has run out!!!! (Feel free to email me at jrabid@bigtakeover.com if you fear your subscription has run out!)
And just a reminder that there's still time for the perfect Christmas, Chanukah, other holidays, birthday, graduation, or whatever type of gift: Big Takeover magazine subscriptions and back issues! Give the gift of music appreciation and good reading to those you love! (And maybe to yourself while you're at it.)
Speaking of which, for more super gifts, here's a reminder about our t-shirts, CDs, and our other fun stuff like Big Takeover beer cozies and signed posters that might be just the thing!
That's right, Big Takeover issues, subscriptions, back issues, t-shirts in three colors, black, white, and burgundy red in thirteen sizes (including our children's sizes, 2T, 3T, 4T, and 6MO, 12MO, and 18MO baby onesies!!!!! The coolest gift ever for the kids!), and our accessories (BT beer cozies for only $5 and 12 × 18 color BT Anniversary Festival Posters for $4, which I will sign if you want me to!), as well as our related CDs (including the limited edition Springhouse CD album, From Now to OK), also make the perfect birthday, or holiday) gifts! Especially in this time when we are all trying to economize.
This means our t-shirts still come in three colors (black, white, and burgundy red) and are only $16 for men, $15 for women, and $12 for children's shirts and baby onesies, even including postage.
Also, all but two of our back issues are still available (if your friends like a specific band we've featured) and there's always the mega-deluxe gift, the complete set of all of our 92 issues to date, including the two that are out of print! Check theback issues page and you will see that offer.
And we are also offering used, good-quality CD copies of the three out-of-print SPRINGHOUSE CDs from 1991-1993 as well as sealed, limited edition art-package copies of Springhouse's 2008 third LP From Now to OK (See why it got an 86/100 in Paste!), as well as CDs by EVEN WORSE, LAST BURNING EMBERS, DOUG GILLARD, NON-LINEAR THINKERS and EDP!
If you want to subscribe or renew or give the gift that keeps on giving, just go to our subscribe and feel free to indicate which issue you'd like to start with (or have your friends start with); issue #92 (Sloan cover), the upcoming issue #93 (Slowdive cover), or the Spring 2024 issue #94 (Justin Bieber cover – Ha! Just kidding. Just wanted to make sure you were still reading). It's only $24 for four issues (save 23% off the newsstand price including average sales tax), or $36 for overseas, or $32 for Canada. Or, for those in the U.S., you can send us a check made out to "Big Takeover" for $24 to the following address:
The Big Takeover
356 4th St. 2nd fl.
Brooklyn, NY 11215

Or if you want to order just issue #93, you can send us a check (or make a PayPal payment to jrabid@bigtakeover.com) for $10.50 (including postage) to that address, or order it at the Big Takeover website.
Here, again, is what's in issue #93!
Interviews: Slowdive (on the cover) * Sloan Pt. 2 * Lenny Kaye on Nuggets * Fountains of Wayne * Blonde Redhead * The Clientele * Emma Anderson (ex-Lush) * Ivy Pt. 2 * Soft Science * The Modernettes/Los Popularos * Crime and the City Solution * Deer Tick * Mountain Goats * Sweeping Promises * Plush Machine (ex-Libertines U.S.) * The 1981 * Ratboys * The Make Three * Big Stir Records
Editorials: Rabid: "R.I.P. The Effigies' John Kezdy, 1959-2023: Farewell to a Fine Friend and Frontman Supreme" * Kelson: "Your Favorite '90s Indie Band Has Just Blown Up—or Not" * Lauden: "Welcome Interstate Managers Turns 20: Fountains of Wayne"
Live: Alvvays (And Alex G) * Baseball Project (And Stephen Mccarthy) * Beths * John Cale * Chameleons * Shana Cleveland * Feelies * Lotion (And Bird Streets) * Pernice Brothers (And Mini Orchestra) * Sloan * Slowdive * Drom 30 Festival: French, Dots Will Echo, Joy Cleaner, Flower, Sleepyhead, Antietam, Cathedral Ceilings, Das Damen
Cd/Vinyl/Cassette/Digital Reviews: A Certain Ratio * Abilene/Achings * A.M. Nice * Affiliate Links * Alarm * Arthur Alexander * Marc Almond * Emma Anderson * Animal Collective * Another Heaven/The Cult of Lip * A.R.Kane * Albert Ayler * Anton Barbeau * Baseball Project * Art Bergmann * Courtney Barnett * Beach Fossils * Beatles * Bedroom Eyes * Bellrays * Andrew Bird * Black Swan Lane * Black Tape For a Blue Girl * Blasters * Bloc Party * Blur * Blusterfields * Beth Bombara * Breeders * Bully/Chai/Postal Service * Bully Pulpit * Bunnygrunt * Bush Tetras * Will Butler & Sister Squares * Joshua Carpenter * Celibate Rifles * Chills * Cinema Cinema * Cleaners From Venus * Clientele * Cliff & Ivy * Coil * Shirley Collins * Colored Lights * Comateens * Connells  * Contestants * Alice Cooper * Coral * Chick Corea * Bethany Cosentino * Crime & the City Solution * Cut Worms * Das Damen * Darling Buds * Dennis Davison * Dead Milkmen * Deeper * Dengue Fever * Denim Tv * Dexys * Dewey Defeats Truman/The Routes * Doors * Downstrokes * Dream Syndicate * Drive-By Truckers * Drones * Easter * Elk City * Evil Nature * Falling Stairs * Fawns of Love * Feeders * Feelies * 54•40 * Film School * Fleshtones * Folk Implosion * Four Star Riot * Frightwig/Mojave Phone Booth * Furious Seasons * Garment District * Marvin Gaye * Rose Gerber * Golden Apples * Grain Hoppers * Grandaddy * Green Palm Radiation * Guest Directors * Guided By Voices * Guitarmy of One * Peter Gutteridge * Half Japanese/Jad Fair And Samuel Locke Ward * Hangmen * Glen Hansard * Mick Harvey & Amanda Acevedo * PJ Harvey * Hasbros * Juliana Hatfield * Helmet * Eddie Henderson/Mike Clark* Kristin Hersh * Hiss Golden Messenger * William Hooker * Honeycrush * Hurry * Infinite River * Jason Isbell * David J & Comrades * Jeanines * Josephus & the George Jonestown Massacre * Nora Kelly Band * Steve Kilbey (& Frank Kearns) * Kilkenny Cats * The Ladies Of * Latchkey * Laughing Chimes * Len Price 3 * Jenny Lewis * Little Richard * Loose Wing * Inger Lorre* Love And Rockets * Lovejoy * Lowest of the Low * Luna/Cowboy Junkies * Lung And Conan Neutron & the Secret Friends * Luxury * Phil Lynott's Grand Slam * Madness * Roger Joseph Manning, Jr.* Bob Marley & the Wailers * Brian May + Friends * John Mayall & the Bluesbreakers * Mercy Music * Meters * Metric * Meyerman * Ava Mirzadegan * Charles Mingus * Monochrome Set * Morphine * Mother May I * Motörhead * Mountain Goats * My Version f It * New Model Army & Sinfonia Leipzig * Stevie Nicks * Ocean Blue * Osees/Side Eyes * 100 Flowers/Strikeslip * Los Outsaiders * Pale Angels * Panda Bear & Sonic Boom/Black Market Karma & Sonic Boom * Charlie Parker * Graham Parker * Gram Parsons & the Fallen Angels (With Emmy Lou Harris) * Art Pepper * Pere Ubu * Liz Phair/Queens of the Stone Age * Pineapples * Pipe * Plush Machine * Porcelain Tongue * Jonathan Postal/Lloyds * Pretenders * Proletariat * Public Image Ltd * Rain Parade * Red Kate * Replacements * Residents * Rolling Stones * Todd Rundgren * Saints * Kim Salmon & the Surrealists * James Sardone * Savage Republic * Fred Schneider & the Superions * Scream * Seablite * Sarah Shannon * Sonny Sharrock * Matthew Shipp * Sigur Rós * Simple Minds * Skymender * Slowdive * Small Square/Velvet Crush * Smug Brothers * Soft Science * Sonic Youth * Spoon * Tobin Sprout * Chris Stamey * Sufjan Stevens * Al Stewart * John P. Strohm * Joe Strummer & the Mescaleros * Bobby Sutliff/Jeff Dahl/Sand Pebbles * Swallow the Rat * Swans * Tad * Talking Heads * Teenage Fanclub * Teenage Wrist * Ten Million Lights * 3 Clubmen * Lol Tolhurst. Budgie, Jacknife * Tragically Hip * Tulipomania * Turnsole * T.V. Eye * U2 * Underbites * Useless Id * Veldt * Victims * Voxtrot * Tom Waits * Muddy Waters * Mike Watt * Weirdos * Wetsuit * Clarence White * Wilco * Cindy Wilson * Jackie Wilson * Winter Boys * Woods * Wye Oak * Zero Boys * Godspeed – A Tribute To Pierre Kezdy of Naked Raygun * Jem Records Celebrates Ray Davies * When the Alarm Clock Rings: British Psychedelia, 1966-69 * Pat Tobin (book) * And Hundreds More!
Lastly, thanks to our Patreon sponsors, who make our magazine and weekly radio Big Takeover Show at Real Punk Radio (all archived at The Big Takeover online) viable, without whom we'd have to stop one or both! If you'd like to join them and help support and sponsor us, it is easily done at that Patreon site, or you can always send a check to Big Takeover to our address as a kind donation. We're very grateful!
Hope you all buy the magazine now that it's coming out! And/or hope you subscribe, as that is still by far the best way to support the print magazines you love if you want them to keep going. It means a lot to them – and us!
And hope you can share the gift of reading and passion for music with your family, friends, and anyone else who is interested! If we can help you, let us know!
And in this unusual time, we hope you are all well and staying that way.
Cheers!
Jack R