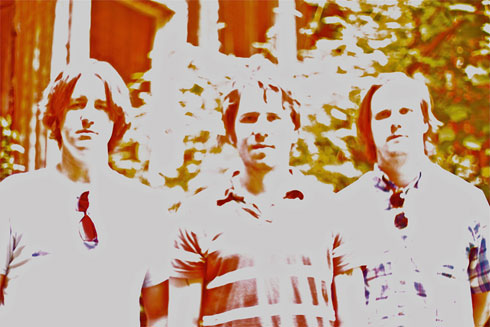 23 September 2013
Photo by Ben Spiker
Neighborhood Veins, the new album by the Chapel Hill/Durham, N.C.-based Schooner, might never have happened.
The band nearly broke up just after releasing 2007's Hold on Too Tight. Reid Johnson, who founded the group based on a 4-track recording project, took time off to re-evaluate his motivation for playing music. Members left and moved away. The rest got day jobs. A different lineup came back for 2010's Duck Kee Sessions and things looked again like they were moving at a steady pace, with the band traveling to SXSW and being named one of PASTE Magazine's "Best of What's Next."
Upon the start of recording Neighborhood Veins, however, the band changed lineups again. With none of the founding members remaining, Johnson persevered with Maria Albani, Joshua Carpenter (Floating Action), and Chris Badger as the band on Veins, and received a generous amount of help from such NC artists as Ivan Howard (The Rosebuds/GAYNGS), Phil Moore (Bowerbirds), Bob "Crowmeat" Pence (Dexter Romweber, D-Town Brass), Jeff Crawford (The Old Ceremony, Roman Candle).
We get an Okkervil River vibe from Schooner, with a little more soul and a lot more reverb! Have a listen and let us know what you think in the comments.
Schooner kicks off a tour tomorrow night with an album release party in their hometown. Here's the full list of dates:
09.24: Release party @ The Pinhook (Durham, NC)
09.25: Velvet Lounge (Washington, DC w/ Harness Flux, Sunwolf)
09.26: Cameo Gallery (Brooklyn, NY w/ Daytona, Mount Sharp, Doug Keith)
09.27: Kung Fu Necktie (Philadelphia, PA w/ Mock Suns, Avery Rosewater)
09.28: Lot 10 (Ithaca, NY w/ The Rungs, Starry Mountain Sweetheart Band)
09.29: Sneaky Dee's (Toronto, Canada w/ Doctor Ew)
09.30: Tree Bar (Columbus, OH w/ Fingers, Most Cooperative)
10.01: The Burlington (Chicago, IL w/ Cassettes on Tape, Kangaroo)
10.25: New Brooklyn Tavern (Columbia, SC w/ Yip Deceiver, Wild Moccasins, Those Lavender Whales, Stagbriar, Mason Jar Menagerie, Sleepy-Eye Giant)
10.26: Bottletree (Birmingham, AL w/ Teen Getaway)
10.27: Lagniappe Records (Baton Rouge, LA w/ Tess Brunet)
10.28: Circle Bar (New Orleans, LA w/ Tess Brunet)
10.29: The Earl (Atlanta, GA)
10.30: Little Kings (Athens, GA)