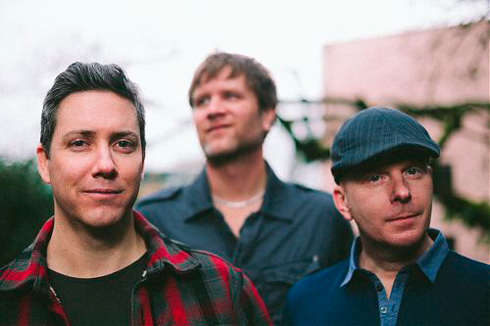 27 March 2014
Photo by Jason Quigley
To a degree they're a brand new band, but the three members that comprise Pacific Mean Time have actually been playing together for years under the name Little Beirut (they got some coverage from The Big Takeover for their 2008 album High Dive).  After parting ways with a former guitarist, and finding out that lead guitar player Edwin Paroissien had been let go from his job, the band made the decision to fully commit to PMT and make the album they had always wanted to.
With plenty of free time, Paroissien spent two months toiling over demos in his basement, following every creative tangent he could.  The result is an album as much inspired by cassettes from the band members' teenage years — R.E.M., The Smiths, and The Replacements — as it is by the late Mark Linkous, of Sparklehorse fame.
Pacific Mean Time, like their former Little Beirut, maintains their knack for creating warm, catchy songs, but this new batch boasts more organic instrumentation and a different approach to songwriting, with the help of producer Matt Morgan interjecting tension and complexity with counter rhythms and melodies.  Keyboardist Nathan Jr.'s (M. Ward, Dandy Warhols) sunny synths round out Pacific Mean Time's eponymous debut album, to be released May 27.