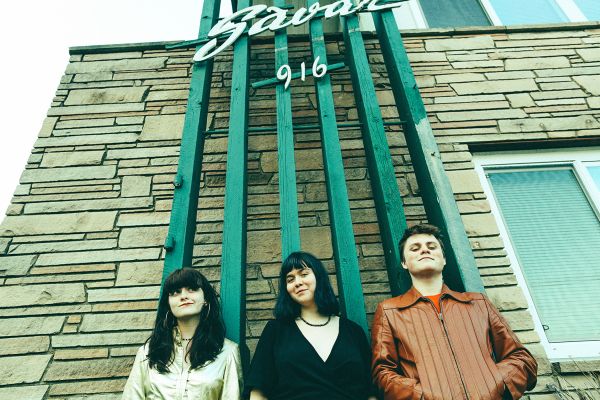 28 April 2017
Skating Polly; Photo Credit: Angel Ceballos
Oklahoma-native, now Seattle, Washington-residing step-sisters Peyton Bighorse and Kelli Mayo formed the alternative rock/grunge pop Skating Polly as a duo in 2009 when they were a pre-teen and teenager, respectively.
Since its start, Skating Polly has grown into a formidable musical force, releasing 4 media- and fan-praised studio albums. Singer-songwriters/multi-instrumentalists Bighorse and Mayo have been championed by the illustrious likes of Viggo Mortensen, X's Exene Cervenka (she produced Lost Wonderfuls) and Beat Happening's Calvin Johnson (he recorded Fuzz Steilacoom) and they recently supported Babes In Toyland for that band's reunion tour.
Now Skating Polly has a treat up its collective sleeve, delivering the New Trick EP today via El Camino Media. Bighorse and Mayo have added their brother Kurtis to the fold on drums and they teamed up with Nina Gordon and Louise Post of renowned alternative rock/pop band Veruca Salt for the EP. The result is a moody, but melodic record that kicks Skating Polly's big sound up a notch, but also refines the compositions with a sophisticated touch.
On the day of New Trick's release, Peyton Bighorse and Kelli Mayo unveil and detail their band's Top 5 Videos. Skating Polly also kicks off a Spring Tour (with some shows supporting the legendary band X) in May. Tour Dates below:
"HAIL MARY" (New Trick EP)
PEYTON: We shot "Hail Mary" in Goldendale, WA at an Airbnb called 'The Red House'. It's this really cool historic house full of awesome spooky antiques. We shot it with Dave Smith, who we've made a lot of our videos with. We stayed at The Red House for two days with Dave, our brother Joseph, and our friend Sydnie Barnette (from the band ShiSho), who both starred in the video.
We worked from morning to night ironing out the concept and what piece of the puzzle every scene would represent. On the drive up to the house we saw this insane, dense fog. It was beautiful and we were dying to shoot something in it. So, on the way home we crossed the Bridge of the Gods on the border between Oregon and Washington, drove up this super-steep mountain, and finished the video in the fog! We wrote and recorded it with Nina Gordon and Louise Post of Veruca Salt for our new EP New Trick. I played drums on it and Kelli played a Fender P Bass that Brad Wood (who produced the EP) had. Nina and Louise both played Gibson guitars.
KELLI: We really stressed over this video. A lot of our videos have a vibe of not taking ourselves too seriously even though the song is serious, because the truth is, we're always having fun. We wanted this one to be heavy and not too cheery, but also without being super-earnest or self-serious. The song is a fairytale about a princess with a glamorous lifestyle and a prince that are both absolutely poisonous. Her life's making her sick, but she'll never leave it because she thinks those things are what make her herself and bring her happiness. The narrator is pleading with the princess to run away from it and not look back.
"A Little Late" (Fuzz Steilacoom)
PEYTON: For "A Little Late" we took a road trip from Oklahoma City to Los Angeles and shot a bunch of stuff on the way. It was one of the most fun video shoots we've ever done. We travel a lot and we're always seeing places on the side of the road or in some out of the way place that we think we could shoot a video in. The concept was pretty much just to drive to Los Angeles and every time we see someplace interesting, stop and shoot.
We kinda had Kate Nash's house as our final destination because she said she'd love to be in the video. The day we finished shooting was my birthday, so I had a fun birthday party/video shoot wrap celebration with Kate (who makes a special appearance in the video). Our friend Henry also started shooting footage for the documentary he's making about us during the shoot, so it was a really big trip for us. I play drums on the recording and Kelli plays piano. Also, on the recording, that's Calvin Johnson saying "rolling" at the beginning. We love his voice and wanted to keep that in.
KELLI: The first time Kate heard "A Little Late", she called me and told me "This song changed my life, I'm obsessed with it. You HAVE to make a video and preferably let me be in it." We were so incredibly stoked. We had just gotten off our 2013 tour with her not too long before that and had become very close friends. It was awesome just to have an excuse to drive out and see her, but having Kate on board also gave the song more exposure, so we were super-grateful.
The idea of the song is pretty simple. It's a waste of your life to hate people. Nowadays it reminds me of all the people who've spend so much of their lives hating or being afraid of black people, gay people; really any group they perceived as being too different from what they are comfortable with. They're missing out on friendships and chances to learn something.
The times are changing, regardless of all the hateful bigots crawling out of the woodwork right now. In the history books the hate, the prejudice, and the push against equal rights will not look good; it never does. So the concept is just that; if you let your mind go down a hateful path, the very best thing you can hope for is that you eventually figure it out, but even then you've wasted part of your life. "Chase away the thoughts that make you hate 'cus hate does not create and hate at best will just keep you a little late."
So we just found beautiful places along our LA route and timed our shooting so we'd have the best lighting and just went for it. We also shot in our house and at a lake in Stillwater, Oklahoma. My and Peyton's love and friendship shone through (and Kate's at the end) and to me that's what made this video so magical.
"Across the Caves" (The Big Fit)
PEYTON: This was a crazy hectic shoot. We drove up to New York City to shoot this and "Morning Dew" right before we flew to the UK for a tour. We spent two or three days running around New York in pretty extreme heat and we forgot all our clothes in Ohio on the way up, so we didn't have a wardrobe to choose from for the videos. We had to borrow some clothes from Sofia Due Rosenzweig (the director) and do some intense speed-shopping. It's one of my favorite videos because of how cool her concept was, how successfully she pulled it off (especially on such a low budget), how cool all the locations were, and how beautiful all the colors are in it. I am on piano (keyboard in the video) and Kelli is on drums.
KELLI: I met Sofia when I got cast in a pilot called When The Street Lights Go On. She was the assistant to the great director of photography Ellen Kuras (Eternal Sunshine of The Spotless Mind, Blow, Summer Of Sam). We became fast friends and started talking about music and movies and when I told her about Skating Polly, she sent me a beautiful music video where she'd taken incredibly scenic footage from various places she'd been and overlapped it so that things spun together or ran into each other or faded on top one another to the rhythm of the music.
It was pretty brilliant, so after that, we knew Sofia had an incredible eye and we asked if she'd be interested in coming up with some music videos that were obviously focused on a narrative. She then sent me this great idea for "Across The Caves" and got a small team together that all busted their ass to make it happen. Ellen Kuras let us use her camera. I got sunburned, saw a grown lady squat and pee in public, and confused/annoyed lots of subway riders. But goddamn if it wasn't one of the most fun, exciting times we'd ever had filming!
"Stop Digging" (The Big Fit)
PEYTON: We shot "Stop Digging" with Dave Smith, along with four other videos in the span of 2 and a half days (one of which we didn't up using). It was the most intense series of video shoots we've ever done. By the time we got to "Stop Digging", we'd already been shooting the other videos all day; it was like 10 pm when we started it. We were exhausted and I didn't think we'd make it out alive. I love this video.
Our friend Sheridan Riley (who's in a great band you should check out called Peg) worked at the Seattle Drum School and she talked the school into letting us shoot there. There were already these rad streamers hanging up on the stage. For each stage of the video our make-up would look a little more worn, so between takes Kelli and I would be in the bathroom splashing water on our faces to make it run and rubbing our eyes raw. We look about as exhausted as we felt even though it was done artificially! I'm on drums and Kelli is on basitar.
KELLI: This song is about comparing yourself to other girls and jealousy and all the bullshit you feel being a girl. For me it was so nice to just fucking vent all these feelings using a creative outlet. I was definitely inspired by Babes in Toyland's lyrics. I love the way Kat Bjelland can be really unapologetic when telling an epic tale of jealousy. My favorite part is how hilariously terrifying I look in the bridge with the crazy strobe going. The director has two toddler daughters who love our music videos, but he told me this one is officially "too scary" for them. They freak out at that bridge! We weren't even going for a "scary" vibe, but it ended up fitting perfectly over the very metal bridge riff.
"Louder in Outer Space" (New Trick EP)
PEYTON: We shot "Louder in Outer Space" with Eddie O'Keefe, who's the go-to video director for The Orwells. It was so cool because we had a costume designer there with us to bring in lots of sweet lookin' clothes and jewelry and to make sure we looked right between takes. I absolutely loved the dress she brought for me. It's probably my favorite outfit I've ever worn in a video. And I thought Kelli looked so bad-ass; very Jimmy Page. On the recording I'm on drums, Kelli is on basitar, and Nina and Louise are on guitars, but for the video I switched to guitar and we had Kurtis on drums, who we'd just added to the band!
KELLI: For this one we wanted a straightforward performance video since we'd just released several narrative videos. Eddie O'Keefe was the writer of my pilot When The Street Lights Go On. He loves throwback themes in his art and he's very good at pulling them off in an original way. The pilot he wrote is a murder mystery set in 1983 and I played a girl obsessed with '50s rock 'n' roll and Girl Groups. So I was very stoked when we went with a '70s Carrie vibe in this video. I love the glow throughout and the way he'd strategically place props to get the perfect color flares in close-up shots. It's so dreamy. I love how everyone has a distinct personality, like we all have our own role and we didn't even plan it. It made me think of the Beatles' image. "Paul's the cute one, Ringo's the funny one, John's the smart one, and George is the quiet one."
Skating Polly Tour Dates
April 29 | Music Millennium (in-store) | Portland, OR
May 1 | El Rey Theater* | Albuquerque, NM
May 3 | Diamond Ballroom* | Oklahoma City, OK
May 5 | Knuckleheads* | Kansas City, MO
May 6 | Delmar Hall* | St. Louis, MO
May 7 | City Winery* | Nashville, TN
May 8 | Neighborhood Theater* | Charlotte, NC
May 9 | Cat's Cradle* | Carrboro, NC
May 11 | 7th Street Entry | Minneapolis, MN
May 12 | Lyric Room | Green Bay, WI
May 13 | Subterranean (downstairs) | Chicago, IL
May 14 | Magic Stick | Detroit, MI
May 15 | Grog Shop | Cleveland, OH
May 16 | Smiling Moose | Pittsburgh, PA
May 17 | St. Vitus | Brooklyn, NY
May 19 | Pouza Fest | Montreal, QC
May 20 | Kung Fu Necktie | Philadelphia, PA
May 21 | DC9 | Washington, DC
May 22 | Rumba Café | Columbus, OH
May 24 | Ready Room | St. Louis, MO
May 25 | Bottleneck | Lawrence, KS
May 26 | Opolis | Norman, OK
June 3 | The Nile at the Underground | Mesa, AZ
June 4 | The Shop | Prescott, AZ
June 6 | Casbah | San Diego, CA
June 7 | Bootleg Theater | Los Angeles, CA
June 8 | Constellation Room | Santa Ana, CA
June 10 | The Parkside | San Francisco, CA
August 26 | It's Not Dead Festival | San Bernadino, CA
Official Site
Facebook
Twitter
Instagram
SoundCloud