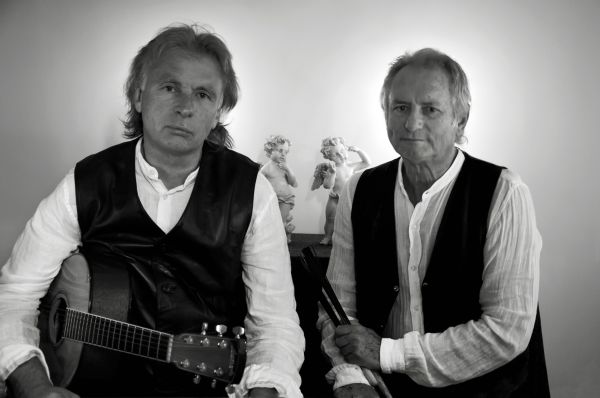 30 July 2018
TC&I – Photo Credit: Geoff Winn
Lately there has been a buzz surrounding British alternative rock/New Wave trendsetters XTC, in part due to the release of eye-opening XTC documentary This Is Pop. Focusing on the band's history and legacy, this 'rockumentary' looks at the band and their journey from mercurial pop outsiders to full blown national treasures and one of Britain's most influential yet unsung bands.
After 36 years, and following up the release of their debut Great Aspirations EP under the moniker TC&I at the end of 2017, songwriter and XTC co-frontman Colin Moulding and original XTC drummer Terry Chambers have announced a string of live dates in October. Earlier, The Big Takeover's Jack Rabid also introduced his radio show listeners to TC&I.
TC&I will be playing an exclusive mini-residency at Swindon Wyvern Theatre & Arts Centre, consisting of four evenings – on Oct 29th, 30th, 31st, and Nov 1st. Other dates are expected to be announced in the next few weeks.
"These dates are probably commensurate with our output thus far. We're not going to do the usual promoters' circuit. Besides it's kind of special this way. Like a stationary West End show or something," says Colin Moulding.
Mixed by Stuart Rowe of Lighterthief (Andy Partridge, Future Sound Of London, Shriekback, Paul Weller, Jen Olive), the Great Aspirations EP consists of four new original recordings that showcase Colin's English pop vision. This is the first new material from Moulding in many years, highlighted in the band's video for 'Scatter Me'. The EP delivers XTC's trademark qualities of melody, rhythm, variety, and idiosyncratic subject matter, mixed in with nostalgia fueled by an understated political anger. In following with his songwriting history to date, Moulding shows an appreciation of the good things, such as friendship, landscape and longing. Here he again reminds us of what we stand to lose in the name of progress, looking at the rapidly changing world around him.
"Exciting times. 18 months ago couldn't see this happening – I'm as excited about these gigs as I was in 1973 playing our first gig at the Arts Centre Swindon as a 17-year Helium Kid, and the first time to be playing with Colin together on stage since San Diego," says Terry Chambers.
XTC's long-standing rhythm section will be joined by music veterans Steve Tilling on guitar and Gary Bamford on keyboards and guitar. This is not the first XTC encounter for multi-instrumentalist and session musician Tilling, the man behind Circu5, whose debut album The Amazing Monstrous Grady featured a guest appearance from XTC guitarist Dave Gregory.
Swindon musician Bamford has an extensive history of music writing, orchestrating, teaching, and collaborating, including working with The Beautiful South to orchestrate 25 songs for the musical The Slide and as bandleader for the show at their premiere performances. His debut album Jadj was co-produced with Jim Barr (Portishead).
In addition to their new material as TC&I, Moulding and Chambers plan to play a selection of the songs from the XTC catalog written by Colin, several of which have never been played live due to the fact that the band stopped touring in 1982, not long before Chambers' departure.
2018 marks the 40-year anniversary of XTC's first studio album White Music. While XTC was founded in 1972, it wasn't until 1979 that XTC had their first UK charting single. Moulding had written the first three charting singles ('Life Begins at the Hop', 'Making Plans for Nigel', and 'Generals and Majors'). Chambers left the lineup in the 1980s, while Moulding continued his partnership with frontman Andy Partridge through the group's dissolution in 2006.
XTC's Andy Patridge also announced the shows via Twitter: "Well I never, CM and TC playing live. They should have done it years ago."
TC&I Great Aspirations CDs (both signed and unsigned copies) are available exclusively through Pledge Music and Burning Shed. Tickets for TC&I's first four dates are available here.
TRACK LIST
1. Scatter Me (4:32)
2. Greatness (The Aspiration Song) (3:53)
3. Kenny (4:33)
4. Comrades of Pop (2:23)
Check out several other XTC tracks written by Colin, which fans can expect to hear at these shows:
TC&I
YouTube
SoundCloud
Facebook
PledgeMusic
Burning Shed