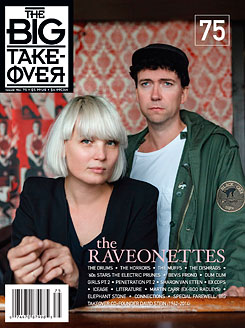 17 December 2014
Last call! Just a reminder that there's still time for the perfect X-mas gift: Big Takeover magazine! Our brand new Fall/Winter issue 75 with the The Raveonettes cover is out on the stands, in case you want to treat yourself (you little devil!). Or indeed, if you want a holiday gift subscription for your friends or family whom you think would enjoy our pages (or one of our t-shirts including all womens', childrens' and infants' sizes, or any of our back issues, or our CDs, or our "accessories," our buttons, magnets, signed 30th anniversary festival posters or beer cozies), either way you can still order on our secure online store with all the major credit cards and even paypal by clicking on our big takeover shop, (or if you want to send a check, the instructions are below)!!!!
Just let us know in the "comments" section of the order form that the order is for X-mas (why not write, in all caps, "RUSH! THIS IS FOR X-MAS!"), and we will be glad to send the package by priority mail to ensure it gets there fast and on time. And include in the "gift message" section anything you want to say, and we'll take it from there. If it is for a subscription that you want to start with #74 (Dum Dum Girls cover) or the brand new #75 (Raveonettes cover), we will similarly send the first issue(s) by priority mail. (If you want it to start them with #75 in the spring, we will also be glad to send a postcard for now to let them know about your gift, and that it is from you, with any message you might include.)
Remember, two-year, four-issue subscriptions are just $20 ($32 overseas and $26 for Canada), about 23% off the newsstand price including taxes, and our other stuff is even less. Good values in these leaner times!—a holiday gift that keeps on giving.
Likewise, all but two of our back issues are still available (if your friends like a specific band we've featured, and that's easy to search on our back issues' page); and there's always the mega-deluxe, blockbuster, blow 'em out of the water gift, the complete set of all of our 75 issues to date, including the two that are out of print!
For our other stuff, our t-shirts come in three colors (black, white, and dark red) and 13 sizes (four men's, three women's, six children's—the adult shirts are only $13, even including postage! And the kids shirts are only $10, also including all postage!!!), , and in addition to the aforementioned "accessories" (me i like the beer cozies! though the signed posters have proved popular, and both the magnets and buttons also make good stocking stuffers at 50 cents and a dollar each!), we are also offering used, good-quality CD copies of the three out of print SPRINGHOUSE CDs from 1991-1993 as well as sealed, new copies of Springhouse's most recent third LP From Now to OK (see why it got an 86 in Paste !), EVEN WORSE , LAST BURNING EMBERS , DOUG GILLARD , NON-LINEAR THINKERS and EDP!
Likewise, for those who want to mail us a check made out to "The Big Takeover", that would be possible too, but you'd have to hurry (and you can use our online store as a guide to prices and selection). Here's the address:
Big Takeover Magazine
1713 8th Ave. Suite 1-4
Brooklyn, NY 11215 USA
In any case, there was a lot of information on our new issue 75 in my last post a week or so ago; Hope you all buy not that it's out! And/or hope you subscribe, as that is still by far the best way to support the print magazines you love if you want them to keep going. It means a lot to them!
And on behalf of myself and our entire staff of friends at Big Takeover (dozens of great writers, photographers, art folks, interns, web people, and others who all toil just for love of music, really, and when you think about it, love of anything good is the best reason to do anything in life!), we wish you the best of holiday seasons and a cool New Year too!
Yours
Jack Rabid, editor and publisher, 1980-to-present
IMPORTANT: If you are a subscriber and you need to update your address, please tell us. Send updates to me at jrabid@bigtakeover.com