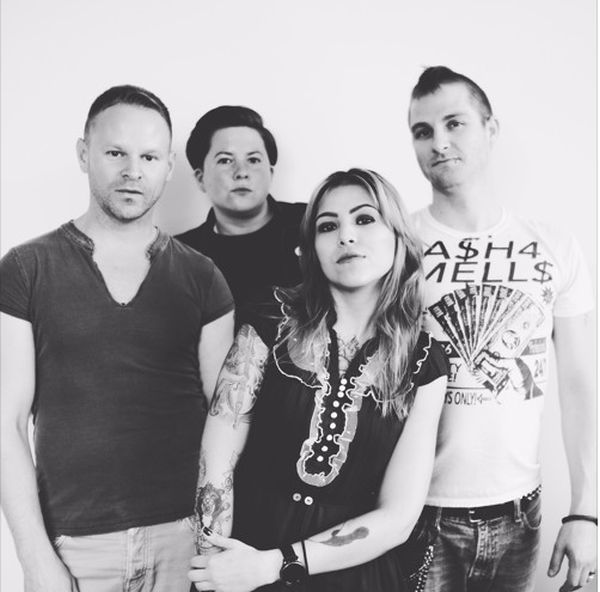 22 June 2017
Teen Vice; Photo Credit: Michael Freeman
Teen Vice is a NYC-based rock band consisting of Tammy Hart (guitars, vocals), Joshua Ackley (bass, vocals), May Dantas (guitars, vocals), and Derek Pippin (drums). Each member is already a renowned veteran in the music field and together they form a super-group that showcases their accumulated talent and experiences.
A live powerhouse, in its short existence Teen Vice has already received accolades in Impose (twice), Jezebel, Vice, Brooklyn Vegan, East Coast Rocker, and more recently premiered a video via Impose. Teen Vice's live debut was opening for punk legends Pansy Division, and the band will open in June for iconic Riot Grrrl band, The Red Aunts.
The band's sound consists of Fleetwood Mac -style melodies played with the ferociousness and passion of Live Through This -era Hole. In other words, catchy and vibrant, punk-influenced alternative rock that has a potent message to go along with the powerhouse music.
Teen Vice is set to release its debut album, Saddest Summer, on July 14th via Commission Music. Depending on the song, Hart, Ackley, and/or Dantas feature on vocals.
The Big Takeover premieres "Anti-Privilege", a driving and electrifying rock track that focuses on Ackley's emotive vocals and words. The band explains, ""Anti-privilege" is about the specific struggle for minorities in the workforce. It's about watching someone work twice as hard as their counterparts to maybe achieve an equal result, but more often than not, falling short."
Tammy Hart and Joshua Ackley kindly took some time out of their busy schedules to answer a few questions about the band and its music:
Wow, you are an action-packed super-group! Can you each briefly trace your musical lineage to this current band?
TAMMY: Thank you for saying that! I was still in high school when I signed to Mr. Lady Records and Video, which put out some great records around that time- I think Le Tigre being the biggest artist on the label. The literal second I graduated from high school, I was on the road touring the country non-stop, which was crazy, coming from a small South Carolina town, and not being exposed or having much access to live bands myself.
I moved to the West Coast for a few years and got really into the post-punk, no wave, and garage sounds that were happening there. The people and bands I met there, Wives who are now No Age, Mika Miko who are now Bleached, and Gossip were extremely influential on me then and now. [Hart formed the post-punk band Gangway! with members of No Age.]
I came to New York playing in a garage two-piece and ended up doing a punk/R&B record under the name Making Friendz, and playing and touring for JD Samson's band MEN. I had been a long time fan of The Dead Betties and when Josh approached me about working together, I jumped at the chance.
JOSH: Like a ton of other folks, I started playing music in garages and basements as a teenager. Drummer Derek Pippin and I moved to NYC and found success with our former band, [iconic punk act] The Dead Betties. After the Dead Betties disbanded, I was ready for a new project, and have always wanted to work with Tammy Hart—she is the best songwriter I've ever met, hands down. So, we started talking about it, and here we are now in Teen Vice!
[May Dantas formed the punk rock band The Dirty Cats while in her early teens in Sao Paulo, Brazil. In 2006, she started The Fingerprints which amassed a devoted following in South America.]
[Derek Pippin has been in a slew of other bands as a multi-instrumentalist, including Fur Cups for Teeth, Boogie Brains, Sped, and The Kickstarts. He ran the underground punk venue Divine in Bushwick and is also a solo recording artist.]
Your music is sonically raw and socially relevant – something that is desperately needed in these divisive times. What are some of the cultural/political topics that you tackle on your upcoming album, Saddest Summer, out July 14 via Commission Music?
JOSH: Thank you for saying so – We think so too. Culturally and politically, I was shocked and disappointed that during the recent American Presidential election, people of all ideologies were so easily convinced that the term "working class" pertains specifically to and represents one demographic—middle class white workers in the Rust Belt. Regardless of race, whether you have a job in the Rust Belt or in a coastal city, you are part of the working class, period. No one is entitled to take that from you, or belittle your skills. As someone who has worked since I was of legal age, and who has definitely felt discriminated against in the work force, I call foul on the whole victimization narrative from the last year. In the words of Kathleen Hanna, "You're not the victim, but you'd like to make it that way"…
TAMMY: I think what always comes up for me in song-writing is more playful and love-songey and less political. I'm a lover, not a fighter in a lot of ways. I'm the Mick Jones to Josh's Joe Strummer. By the same token, I have always believed that writing queer love songs is a political act, because sometimes our very existence and survival can be deemed a political act. So I'm just going to keep writing about how much I love women, and hopefully everyone will find a way to relate.
Did you all meet up in the NYC music scene? Have you known (of) each other for a while?
JOSH: I first met Tammy on tour, at a show in Berkeley at the legendary 924 Gilman. Seeing her and hearing her songs, I was totally blown away. I knew right away that I someday wanted to work with her. And when she moved to NYC, we quickly became very close…
Besides buying your album and shouting along to your songs, what is one thing that listeners should do to make a positive change in the current negative cultural and political climate?
TAMMY: I think, without sounding too self-righteous, we could all do more to donate or volunteer to causes that feel important to negate or put a sandbag against the toxic flooding and damage that 45 is doing. I donate to Black Lives Matter quarterly, and I am seriously excited to volunteer for SAGE, which are an assisted-living facility as well as resources for elderly LGBTQ peoples. I also feel that in a time where the White House refuses to acknowledge Gay Pride month, whether you're queer or a straight alley, we should all just be a lot gayer, a lot louder, a lot prouder, and lot more in their face.
JOSH: I've always felt the political to be very personal—with politicians talking about my rights, and without me ever being represented in the conversation. I think more and more people are now feeling that way as well. So it's about being heard. And we've all gotta make that coin, so I love the idea that music can and should be anthemic for the working class. The idea that we're somehow all in this together, for me, is the Northern Star which can guide us to positive change. We've got to get out into our communities and learn how to be better neighbors, allies, and citizens with one another. And everyone should be donating to Black Lives Matter.