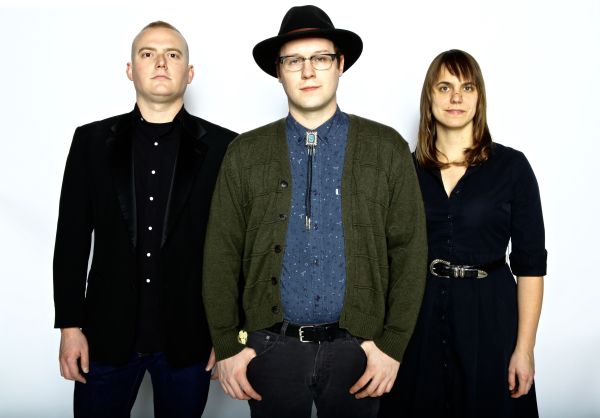 5 April 2017
The Hooten Hallers; Photo Credit: Nate Burrell
Columbia, Missouri-based punk, Gothic Americana, rock 'n' roll band The Hooten Hallers combines demonic, gritty growling vocals, which are influenced as much by Captain Beefheart as they are Tuvan throat singing, with gut-busting baritone and bass sax and pre-war blues, New York Dolls influenced guitar. It's a heady combination!
In the olden days of American music, before radios, television, highways, and the internet homogenized everything, regional styles and traditions reigned. And yet, the rich regionalism of America continues today, fighting against the Walmart-ization of American culture.
The Hooten Hallers are out front of this charge, reclaiming the heritage of their Missouri roots. With their new self-titled album, which will arrive 21 via Big Muddy Records, they continue their decade-long search for these roots, drawing from the surrounding agricultural lifestyles, the river communities, the college kids, and the tweakers that roam Columbia, Missouri, all in the looming foothills of the Ozark Mountains.
Other bands would have jumped ship for a cosmopolitan city long ago, but there's a sense of pride in these stubborn personalities that tie The Hooten Hallers inextricably to their place. Their regional foundation inspires their music, all of it tying them to the Missouri river and the new regional traditions being made every day.
Their fairly recently anointed sax player, Kellie Everett, has worked with the likes of Pokey Lafarge, The Legendary Shack Shakers, among a slew of other acts. She's making her Hooten Hallers recording debut on this self-titled album.
The Big Takeover premiere the grimy and wild "Dig" from the LP, with Everett divulging, "In some ways, it's a classic song about "the man" keeping the "little guy" down, or the boss taking advantage of its workers. But it's also a critique about the pay-to-play nature of the music industry, wherein unless you have the money to hire a manager, who has the connections, to get the review, that influences the promoter to book you at the gig/ festival, then you find yourself in a position where even the smallest set-back can be a huge stumbling block for independent artists. The age old theme of workers being used to dig for gold and a lot of other players in the game reaping the benefits while the workers struggle to get by."
Official Site
Facebook
Twitter
Instagram