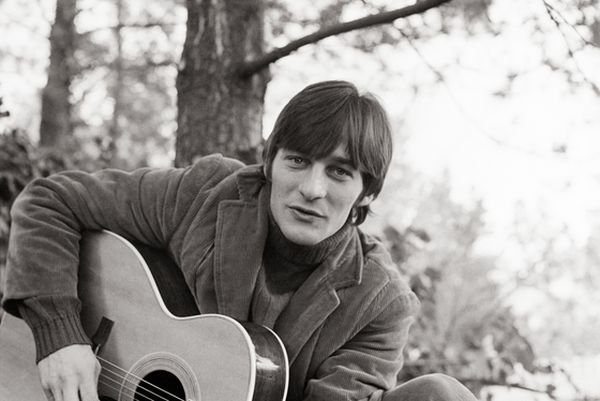 4 May 2018
Gene Clark; Photo courtesy of Omnivore Recordings
Omnivore Recordings will be releasing never-before-heard music from music legend Gene Clark (The Byrds) on June 15th as the expanded album Gene Clark Sings for You. The record reveals a heretofore unknown collection of Clark's post-Byrds career.
Clark's musical legacy includes his work as a singer, songwriter, founding member of The Byrds, and collaborator in bands such as Dillard & Clark, Gene Clark & the Gosdin Brothers, and McGuinn, Clark & Hillman(, and later as the duet partner of *Carla Olson (The Textones).
Clark is also a Rock and Roll Hall of Fame inductee whose songs have been covered by Tom Petty & the Heartbreakers, Iain Matthews, Robert Plant & Alison Krauss, the Rose Garden, and Chris and Rich Robinson of the Black Crowes, among many others.
According to annotator John Einarson, author of Mr. Tambourine Man: The Life and Legacy of the Byrds' Gene Clark (Backbeat Books), "For longtime Gene Clark fans and aficionados, the tracks on this remarkable archival CD are the stuff of legend. Since word first spread in the 1980s about the discovery of these 1967 recordings on a rare acetate in Liberty Records' vaults, fans have come to regard Gene Clark Sings for You as nothing less than the Holy Grail of the singer/songwriter's extraordinary body of work. Shrouded in mystery and the subject of much speculation and conjecture, few have ever had the opportunity to hear these forgotten gems from one of Gene Clark's most prolifically creative periods. Until now."
In addition to the eight tracks from the Gene Clark Sings for You acetate, recorded in 1967 after he famously left the Byrds, there are an additional five previously unknown tracks from another 1967 acetate given to the band The Rose Garden for recording consideration. The Rose Garden were big fans of the Byrds. "We wanted to sound like [them]," notes band member John Noreen.
The Big Takeover is excited to premiere the album-ending track, "Doctor Doctor", from the rare The Rose Garden acetate. Beautiful harmonies from Clark flow and float through this strummed guitar-driven number. It's pure singer-songwriter perfection with a burnished patina that, during its few brief minutes, showcases the melodic heights that Clark is celebrated for.
Gene Clark Sings for You was produced for release by Grammy® Award winner Cheryl Pawelski, with restoration and mastering by fellow Grammy® winner Michael Graves. Augmenting notes from Einarson are previously unseen photos.
Track listing:
Gene Clark Sings for You
1. On Her Own
2. Past Tense
3. Yesterday, Am I Right
4. Past My Door
5. That's Alright by Me
6. One Way Road
7. Down on the Pier
8. 7:30 Mode
The Rose Garden Acetate
9. On Tenth Street
10. Understand Me Too
11. A Long Time
12. Big City Girl
13. Doctor Doctor
The Rose Garden Demo
14. Till Today
All tracks previously unissued
Watch the trailer for the release of Gene Clark Sings for You