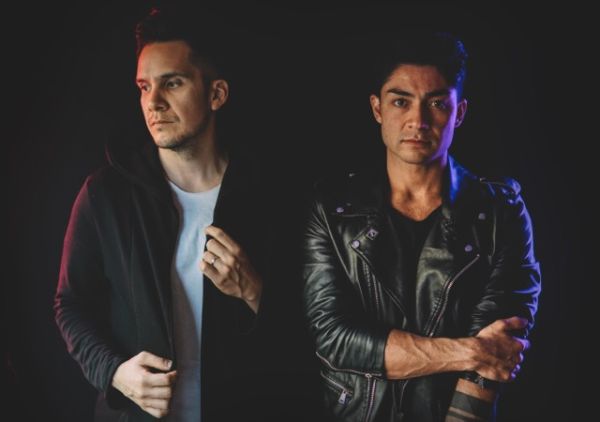 22 November 2017
By An Ion; Photo courtesy of Mora May Agency
The Big Takeover is thrilled to premiere the new single from By An Ion, a Los Angeles-based electro-synth duo that recently released its lead single "Autre Vie. Today we're inviting you to listen to the beauty of "Fenestra", a shimmering, serene, and ultimately uplifting song, taking listeners to a place of utopia. Featuring ambient melodic hooks, celestial soundscapes, and '80s-era drum beats, By An Ion hits the sweet spot between M83 and Depeche Mode.
Ray Aguilar and Alex Gonzales merge the worlds of ambient synth and contemporary music, creating a stunning sound that echoes their melody-driven vocals. Dreamy and cinematic, the music speaks of personal and relative topics to the listener. Both members have a similar yet distinct sound to their vocals, which makes the music that more interesting.
Aguilar and Gonzales discovered the power of their chemistry while in the studio and playing in different electronic acts. They describe themselves as best friends and brothers and compare this chemistry to literally finishing each others sentences. By An Ion's heavy use of synth pads and reverb give the music a euphoric and angelic ambiance without shying away from the sometimes abrasive electronic drums. Their layered, lush synthscapes fill every inch of the spectrum, while maintaining a balance that keeps listeners rooted in their empathetic songwriting.
By An Ion's eagerly awaited upcoming EP, Violet Sky, has already had the stamp of approval from industry professionals, being mastered by Pete Maher (Nine Inch Nails, Depeche Mode, Rolling Stones, The Killers). They have also worked in the studio alongside The New Division's John Kunkel, TimeCop1983's Jordy Leenearts, and Spanish synth-pop artist Sergio Palacios from Puerto Aereo. Aguilar and Gonzales continue to collaborate with various artists and are quickly propelling into the next chapter of their musical journey.