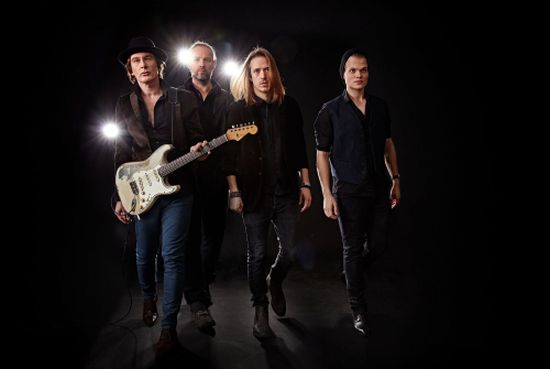 11 November 2016
The Blue Poets; Photo Credit: Olff Appold
Master guitarist Marcus Deml is a veteran musician, producer, and songwriter who is known for his band Errorhead and as the winner of American Guitar Player Magazine's Guitar Hero award. Deml is now at the helm of a new music project, the blues-infused, gritty to contemplative alternative rock band The Blue Poets. Deml, a native of Germany, is joined by Gordon Grey (by way of Australia) on vocals, Phil Steen on bass, and fellow countryman Felix Dehmel on drums.
The Blue Poets blends gritty classic '70s rock and powerful '90s alt-rock, yet keeps it fresh with Deml's signature searing to reflective guitar lines, Gordon's soulful, magnetic vocals, and lyrics that resonate in the here and now.
With The Blue Poets, Deml has returned to his musical roots. As Deml puts it, "I wanted to go back to blues-soaked rock that… hits right in the guts." The Blue Poets' self-titled debut album was released in mid-September and it deftly balances between blazing rock and reflective confessionals, sometimes within the same song.
The lyrically-trenchant and timely single "For a God", which premieres here, is a slow-burning rocker that highlights Deml's guitar prowess, where his guitar-playing conjures an emotive quality akin to the human voice. A troubled and captivating Gordon asks, "…now you're killing for a god / that only you know / …Why?" It's a hard-hitting question in a world that is asking the very same thing.
Official Site
The Blue Poets Facebook
Triple Coil Music
Marcus Deml Facebook
Marcus Deml Twitter