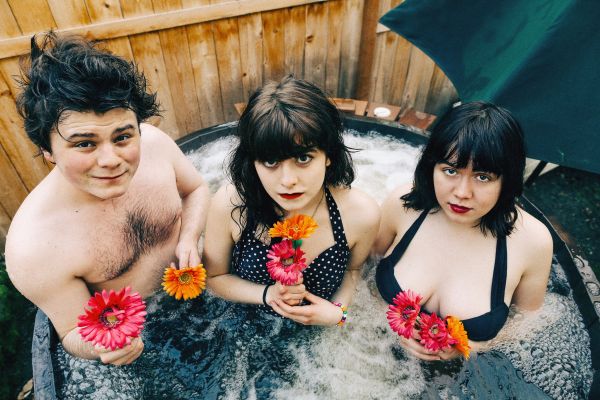 27 April 2018
Skating Polly; Photo Credit: Angel Ceballos
DIY singer-songwriter/multi-instrumentalist step-sisters Peyton Bighorse and Kelli Mayo have been cranking out vivid alternative rock and pop songs since they were a teen and pre-teen respectively. After four critically-praised albums, the pair are back with LP #5, the dynamic and tuneful The Make It All Show, which comes out May 4th via El Camino Media.
Peyton and Kelli have worked with such illustrious music artists as Exene Cervenka of X, who produced second album Lost Wonderfuls, Calvin Johnson of Beat Happening, who produced 2014's Fuzz Steliacoom, and Louise Post and Nina Gordon of Veruca Salt, who both co-wrote last year's New Trick EP.
This time around the Skating Polly duo has expanded to a trio with the addition of Kelli's brother Kurtis Mayo on drums. They bring a fierce energy and fun spirit to their buzzed-about live shows with songs that blend rock, punk, and pop in equal measure. Some tunes are more reflective and gentle, while others burst out with vehement passion.
Passion is something this band has in spades, whether in the studio or on the road. The rough and sometimes raw vibe channeled through their music and pointed lyrics has been tempered somewhat over the course of their releases with a melodic pop blueprint.
"Free Will At Ease", a vibrant cut from the LP, which The Big Takeover premieres here, is a prime example of this expert melding of rock and pop styles and punk spirit. Gritty garage rock guitars collide with tuneful pop-styled vocals, with the smoother verses building up to more explosive chorus sections.
Peyton emotively sweeps through her perceptive words about a complicated relationship in a vulnerable, yearning tone. She's surrounded by Kelli's sweetly airy supporting harmonies, and an up-tempo pace of buzzing guitars, nimble bass line, and kinetic drum beat. "Free Will At Ease" is just one compelling facet of Skating Polly's upcoming album.
Peyton explains that, ""Free Will At Ease" was written during an extremely formative time of my life last year. It was at first a song for someone else (my first real attempt at one of those) then slowly became a song about relearning who I was, even discovering new things about myself. Mostly it's about being true to who you are and cutting toxicity out of your life. It was a hard song to write, to record, and sometimes it's even difficult to perform, but I think that's why it means so much to me."
The Make It All Show comes out May 4th. Preorder the splatter vinyl or CD at El Camino Media
Over the past year, the band has played over 100 shows, performed at major festivals like Riot Fest and The Capitol Hill Block Party, went on a European tour with Kate Nash, and supported X on two legs of their 40th anniversary tour. Skating Polly shows no signs of slowing down, so catch up with them live at the dates below:
TOUR DATES:
4/27 – Dekalb, IL – The House Cafe
4/28 – Columbus, OH – Rumba Cafe
4/29 – Indianapolis, IN – Melody Inn
5/2 – Richmond, VA – The Camel w/Charly Bliss
5/3 – Raleigh, NC – Kings w/Charly Bliss
5/4 – Charleston, SC – Tin Roof
5/5 – Jacksonville, FL – Jack Rabbits
5/6 – Pensacola, FL – Vinyl Music Hall w/Charly Bliss
5/8 – Austin, TX – Stubbs w/Charly Bliss
5/9 – Dallas, TX – Three Links w/Charly Bliss
5/11 – Denver, CO – Marquis Theatre w/Charly Bliss
5/12 – Colorado Springs, CO – Black Sheep w/Charly Bliss
5/14 – Kansas City, MO – Record Bar w/Charly Bliss
5/15 – Davenport, IA – Racoon Motel w/Charly Bliss
5/17 – Chicago, IL – Empty Bottle w/Charly Bliss
5/18 – Ferndale, MI – Loving Touch w/Charly Bliss
5/19 – Toronto, ON – Horseshoe Tavern w/Charly Bliss
6/1 – Norman, OK – Opolis w/Potty Mouth
6/2 – Lawrence, KS – Replay Lounge w/Potty Mouth
6/3 – St Louis, MO – Monocle w/Potty Mouth
6/5 – Nashville, TN – High Watt w/Potty Mouth
6/6 – Charlotte, NC – Milestone Club w/Potty Mouth
6/7 – Washington DC, DC9 w/Potty Mouth
6/8 – New York, NY – Mercury Lounge w/Potty Mouth
6/9 – Philadelphia, PA – Kung Fu Necktie w/Potty Mouth
6/10 – Somerville, MA – Once Lounge & Ballroom w/Potty Mouth
6/12 – Pittsburgh, PA – Funhouse at Mr Smalls Theatre w/Potty Mouth
6/13 – Cleveland, OH – Grog Shop w/Potty Mouth
6/15 – Minneapolis, MN – Lee's Liquor Lounge w/Potty Mouth
6/16 – Omaha, NE – Reverb w/Potty Mouth
7/21 – Los Angeles, CA – FYF Fest
Website
Facebook
Twitter
Instagram
YouTube
SoundCloud
Spotify
iTunes