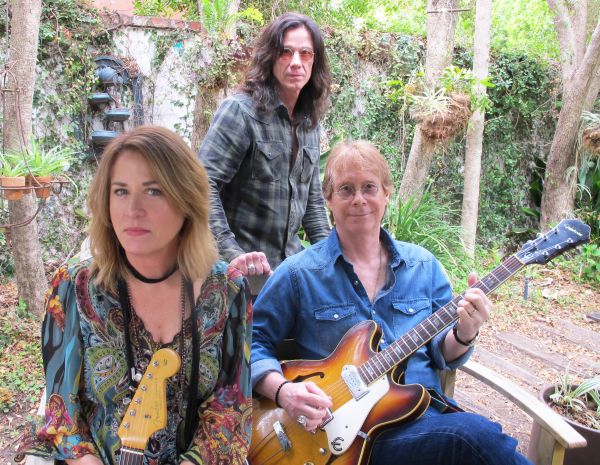 21 August 2017
Action Skulls; Photo Credit: Angela Cartwright
As self-described "Canyon Rock" band Action Skulls, Vicki Peterson (The Bangles), John Cowsill (The Cowsills), and Bill Mumy (Barnes & Barnes) have crafted a years-in-the-making debut album, Angels Hear, which will appear September 29th.
Angels Hear is the long-in-the-works LP that you didn't know you were waiting for from a band you probably weren't aware of.
This album is the debut offering from VickiPeterson of the Bangles, her husband John Cowsill from the beloved family band the Cowsills and currently part of the Beach Boys touring band, and Bill Mumy, the musician/actor/producer who co-founded the cult duo Barnes & Barnes, is a veteran of the band America, and is an Emmy-nominated composer.
You may hear elements of their past work on Angels Hear, but what the three have conjured up as Action Skulls is a slightly darker version of the sunny Southern California sound. It is music that Peterson describes as "Canyon Rock" — partially because they all live in the canyons of Los Angeles, but also because the songs reflect influences of the classic '70s Laurel Canyon scene.
It was a bit of serendipitous singing that brought Action Skulls together. The three found themselves at a Christmas party in 2013 hosted by Mumy's Lost in Space "sister," Angela Cartwright (who designed the album cover art). They wound up around a piano having a wonderful time singing Beatles, Stones, Beach Boys, and other classics into the early morning — and a spark was lit. "It was clear to me from the first night," Peterson recalls, "that we had an interesting blend of three very different-sounding voices." They quickly agreed to see what would happen if they worked together with original material.
Considering it was a night of singing together that brought them together, it's not surprising that their vocals stand out as a core quality of their music. Inspired by groups like the Band, the Traveling Wilburys, and the Kingston Trio (a personal fave of Mumy's) that often divvied up lead vocals on a song, the three frequently share lead vocals on the verses and sing three-part harmonies on the chorus.
Much like the happenstance of their formation, where Action Skulls goes from here remains uncharted. Although they would love to perform their songs live, all three members have their own busy careers. Whatever the future brings, however, they still have delivered the exquisite music of Angels Hear for the world to hear.
The Big Takeover is extremely pleased to premiere "In The Future" from the album, an energetic stomper where everything gets tied together through the trio's gorgeous vocal arrangements. Mumy explains, ""In The Future" chooses retro grooves of the past to contemplate how our present day choices will be interpreted when today is history. Posing questions in the verses like; "In the future, down the line, will we all run on that free sunshine?" An angry punk rock chorus (in 3-part harmony!) answers the questions the verses ask with "All I know is that we're here right now!" Basically it's your typical Bo Diddley-meets- Buddy Holly and X via Action Skulls song."