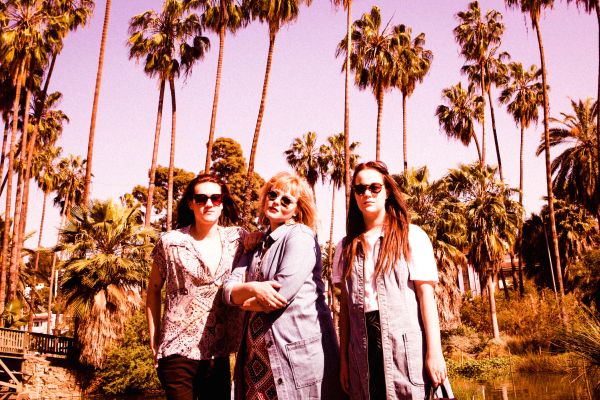 8 June 2017
Mise en Scene; Photo Credit: Jesse DeFlorio
Winnipeg, Canada's emotive garage pop-rock trio Mise en Scene has returned with their second full length album, the vital and insightful Still Life On Fire, due out June 30 on Light Organ Records.
A nod to the '90s riot grrrl in both prose and punk prowess, Mise en Scene was founded by art school friends Stefanie Blondal Johnson (vocals, guitar) and Jodi Dunlop (drums) and are joined by Corey Hykawy (bass) for their latest effort.
Following their critically acclaimed 2012 debut, Desire's Despair, the band received a 2014 Sirius XM Indies Award nomination and toured extensively, making appearances at Primavera Sound Festival in Barcelona, a show in downtown Paris to over 15,000 people and SXSW earlier this year. Still Life On Fire is a 12-track reflective tour de force of irresistible hooks, rib-rattling guitar, vocal melodies that range from lush and playful to biting and raw.
A dynamic and involving new track off the forthcoming album, "Light In The Night" kicks off with fiery percussive guitars while frontwoman Johnson struts her fierce punk chops. She implores with fervent longing for us to see the best in seemingly downtrodden people and dire situations… the light in the night.
Stefanie Blondal Johnson kindly took a break from her busy schedule to touch base with us about "Light in the Night" and the upcoming album:
Hello! Your recent single "Young Leo" was so fresh and expressive – and you've done it again with "Light In The Night", which we are thrilled to premiere here. Can you go into what this song is about and why you chose this theme? Was it sparked by a specific situation?
STEFANIE: "Light In The Night" is about the world that surrounds us in our daily lives and how we chose to live within it. Are we looking for the positives in negative situations? Are we choosing darkness over light? And why are so many of us giving up on the possibility of "light" when confronted with the "night"? The song was inspired by the observations of the downtown streets in Winnipeg, and interactions between strangers. We need more compassion and understanding towards each other and we need to expect more from ourselves. Too many of us are taking the easy way out instead of making the effort to understand the world around us.
How does this single fit in with the rest of the music on your upcoming second album, Still Life On Fire?
STEFANIE: The single fits on the first half of the album, which conceptually arcs from a negative and frustrated perspective. The album ends with a more peaceful and positive perspective. The album as a whole is about confronting yourself and asking "am I awake in my life and the choices I'm making?" And "if I am living, am I doing so with compassion and passion?". There are ups and downs, but it's still life on fire, for me.
What are you plans for supporting the album when it comes out June 30th? Will you be touring or releasing any videos?
STEFANIE: Yes to both! Touring Canada and Western Europe in Fall 2017! And yes, there is lots of awesome video content coming your way soon. It's locked in the secret Mise en Scene vault in Gimli, MANITOBA. Follow our social media to stay up to date with our new videos.
What has the build-up been like in preparation for the release of Still Life On Fire?
STEFANIE: The build up was sloooooow and then fast. It's intense. This album is incredibly revealing in many respects because it is a snapshot of my opinion on the society we are living in right now. But it's also an amazing album to play live so i try not to be self conscious about it. I can't wait for people to hear it and I want people to see us play the album live because it's a very intense, fun and emotional performance for us. At this point I'm ready to celebrate this album, I can't wait for everyone to hear it!
Official Site
Facebook
Twitter
Instagram
YouTube
Bandcamp
SoundCloud