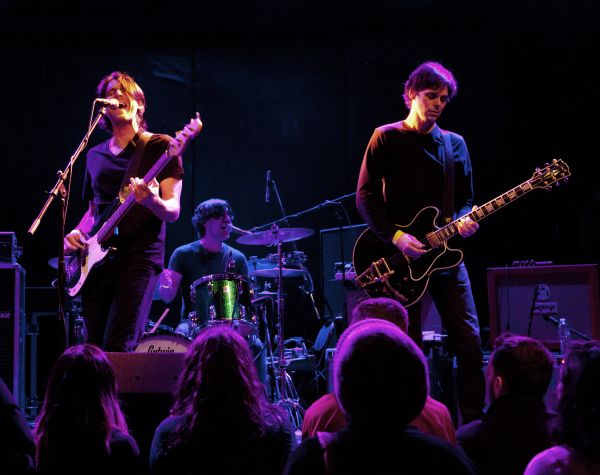 9 March 2018
Dead Heart Bloom; Photo Credit: Michelle Repiso
Dead Heart Bloom's core members Boris Skalsky and Paul Wood have long been known for their particular brand of 'ambient' rock. After an extended break, the New York City-based band return in 2018 with "Lost In A Dream", brandishing their signature guitar-heavy textures over a propelling rhythm section and vocals that effortlessly weave throughout the mix.
The track continues on the guitar heavy trajectory of Dead Heart Bloom's previous 2 singles, 2015's "Motion" and "Gather Up". Those tracks were compared favorably to the likes of Black Rebel Motorcycle Club and Smashing Pumpkins. If it seems there is a slight '90s bent to the current DHB sound, guitarist Paul Wood agrees. "We've gone ahead with some pretty blatantly proper solos recently which we've tended to shy away from previously. Its kind of felt like guitars haven't been a big focus for a lot of bands recently and its a side of our sound that people tend to respond to so we've stopped thinking about it and just went with it," Paul says of DHB's recent recordings. Fans of Bends -era Radiohead, early '90s Mary Chain or any number of melodic, noisy guitar bands will take comfort.
The pair originally met up in Washington DC's early-aughts shoegaze/dreampop band Phaser. Phaser had made name for themselves by creating a sound far removed from the traditional hardcore, punk and indie pop sounds that city had long been a hotbed for. As Phaser dissolved in the mid-2000s, Boris started Dead Heart Bloom as a solo project based in NYC and quickly released a self-titled debut full length and the follow-up acoustic EP Chelsea Diaries. Both received positive critical attention. Soon after, guitarist Paul Wood found himself relocated to the city as well and the pair teamed up, sharing a rehearsal space and studio which produced a string of EPs and a second full length, 2010's Strange Waves.
2011 saw the two joining former Phaser bandmate Mike Reina and Smashing Pumpkin's Jimmy Chamberlin as touring musicians in the Dangerbird Records released Skysaw.
Upon returning, Dead Heart Bloom released another string of 3 EPs, this time produced by Mercury Rev bassist Anthony Molina. Those EPs were bolstered by a heavier sound with the addition of former Longwave drummer Jason Molina.
"Lost in A Dream" precedes an upcoming EP slated for release in late Spring/early Summer on their own recently launched Ephemeral Arts label. Boris admits the label is part, "home for our work and part platform for friends and and previous collaborators to release tracks in a low pressure, artistically supportive environment." To date, the label has released a string of digital singles including electronic pop by Brooklyn's Modern Nations, singer-songwriter Bob Oxblood and assorted Dead Heart Bloom-related projects.
Website
Bandcamp
SoundCloud
Ephemeral Arts Website