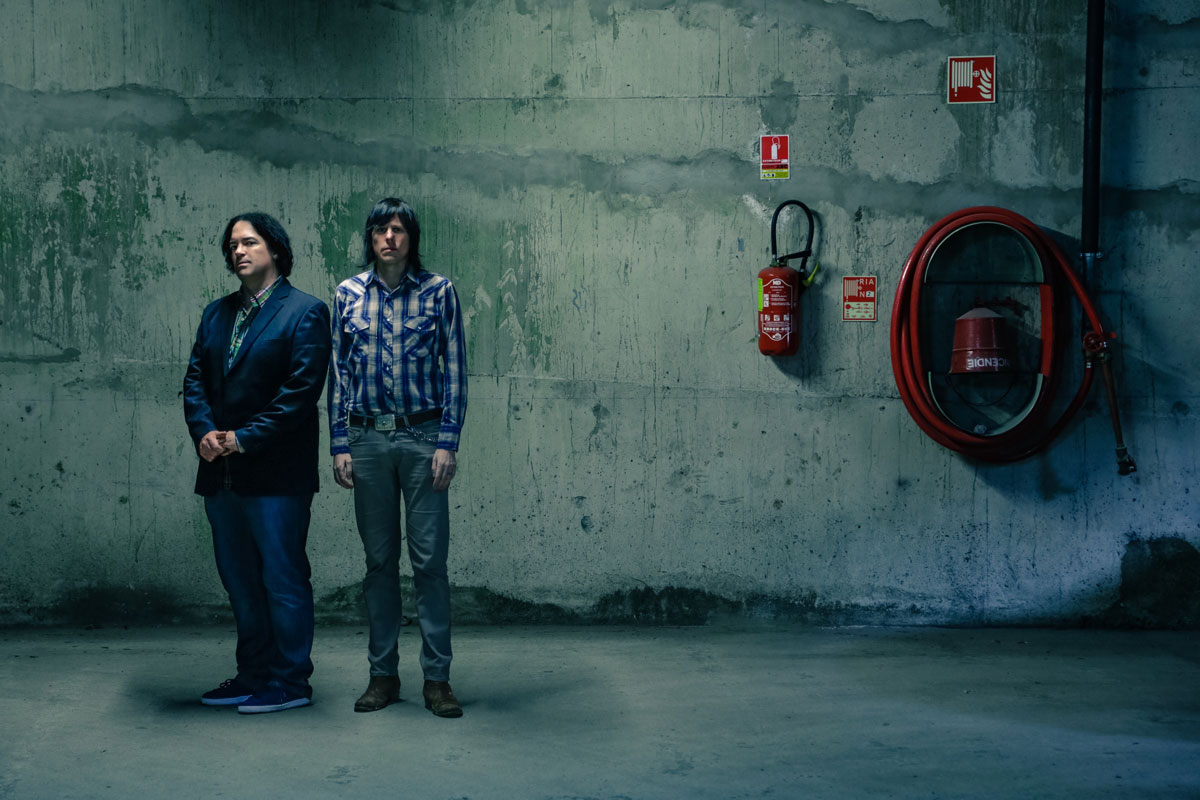 15 April 2016
Photo by Dot Pierson
Hey now! What have we got here? Why, it's the third new single from our old friends, The Posies! Yes, Jon Auer and Ken Stringfellow are back, with Solid States, the band's first album of new material since 2010's acclaimed Blood/Candy.
The album, due out May 20 on MyMusicEmpire, will be preceded by the Posies' Solid States Secret Shows tour of the U.S., launching in Van Nuys, California, on April 28 and wrapping in Oakland on May 29 (dates below).
Like the first single, "Unlikely Places", which Brooklyn Vegan premiered on April 5; and the second single, "Squirrel vs. Snake" — which BV also snagged, without permission, and snuck onto the earlier post (We were looking forward to premiering that today. Thanks a lot, BV!) — "March Climes" is a vigorous leap in a new direction for Auer and Stringfellow, a stirring response to the untimely deaths of drummer Darius Minwalla and bassist Joe Skyward in 2015, and 2016, respectively.
"There's a circularity to Solid States, since it was almost entirely done at our respective home studios," said Stringlfellow. "Our first album, Failure, was recorded at Jon's home studio in 1987 and 1988. Different technologies, different levels of wisdom vs. naiveté, for sure, but… due to circumstance, we find ourselves a duo again."
According to Auer, "March Climes" was written "directly after the Charlie Hebdo attack as I was living in close proximity (suburban Paris) and seeing the effects and reactions unfold in real time. Part of that is in the song, coupled with a falling out between a musician friend of mine who'd suddenly found himself publicly at odds with the leader of his then band.
"You think you've known someone, that you've had each other's back…then life reveals you only had part of a clue," Auer said. "There's a bit of longing for a more empathetic time in there as well, when humanity wasn't in such short supply."
In recording Solid States, Auer and Stringfellow also tapped the talents of drummer Frankie Siragusa, who's also currently touring with the band, along with ex-Flaming Lips drummer Kliph Scurlock and singer Gizelle Smith, as well as Auer's wife Tiz Aramini and Stringfellow's daughter Aden. "The rest," Stringfellow said, "is us."
We at The Big Takeover are delighted to share this great new song with you all, and we can't wait to hear the whole album — but hopefully not on Brooklyn Vegan! :-)
The Posies – 2016 Tour Dates
Thurs., April 28 – VAN NUYS, CA
Sat., April 30 – LOS ANGELES, CA
Sun, May 1 – PHOENIX, AZ
Wed., May 4 – AUSTIN, TX
Thurs., May 5 – DENTON, TX
Fri., May 6 – MEMPHIS, TN
Sat., May 7 – LAWRENCEVILLE, GA
Sun., May 8 – RALEIGH, NC
Tues., May 10 – WASHINGTON, DC
Wed., May 11 – PHILADELPHIA, PA / SOUTH JERSEY
May 12 – NEW YORK, NY
Fri., May 13 – BOSTON / SOMERVILLE, MA
Sat., May 14 – NEW CANAAN, CT
Sun., May 15 – PITTSBURGH, PA
Tues., May 17 – CHARLESTON, WV
Wed., May 18 – NASHVILLE, TN
Thurs., May 19 – CHICAGO, IL
Fri., May 20 – INDIANAPOLIS, IN
Sat., May 21 – MINNEAPOLIS, MN
Sun., May 22 – RAPID CITY, SD
Tues., May 24 – BOISE, ID
Wed., May 25 – WALLA WALLA, WA
Thurs., May 26 – SEATTLE, WA
Fri., May 27 – BELLINGHAM, WA
Sat., May 28 – PORTLAND, OR
Sun., May 29 – OAKLAND, CA