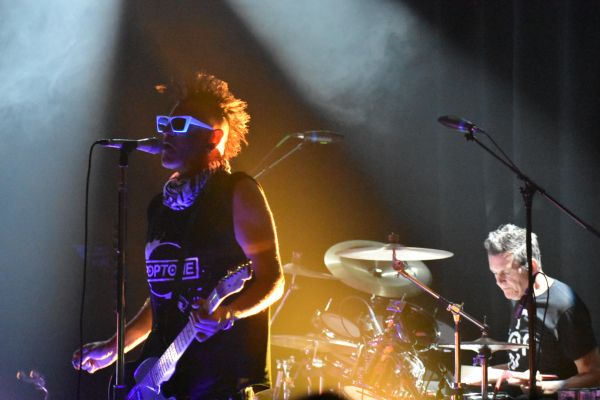 6 June 2018
Poptone – Photo Credit: Brian Hodges
It's not every day that new music is being put out by an artist who has changed the face of music, and even less often that it happens for artists who have done so not once, but three times during the course of their career. Today is our lucky day as The Big Takeover has the honor of presenting new output by such legends.
Poptone is Bauhaus' Daniel Ash and Kevin Haskins, together with bass guitarist Diva Dompé (who also happens to be Haskins' daughter). This is the fourth band the two have started together – apart from Bauhaus, they founded Love and Rockets, as well as Tones on Tail. Together, they continue to carry the torch of these critically acclaimed bands.
Today brings the premiere of their newly envisioned version of "Movement of Fear", which the band believes to be a purer, more interesting version than the original, which was originally released by Tones on Tail.
"We had what I call a magical moment at the radio station when we were recording "Movement of Fear". Got that shiver up the spine buzz," says Daniel Ash.
A double LP will be released June 8th via Cleopatra Records, which consists of 13 songs from their set originally recorded for a recent Part Time Punks session on KXLU. "Movement of Fear" is the second single off the album, following the release of the first single "Go!" and on the trail of a hugely successful West coast tour.
Poptone has also just announced they will head east to tour the Midwest and East coast of North America, including both U.S. and Canadian dates. The trio will bring their blistering show to nine cities, including Minneapolis, Chicago, Detroit, Toronto, Montreal, Boston, SilverSpring (MD), Brooklyn, and Wantagh (NY).
Poptone was propelled to life by an epiphany that woke Daniel Ash up in February 2017. In the early hours, loudly jolted awake by Motorhead's "Ace of Spades", Ash had a light bulb moment… "I need to play live again."
Borrowing their name from 1979 seminal P.I.L track, Poptone is bringing back to life the ground-breaking music of Bauhaus, Love and Rockets, and the otherworldly Tones On Tail, playing a diverse repertoire of their own highly original and hugely influential music.
Their set leans heavily on Tones On Tail, the songs of which have not been performed live for over 30 years! With Diva Dompé faithfully recreating original bassist Glenn Campling's incredible bass lines, Poptone has essentially resurrected the Tones' archives. Having played only 27 live dates during their existence, this band remains somewhat of an enigma. Poptone also performs a sprinkling of solo Daniel Ash, a healthy dose of classic Love and Rockets, and a dash of Bauhaus with live sets also featuring the occasional inspirational cover to stir things up.
"It's been quite a remarkable journey so far! We as a band have been overwhelmed by our loyal following turning up in big numbers and celebrating all the music we have made over the past forty years. We love our audience!," says Kevin Haskins.
Poptone are fulfilling a lifelong dream for much of their audience, most of whom would not have seen Tones On Tail play live during their brief existence. Of course, Bauhaus was resurrected in 1998 (after a 15-year absence) and again during 2005-06 and, save for occasional appearances in 2007 and 2008, Love and Rockets bowed out in 1999. For all three groups, but especially with respect to Tones on Tail, this is your chance to seize the day.
The new Poptone album will be available digitally, on CD in a mini jacket, and on white vinyl in a striking 2 LP set and can be pre-ordered via Cleopatra Records.
You can also support their other efforts – Daniel Ash's new solo single "Alien Love" can be found at at his website#! and Kevin Haskins' new book Bauhaus – Undead from Cleopatra Records
TOUR DATES
June 20 Minneapolis, MN – First Avenue
June 21 Chicago, IL – Concord Music Hall
June 22 Detroit, MI – The Loving Touch
June 23 Toronto, ON – Opera House
June 25 Montreal, QC – L'Astral
June 26 Boston, MA – Middle East
June 27 Wantagh, NY – Mulcahy's
June 28 Brooklyn, NY – Warsaw
July 1 SilverSpring, MD – The Filmore
TRACK LIST
1. Heartbreak Hotel
2. Ok This Is the Pops
3. Mirror People
4. Movement of Fear
5. Happiness
6. No Big Deal
7. Lions
8. Love Me
9. Performance
10. Christian Says
11. Ball of Confusion
12. Go!
13. Slice of Life
POPTONE
Website
Instagram
Facebook
Kevin Haskins Facebook
Daniel Ash Facebook