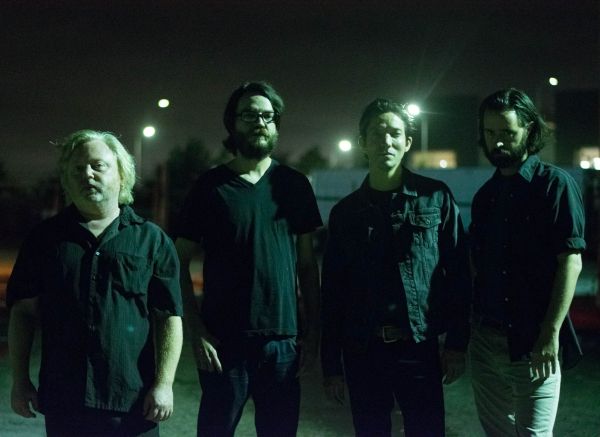 26 June 2017
She Sir; Photo Credit: Jordan Cole
Austin, Texas-based dream-pop kings She Sir return with their long-awaited second album Rival Island. She Sir made a splash in the early 2000's, crafting powerful shoegaze masterpieces and winning over critics and fans alike. And now after a bygone era of gazing at shoes, She Sir brings us their strongest album which turns that introspective gaze ever more inward…
The full-length Rival Island sees the band covering their darkest and most thrilling territory yet, exploring veiled themes of mirrors, dualism, and aging. Surpassing their early shoegaze roots, She Sir reaches ambitious new heights as they embrace chorused guitar textures, Fleetwood Mac like soulful rhythm and bass, and inspired, Pet Sounds -esque arrangements. Expect labyrinthine phrasing, driving rhythms, and plenty of lush reverberated guitar washes.
The record was produced by Louie Lino (Nada Surf, The New Pornographers, Doug Gillard) and mastered by Joe Lambert (Animal Collective, Deerhunter, The National). Like their partially imagined song titles, She Sir blur the lines of the familiar to create an impressionistic, contemporary sound, transcending any direct comparisons to other groups present or past.
The Big Takeover premieres the dreamy track "Pheromondo (Babysitter's Back)" that swims in glistening guitar lines, velvety saxophone diffusion, occasional tambourine jingle, a relaxed drum beat, and hazily drawn out vocals. The thrilling ring of reverb shoegaze guitar echoes in the background on this richly brume-filled, post-shoegaze number.
The band partially explains the meaning behind the song, stating, "A playful song with the titular 'Babysitter' representing Death. "You're the curse I — I mean we both — know." Expressions of intimacy or helplessness: "We're alone…what do you want me to do?"
Rival Island will be released July 21st on limited edition Black Smoke translucent vinyl and Milky Clear vinyl via Shelflife Records.
Official Site
Facebook
Twitter
Bandcamp