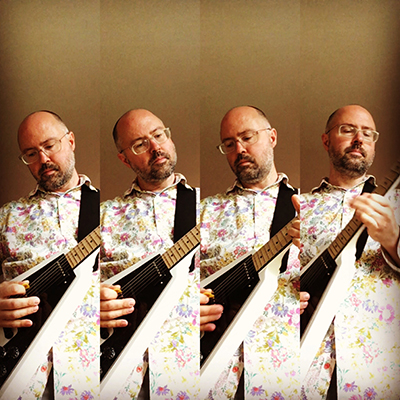 26 June 2018
Lost Chocolate Lab – Photo Credit: KB Kastbauer
Lately there have been a number of really great artists from Seattle making waves. Today we have the pleasure of introducing you to yet another. Lost Chocolate Lab, led by guitarist Damian Kastbauer, presents 'Squall', the first single off their forthcoming Lost Landscapes album.
From soft blankets of distortion to hazy clouds of noise, this is a long-lost love letter to the first wave of shoegaze six-string pioneers, where guitars caterwaul in-collision with cascading waves of reverberation and acrobatic effects-pedal atmospherics. Appropriately named, in this track, Lost Chocolate Lab offers a beautifully relentless stream of guitar sinews, bound together in layers in what feels like fabric that is both therapeutic and mind-opening. There's a great sonic unearthing to be had here.
Here we find the guitar-based lyricism of Godspeed You! Black Emperor or The Grateful Dead, combined with the barely-guitar noise-explorations of Brian Eno, My Bloody Valentine, Jimi Hendrix, and Flying Saucer Attack.
Lost Landscapes is over 80 minutes of spontaneous guitar composition, rippling-with-waves of effects pedal manipulation, bilious clouds of feedback, and laser-sharp tendrils of sonic-storytelling. Recorded over a long-weekend in Seattle in the 2017 winter, base-tracks were laid-down digitally in 2 sessions of single-pass improvisations. Revisited with a second improvised pass of solo guitar atmospherics, this gave birth to the 10 songs on this album. Mastered by Heba Kadry at Timeless Mastering, these sound sculptures harness hi-fidelity emotions.
Lost Chocolate Lab is led by guitarist Damian Kastbauer and became a noise-making unit following the disbanding of Minneapolis noisepop shoegaze pioneers February (Carrot Top / Saint Marie Records) in 1997. Formed as a platform to reach further into the moment through mostly improvisational works leveraging long-form musical expression, Kastbauer has guided this music project through its various formats – from producing mind-bending noise, meditative ambient flute music with Julie Kastbauer, and full-on improvisational space jazz as a trio with Minneapolis drummer JP Hauer.
In its current incarnation, the basic elements of improvisation, instrumental storytelling, and guitar-based expression have been synthesized into a pure expression of the effects-heavy solo guitars, mucking-with the fabric of space and time. These works fundamentally aim to channel the "now" of improvisation and tap into the flow of possibility from fingertip to speaker cone. After setting up a system of playback that allows for the dynamic manipulation of guitar and effects in realtime, the goal is to let it flow and bottle the lightning for repeated playback.
The visual accompaniment to the full Lost Landscapes album was collected during a daily 9-5 commute across the water from Seattle to Bellevue. Soundtracked by evolving landscapes and inexorably linked to a time and place in urban Washington, processing was applied to the visuals in an effort to mirror the unfolding soundscapes that were being refined through a process of daily iteration. What began as a physical expression manifested in the swirling effect-pedal aesthetic of solo guitar performance was melded to abstract visuals in an audio-visual ballet of tonality and psychedelic imagery.
Lost Chocolate Lab's Lost Landscapes' will be available on August 31 across online music stores and streaming platforms, as well as via Bandcamp
TRACK LIST
1. Contents / Weightless
2. Alien Lands
3. Squall 
4. Everything Is Heavy
5. Let's Fold Space
6. Night Drive 
7. Horseback Headspin 
8. We Start Over
9. Dancing Towards Infinity 
10. This Could Be The End
And the accompanying video:
LOST CHOCOLATE LAB
Website
Instagram
Twitter
Damian Kastbauer Twitter
Facebook
Vimeo
YouTube
Spotify
Bandcamp