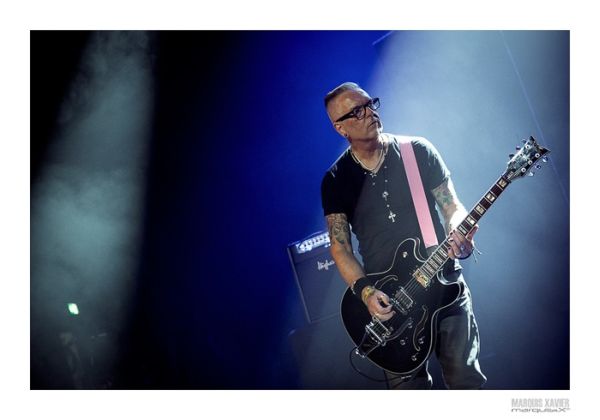 30 January 2017
John Fryer; Photo Credit: Marquis
If you haven't had your head buried in the sand musically over the past 4 decades, you will likely know the name John Fryer or, at the very least, be familiar with a handful of the bands he has produced or made music with during this time, many of whom were on such labels as 4AD, Mute, Rough Trade, and Beggars Banquet.
The list is just massive and there are many renowned bands that have found a home on that collection of record labels, including Depeche Mode, The Wolfgang Press, Cocteau Twins, Yaz (called Yazoo in Europe), Nine Inch Nails, Clan of Xymox, Nitzer Ebb, Love and Rockets, Xmal Deutschland, Fields of the Nephilim, De/Vision, Stabbing Westward, Swans, HIM, Cradle of Filth, Jesus Jones, Swallow, M|A|R|R|S (A.R.Kane & Colourbox), and many others. More recent projects involve Dead Leaf Echo and The Foreign Resort. This is not even a comprehensive list.
And of course, Fryer's own most renowned musical product is not only breathtakingly gorgeous, but it created a template for many musical projects to emerge in the following decades, especially in this digital age. That would be none other than This Mortal Coil – part of the central core of the early 4AD Records legacy. With Fryer on keyboards, strings, and synthesizer sequencing, he and 4AD-owner Ivo Watts-Russell were the only two constant members of this project (and its offshoot, The Hope Blister), which further involved a host of other musicians for collaborations that typified this project as a revolving door of beauty and celebrated diversity while remaining close to a common envisioned soundscape.
Enter 2016, the year when Fryer announced his new music project, Black Needle Noise – having listened to a good dozen tracks he has released over the past year, one can clearly say BNN has picked up the baton from This Mortal Coil and exquisitely run with it. BNN's latest offering, "Swimming Through Dreams", is a doozy with shimmery angelic sweeping vocals from Mimi Page, who you will know if you are a fan of Delirium. She featured on and co-wrote a handful of tracks on the band's latest album, Mythologie, debuting at #7 in Billboard's Electronic chart.
"Swimming Through Dreams" is breathtaking and trance-inducing, a calmly churning soft slowburn of a song that recalls Canadian vocalist Kirsty Thirsk's dreamiest creations – both with Delirium and Rose Chronicles. It sounds like the angel-inspired soundtrack you can imagine as you stand at the edge of the earth at cloud level, looking over the earth's landscape. Powerful, mesmerizing, spacious, and penetrating.
On that note, John Fryer and Mimi Page actually met during the album listening party for Delirium's album last September. A big fan of This Mortal Coil, Mimi and John hit it off right away and their dialogue led to this particularly stunning collaboration.
"With Black Needle Noise, I can write whatever kinda music I like and release whatever I like when I like. With the other bands/projects, they had to have a uniform sound, like most other bands, it has to fit into a box," explains John Fryer. "Black Needle Noise takes you to a whole new level of shinier, richer, darker noise-pop. This project will just keep growing and growing – there are no rules or boundaries for it. The music will be whatever it will be – whatever comes out of me. It can go in any direction it wants. As long as I keep going, it will keep going."
Black Needle Noise continues the "revolving door of beauty" tradition, already releasing singles featuring Jarboe of Swans, Canadian-born songwriter/ guitarist Jennie Vee (she also plays bass in Courtney Love's band Hole), as well as Omniflux of Puscifer, Kendra Frost of Kite Base, Andrea Kerr of Colt, Elena Alice Fossi of Kirlian Camera, and Zialand, among others. With this recent string of releases, John Fryer has once again proven himself to be one of the most innovative sonic architects on the music scene.
'Swimming Through Dreams' will be available via iTunes and various streaming platforms, and is already available on a pay-what-you-want basis via Black Needle Noise's Bandcamp page.
We also invite you to enjoy a few other singles released by Black Needle Noise over the past half year.
Facebook John Fryer
Facebook Black Needle Noise
Bandcamp
Twitter
Instagram
YouTube
iTunes