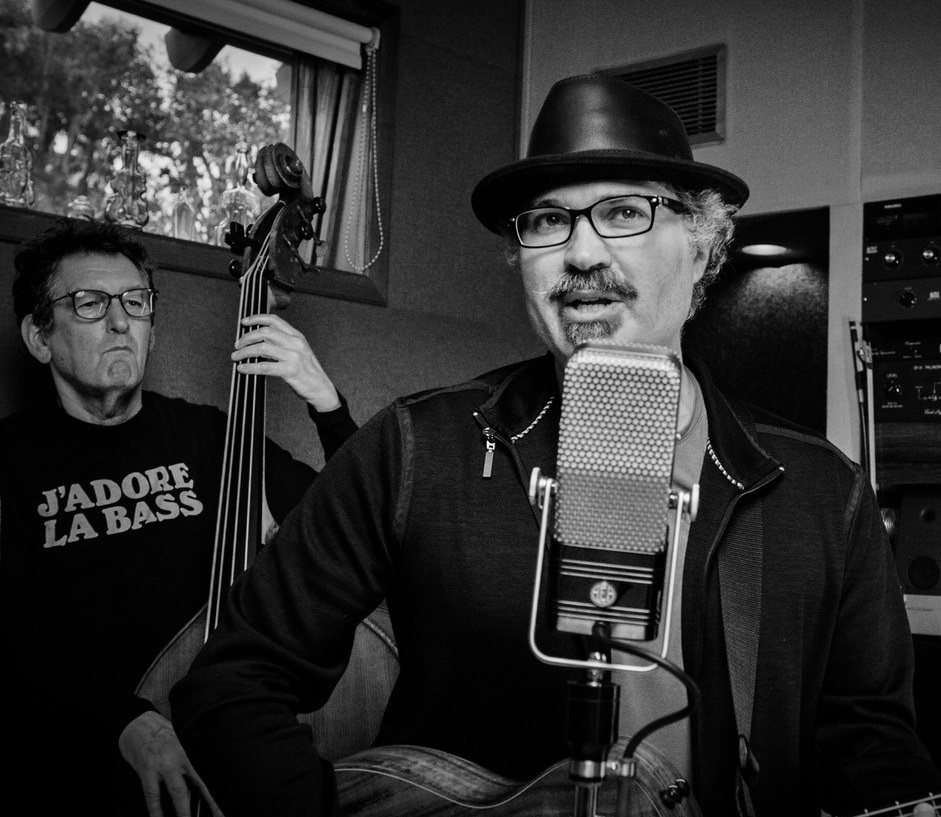 31 May 2023
Photo Credit: Ricky Chavez
"Vincent & Theo" is from the album Soul Smell coming out on all platforms June 2. This unique project resulted from a COVID file-sharing collaboration between two Los Angeles musical fixtures, Emmy-winning TV composer David Schwartz (Arrested Development, The Good Place) and session/touring guitarist Julian Coryell (Alanis Morissette) recording as Vincent & Theo.
Unlike the instrumental and guitar-oriented work they are known for, Soul Smell is a jazzy alt-rap affair that recalls both the spoken word and lyrical grunge of the 90s – Soul Coughing, 311, Cake, but sans guitar, along with a healthy dose of William Burroughs, Tom Waits, and Leonard Cohen's world-weary slices of life.
In just a few short months, they had 11 songs which they filled out with some of their favorite musicians: noted film and television singer/songwriter Lucy Schwartz (vocals, vocal arrangements), keyboard legend Larry Goldings (piano, synths), Death Cab for Cutie's Zac Rae (keyboards, synths), and popular LA session drummer Jake Reed (drums, percussion). Some other top players helped on a few songs, including additional writing on "Bad Porn" by Isaiah Gage, R&B singer Antwaun Stanley, vocals on "Would Be Solar Panel Technician," bass legend John Patitucci for the electric bass solo on "Junk Food Love," and Tamir Barzilay gave some additional percussion to "Junk Food Love" as well.
The band will be debuting their live set at West LA's classic nightclub The Mint on Monday June 5 as part of the Hunnypot Live event series that showcases the best in film/TV music at 8pm. David will be interviewed about his amazing career before the performance by event host John Anderson at 7pm.
The artists describe the surprising origin story of the album, Soul Smell:
(Julian): In April 2020, I got sick with Covid. My symptoms were terrible, and I suddenly found I could not do much of anything. This was the early days of the pandemic. They did not even have a proper test for Covid, and they certainly had no cure. The doctor told me to stay in my house for the next two weeks and hope for the best.
The simplest tasks were challenging. I was not allowed to go to my studio. Going to the mailbox felt like running a marathon. During this difficult time, my friend David sent me an instrumental track and invited me to contribute.
Pre-Covid, I was proud of my belting, brassy singing voice with its flexible range… that was all gone now. I struggled to breathe and was reduced to muttering in low, short intervals to save my breath. When I heard David's track, I could not have sung in my regular style even if I'd wanted to. But as I listened to it repeatedly, amid what was now a great depression brought on by sickness, I started to hear words and felt a feeling emerge. That feeling turned into a kind of character that was yearning to communicate.
I've always written. It's not uncommon for me to write prose for no other reason than just to get it out. Years ago, I used to connect with people by trying to be some kind of rockstar, but I had given that up long ago. I never considered my writing as fodder for songs, only a substitute for that old musical connection I once had. But then David sent that track.
We all tried to stay sane and functional during those early pandemic days. It was tough to sleep at night sometimes.
On one of those sleepless nights, I crept into my living room and put on some headphones. I played David's track over and over. I listened to his sturdy upright bass, the hypnotic drum beat, and the playful harmonic information. Before long, a sympathetic relationship emerged. Some kind of intriguing correlation between words and music. I barely had a voice. Breathing was difficult. Not to mention my girlfriend and her daughter were asleep in adjacent rooms. Still, I was drawn to this moment of creative freedom that distracted me from the terror of what we were all experiencing.
I rifled through a drawer and found a cheap microphone. In no way did it resemble the pricey professional ones I had at my studio. I plugged it into my computer, opened a software program, and imported David's track. I mumbled a few words over it. Though I could not really sing or talk for long, I could speak a line or two, stop the recording, catch my breath, and start up again… When I finished, I listened back. I was surprised by what I heard. I had just met, for the first time, a character that later became known as The Storyteller.
The Storyteller was not a part of myself I had met before, and it turned out he had some things to say. Unsure of what I'd done, I listened again, pressed save on the computer, and went to bed.
I awoke the next morning and wondered if it was any good. I gingerly returned to my laptop and listened to what had transpired in the wee hours. To my surprise, I still liked The Storyteller. I screwed up enough courage to send a rough mix to David. He responded positively and asked if I'd like to try another track.
And so it was over the next few weeks, David would send a track, I'd wait until late at night, and then sneak into my living room and whisper some prose over it. Weeks turned into months. Covid dragged on, and this project saved my ass. It was the lifeline I grabbed and held onto when there was no work when you could not go anywhere or see anyone… It became my lone oasis in the desert of fear that surrounded the entire world for two years.
And here we are today. The world has changed forever. People are flying again and eating in restaurants. Work has resumed. And yet, this record endures. It's the most honest thing I have ever participated in. It could not have come about any other way. The Storyteller lives. And now he shall be heard.
(David): At the beginning of the pandemic, with no work coming in, I realized I wanted to start creating my own music. I decided to create tracks that each started with my upright bass… I sent them to a few of my favorite musicians. Julian Coryell sent back an entire song with vocals and lyrics. He asked for more, and in a short time, we had the 11 tracks that comprise the album. Julian and I added various instruments and included a few of our favorite players. Although Julian is one of the world's great guitarists, he refused to play one note of guitar on this project. Everything about this project differs from what someone might expect from Julian or me.
Facebook
Instagram
Bandcamp
YouTube
Spotify