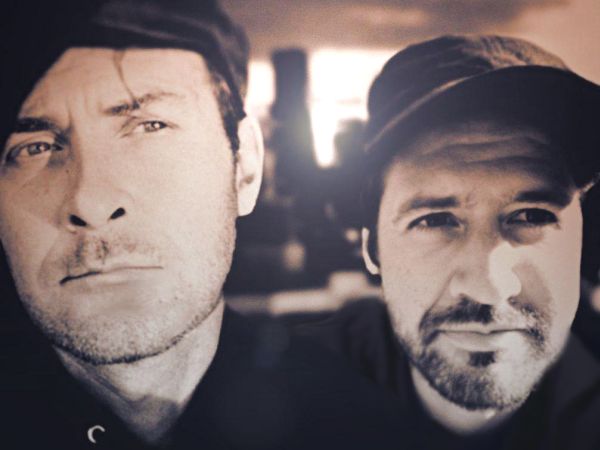 1 March 2017
Lunar Twin; Photo Credit: Lincoln Murphy
A few years after a chance meeting at the Denver Underground Music festival, Chris Murphy (multi-instrumentalist/producer) and Bryce Boudreau (vocalist, songwriter, performer, multi-instrumentalist) started working under the Lunar Twin moniker in 2013.
As Lunar Twin, they have previously released two records, the debut Lunar Twin EP in 2014 on Lunar industry in Los Angeles and Champagne Remixes EP via German boutique label Emerald & Doreen Records in Berlin in 2015.
In addition to his studio work, in recent years Murphy has been a supporting act on bills with many international artists such as Grimes, Bonnie Prince Billy, and Peaches.
The duo's latest output, Night Tides, arrives March 17th on limited edition cassette via Moon Sounds Records (Dallas, Texas / Seattle, Washington) and on digital & lathe cut vinyl formats via Lunar Industry Records (Los Angeles) and Lunar Twin's Bandcamp site. This LP takes listeners on a journey through lush down-tempo. synth, and chill wave, and ultimately to the ocean at night.
Night Tides "…was written and recorded on location in a Hawaiian cloud forest and the Salt Flat Desert," explains Boudreau from his new home on Hawaii island. "We both live thousands miles apart separated by the Pacific Ocean and miles of mountains and desert. These totally different places of isolation are the nexus of our songwriting", states Murphy from his home in downtown Salt Lake.
The Big Takeover is proud to present the premiere of record-opener "Waves", a deeply reflective piece that dives into the mind's eye with stately grace of extended synth lines, contemplative piano notes, and Boudreau's ruminative vocals. This noir inward gaze is given a wider view with the addition of rhythmically peppy accompanying tropical percussion.