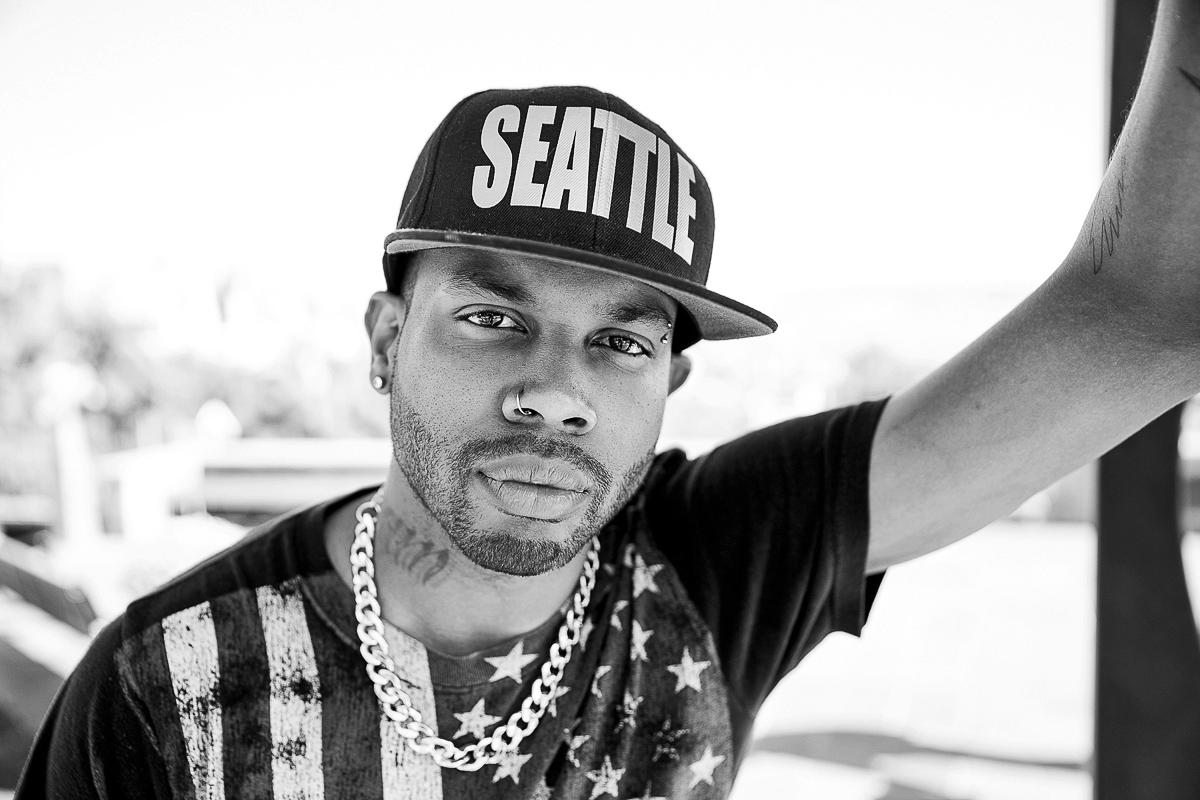 5 September 2017
With the release and reception of his album Audio Paint Job, Ayron Jones has had a season of fervent media recognition in 2017. This coming after a year of intense creativity and many personal changes for the gifted singer/songwriter/guitarist.
"There's nothing more American than rock 'n' roll," Jones told the Seattle Times, "And in this time period, we need it now more than ever. Regardless of who is responsible, there's divisiveness in this country that we've never seen since the civil-rights era. Rock 'n' roll embodies that American blues soul and spirit. Our generation, as millennials, has forgotten what it means to play rock 'n' roll."
Featuring his most confessional and rocking songs yet, Ayron also embellishes with fiery blues licks and booming hip-hop vibes. The 14 track Audio Paint Job, showcases Ehssan Karimi on drums and Bob Lovelace on bass. This track, "features the vulnerable and lilting vocals of singer Scarlet Parke, the humbling strings of composer Andrew Joslyn, and the deft, upright bass playing of Evan Flory-Barnes." (Times)
The title of Audio Paint Job has multiple meanings for Jones. "It's a story about my mental and spiritual transformation through music." That internal movement can be found in the dizzying array of styles and sounds through the album's confessional narrative arc. The ferocious heavy rock contrasts the honeyed nuanced ballads impeccably. Audio Paint Job evokes a wide range of expression in songs that Jones feels will speak to the diverse musical taste of the current times.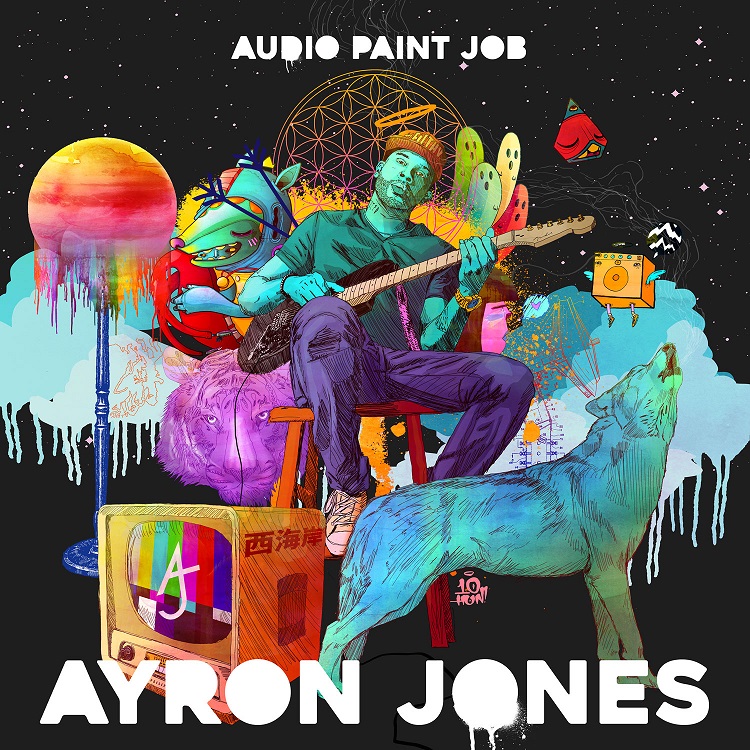 Jones credits his relationship with previous producer Sir Mix-A-Lot with introducing him to professional songwriting. He also credits him with eventually moving him ahead to better compositions. However, it was co-crafting the sophomore release with Barrett Martin (Mad Season, Screaming Trees, Tuatara) and Jack Endino (Nirvana, Soundgarden, The Gits) that elevated the new sound to match the seriousness of the song topics.
After Jones released his debut he sought out Endino to ask if he would be interested in recording his next album. In doing so, he was led to do a recording project with Martin. "I grew up in Seattle so I knew Jack Endino and Barrett Martin were Seattle rock gods." He was then enlisted for a band Martin played in that was put together by Emerald City legends Mike McCready and Duff McKagen, called The Levee Walkers. The Seattle super group is based on the Mad Season creative template but has five different singers from around the world replacing Layne Staley. Martin offered to record Audio Paint Job and Jones went for it, with Endino doing the mixes.
Jones has gotten and given a lot of thrills opening for major acts such as Guns N' Roses, B.B. King, Run-D.M.C., Public Enemy, Rahkim, Jeff Beck, Robin Trower, Spearhead, and many more; and at festivals like SXSW, Sasquatch, and Bumbershoot. He describes the feeling like no other, being on stage front and center with thousands of people watching. He is elated that his feeling that 2017 will be a bust-out year is coming true. "I'm extremely grateful and anxious to see what's next." This is only a testament, which confirms big things are ahead for Ayron Jones.
Fri/Sep-29 Minneapolis, MN @ Skyway
Sat/Sep-30 Des Moines, IA @ 7 Flags Event Center
Sun/Oct-1 Madison, WI @ WJJO/Sonic Boom
Tue/Oct-3 Columbus, OH @ Express Live (Indoor Stage)
Wed/Oct-4 St. Louis, MO @ Delmar Hall
Fri/Oct-6 Indianapolis, IN @ Deluxe at Old National Centre
Sat/Oct-7 Detroit, MI @ St. Andrews Hall
Sun/Oct-8 Grand Rapids, MI @ Intersection
Tue/Oct-10 Cincinnati, OH Bogart's
Wed/Oct-11 Cleveland, OH @ House Of Blues
Fri/Oct-13 Stroudsburg, PA @ Sherman Theater
Sat/Oct-14 Albany, NY @ Upstate Concert Hall
Sun/Oct-15 Portland, ME @ Aura
Tue/Oct-17 Philadelphia, PA @ Theatre Of Living Arts
Wed/Oct-18 Sayreville, NJ @ Starland Ballroom
Fri/Oct-20 Baltimore, MD @ Rams Head Live
Sat/Oct-21 Charlotte, NC @ The Underground
Sun/Oct-22 Asheville, NC @ Orange Peel
Tue/Oct-24 Atlanta, GA @ The Masquerade
Wed/Oct-25 New Orleans, LA @ House Of Blues
Fri/Oct-27 Tyler, TX @ Clicks
Sat/Oct-28 San Antonio, TX @ Aztec Theater
Sun/Oct-29 Houston, TX @ House Of Blues
Tue/Oct-31 Dallas, TX @ Canton Hall
Wed/Nov-1 Tulsa, OK @ Cain's Ballroom
Fri/Nov-3 Wichita, KS @ The Cotillion
Sat/Nov-4 Lawrence, KS @ Granada
Mon/Nov-6 Lincoln, NE @ Bourbon Theatre
Tue/Nov-7 Denver, CO @ Gothic
Thu/Nov-9 Boise, ID @ Knitting Factory Concert House
Fri/Nov-10 Missoula, MT @ The Wilma
Sat/Nov-11 Spokane, WA @ Knitting Factory Concert House
Mon/Nov-13 Seattle, WA @ Showbox at the Market