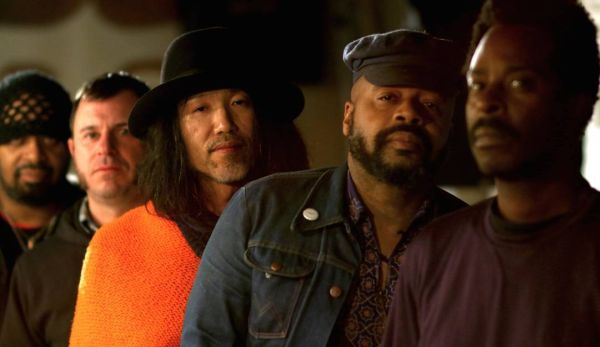 30 May 2018
The Veldt in Asbury Park, NJ – Photo courtesy of The Veldt
A long-held staple on the shoegaze and alternative soul scene for over 25 years now, The Veldt have always intrigued listeners and, if their new video for 'Black and Blue' is any indication, they are not about to let up now. These past five months has barely given them a break from touring and now that they've got a break, it's time for this new video.
'Black and Blue' is off the band's latest album Thanks to the Moth and Areanna Rose, released via sonaBLAST! Records They continue to prove that they are the most innovative group on the shoegaze landscape – they meld genres like no other group out there, blending dense guitar work with a Detroit fueled R&B style. This is like Marvin Gaye and TV On The Radio re-envisioned by the Cocteau Twins, not surprising with Robin Guthrie as their perpetual collaborator.
'Black and Blue' relays a tragic story, based on a book written by Ice Burg Slim: "Mama Black Widow tells the tragic story of Otis Tilson, a stunning black drag queen trapped in a cruel queer ghetto underworld. In hopes of escaping the racial bigotry and economic injustice of the South, Otis' family journeys north from their plantation to an urban promised land. Once in Chicago Otis and his brother and sisters become prisoners to a wasteland of violence, crime, prostitution and rape. This is the gut-wrenching tale of the destruction of a family in purest form. This song is a homage to ice and his writing."
It's no wonder that Pitchfork, The Guardian, and Stereogum have praised The Veldt's work. Thanks to the Moth and Areanna Rose involves contributions by dreampop/shoegaze 4AD legends A.R.Kane and Robin Guthrie, and also legends of the trip-hop/rap/trap legends Jason Furlow, a.k.a. Nosaj of New Kingdom (also Morcheeba collaborator) and Carlos Bess of the Wutang production team.
The Veldt are identical twins Daniel (guitar, vocals) and Danny Chavis (guitar), Hayato Nakao (bass), and Marvin Levi (drums). Initially signed to Capitol Records in 1989, The Veldt soon found themselves in the studio recording their debut album with dream-gaze guru Robin Guthrie, playing American concert halls with Cocteau Twins and The Jesus and Mary Chain, and recording Marigolds with Lincoln Fong (Moose).
After switching labels, Mercury Records released Afrodisiac in 1994, produced by Ray Shulman (The Sundays, Bjork, Sugarcubes). Their single "Soul in a Jar" was an underground hit. Earlier this month, Pitchfork included this album in their top 50 shoegaze albums of all time, calling this "the great lost American shoegaze classic, with influences from Prince to Cocteau Twins to A.R. Kane to the Jesus and Mary Chain (who contributed a remix) fused into something beautiful and unique."
Many years have passed since then. Finally The Veldt, ever the underrated gem, have been experiencing one of the most memorable shoegaze comebacks in 2016, as demonstrated by the wild reception of this latest release, their mini-tour with The Brian Jonestown Massacre, and their recent North American and European tours.
The Veldt's music can be found on Bandcamp. Catch them on June 6 in Winston-Salem at Monstercade (204 W. Acadia Ave.) with Your 33 Black Angels and Micah Gaugh or on June 9 in Raleigh at the first ever Triangle Psych Fest (runs June 7-9 at Kings, TheWicked Witch and The Pour House) – More info here
THE VELDT
Website
Facebook
Twitter
Bandcamp
YouTube
Soundcloud
Reverbnation