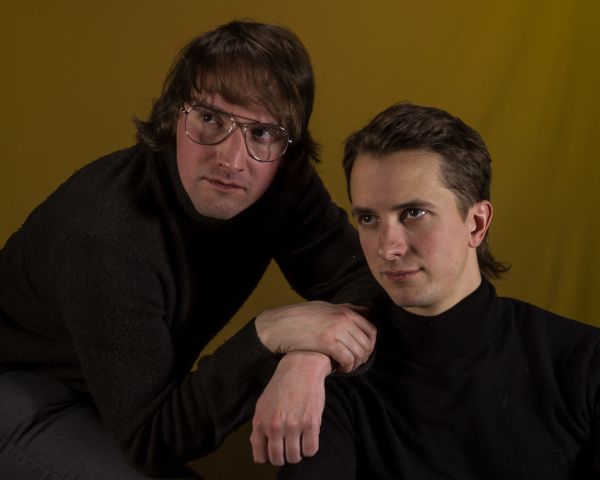 6 June 2018
Feel Alright – Photo Credit: Nick Sawchuk.
The sunny pop of Feel Alright returns in time for spring with the release of In Bad Faith, a carefully crafted collection of DIY gems from Calgary songwriter Craig Fahner. The long-awaited follow-up to his acclaimed 2011 LP Hahahahahaha traces Fahner's movement from Calgary to Montreal to Pittsburgh and back again, and is out now on Toronto's Pleasence Records.
The rad new video for "Cool Water", which The Big Takeover is excited to premiere, is basically a surrealist nightmare version of the Sims, as you follow along a naked virtual character as he traverses through a psychedelic headfuck. The whole video is in juxtaposition with "Cool Water"'s laid-back indie rock vibes, taking you in an almost sinister direction, as you search for hidden meanings and Easter egg lyrical interpretations. The video lets the listener dive deep into the multifaceted nature of the project. There's more behind these infectious melodies; a kaleidoscopic world awaits.
The band's charismatic live sets evoke the studious power-pop of Big Star; the nose-thumbing sneer of The Soft Boys; the DIY balladry of Todd Rundgren and Emitt Rhodes; and the blown out pop of contemporaries like Alvvays and Sheer Mag. Over the course of a three-year writing and recording process, while sharing stages with artists like Spiritualized, Shannon and the Clams, TUNS, and La Luz, Fahner and his band have channeled these new dimensions into their new record, In Bad Faith. "Cool Water" encapsulates this sound and the video highlights the experimental aspect of the project.
Craig Fahner drops details about the conception of the video, revealing, "I made the "Cool Water" video with the brilliant and talented artist Mat Lindenberg using a video game development software called Unity3D. The idea started as a throwback to my childhood encounters with technology – I would spend a lot more time figuring out how to break things than how to use them as intended. I remember playing a skateboarding video game and finding a glitch that would let you float into a white void racking up infinite points, all while generating a beautiful feedback-like image. We attempted to reconstruct that kind of surreal passage into various strange environments, playing off of the song's weightless ambience."
Feel Alright Tour Dates
June 9 – Calgary – The Palomino
June 13 – Hamilton – Hammer City Records
June 14 – Toronto – Owl's Club
June 16 – Ottawa – Black Squirrel Books (Ottawa Explosion Weekend festival)
June 17 – Montreal – Brasserie Beaubien
June 23 – Calgary – Broken City (Sled Island festival)
Purchase at Bandcamp