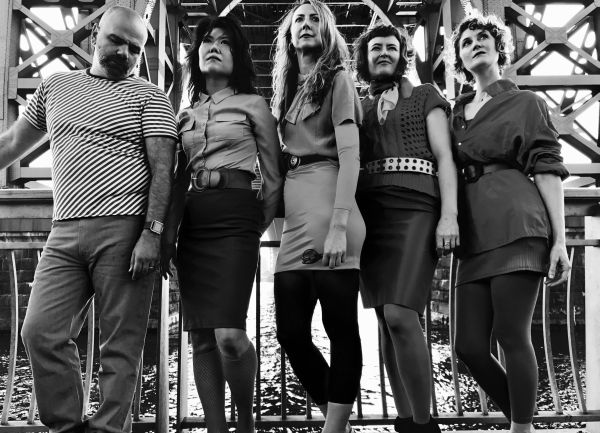 17 May 2018
Jim Andralis & the Syntonics; Left to right: Jim Andralis, Susan Hwang, Jessie Kilguss, Julie DeLano, Leslie Graves; Photo Credit: Larry Krone
Jimmy Gribbin's animated video for Jim Andralis & the Syntonics' "Don't Blame New York" begins with iconic images of the New York City skyline accompanied by a chorus of ethereal voices. Then, abruptly, we're alone with a stop-motion doll who's clearly been through it. He looks like a lost character from Gumby by way of Eraserhead and Close Encounters of the Third Kind. Are his limbs and head really about to fall off? Or is that just what living here does to you?
Manhattan-based singer songwriter Jim Andralis wrote, sang, and played the accordion in the early- to-mid- aughts downtown NYC band The Isotoners, a gay post-punk cult sensation. He later established himself as a featured player among a dazzling roster of performers at the acclaimed Joe's Pub monthly variety show Our Hit Parade from 2008 through 2012. His 2016 LP Your Dying Wish Come True was called "one of the best solo debut discs of the year" by the Miami Herald. The Syntonics (Julie DeLano, Leslie Graves, Susan Hwang, and Jessie Kilguss) have been adding their lush harmonies to his music since early 2017.
"Don't Blame New York" is the very first track from Jim Andralis & the Syntonics' album Shut Up Shut Up. An anthem for those who know the promises and punishments of life in NYC, the song imagines the city as overwhelmed and exhausted by all of us who demand so much from it, then turn on it when we're at the end of our rope. "I blame New York for everything," says Andralis. "Then I defend it wholeheartedly when I hear people I know doing the same thing."
It's a song for everyone who's ever dreamed of living in New York and for everyone who followed that dream and feels that special, near-demonic sense of belonging so memorably described by John Updike: "The true New Yorker secretly believes that people living anywhere else have to be, in some sense, kidding."
The video juxtaposes the romantic hustle and bustle images of Manhattan so familiar from film and television with comically (and occasionally heartbreakingly) mundane scenes of a guy in his apartment. Here he is leaning against a smudge on his bathroom wall he's been meaning to clean for months and will continue to think about cleaning for many more months! Here he is eating take-out pancakes!
The labor-intensive technique of stop-motion adds comic poignancy to the video. It's difficult to watch this doll sing and not imagine a man in his Brooklyn apartment spending untold hours drawing eyes and lips on dozens of pushpins to match each syllable in the song. What better way to convey the work it takes to make even the tiniest mark around this unforgiving place? When the Syntonics show up, it somehow gets easier to breathe. They're not doing anything fancy – just, you know, drinking coffee from straws and kitchenware as tall as they are. There's a certain sweetness to the image of these dolls taped up against a wall together. If they weren't secured there, they'd be just a pile of colored tape and sharp thumbtacks. It's ridiculous, and isn't it also what plain old existence feels like sometimes?
Gribbin, a Brooklyn-based filmmaker, along with his partner Jenn Harris, has also created music videos for The Julie Ruin and Rob Townsend. "The figurines were crafted to look as though they've been beat up and taped back together," he says. His choice of pushpins for the eyes and mouths of his figures enables the stop-motion animation while also alluding to the tortured minds of his protagonists.
Andralis adds, "I believe there's a real nobility to living here and sticking it out. It's difficult and depleting and occasionally it turns us all into assholes, but I love that about us too. That said, we learn pretty quickly that New York itself is not much of a nurturer, so we need to look out and show up for one another, even when all we want to do is hole up in our little apartments. In many ways this song and video are all about the Syntonics. They transformed the sound of this song when they added their voices to it, and they similarly come to my rescue in the video. Singing, playing and hanging out with them has done wonders for my music and for my soul."
I don't blame New York. I thank it for them and for this video! And for everyone out there who gives this heartfelt song a listen.
Website
Twitter
Instagram
Bandcamp
SoundCloud
Spotify