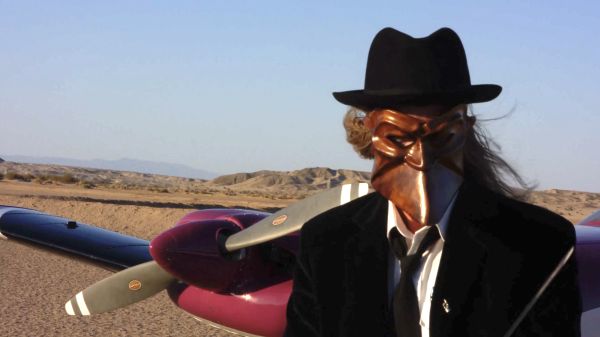 28 September 2017
Christopher Sluka; Photo Credit: Eric Bishop
San Diego-based singer, songwriter, musician, and performer Christopher Sluka, recording under the moniker Sluka, released his latest album, Colorful Radiation, this past June.
Sluka has recorded 11 studio albums and a Blu-ray video album of 2016's Introversions.
All 10 songs of Colorful Radiation have also been captured in video format, shot in 3D and available as a visual album that will be released as a combo 3D, 4K, and Blu-ray package.
Born near Seattle, Sluka enjoyed a multinational upbringing as he was raised all around the world, with his family never spending more than a couple of years in any one location – a life experience that is evident in his cosmopolitan musical compositions.
At the start of his career, Sluka performed on the New York Club scene and recorded a single in Los Angeles (with Cat Gray who worked extensively with Prince). He found an appreciative audience in Japan, where he went on to release a further two albums. His body of work includes the critically acclaimed Emotional Battlefield, Fear of Ordinary Life, A Matter of Perception, Solo Flight and, more recently, Introversions.
Over the years, Sluka's visionary style has developed and matured – always remaining enigmatic, yet keeping a focus on creative songwriting, while cultivating an international reputation for his enthralling live performances. He has gained immeasurable experience from his passion for performing live,"to which he credits the strength of his powerful, yet sensitive voice, as well as inspiration for his songwriting.
The Big Takeover premieres the panoramic video, directed by Eric Bishop, for "Escape to the Refuge of the Desert Virga", a reflective, but pulsing piano piece that features streaming piano notes, subdued percussion and drums, and Sluka's hushed, yet still expressive vocals. The video alternates between shots of Sluka at the piano and the artist in a 'vast desert, blue sky' setting, lighting down and touching off in a lightweight plane (Sluka is an accomplished aircraft pilot) and supplicating and battling (himself?) in the desert environment.
Sluka explains, "Virga is rain that evaporates before reaching the ground. I find that interesting metaphorically. In the video I try to escape civilization in my plane as something sinister approaches. I land in the desert only to confront my own personal demons. At the end I take off, but it is unclear as to where I am headed into an uncertain future."
The Blu-ray for the album can be pre-ordered on Amazon
and iTunes