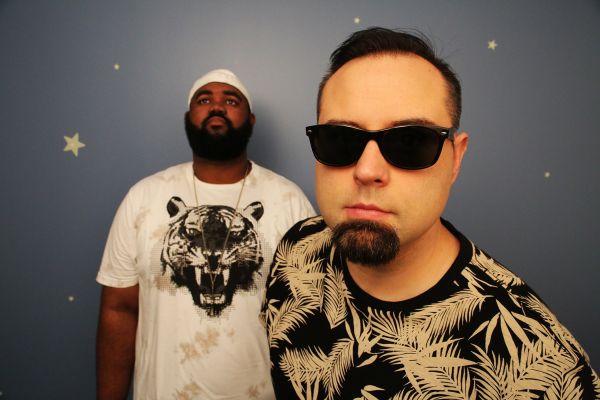 17 August 2017
Underlined Passages; Photo Credit: Ramiro Hird
Since the release of their 2015 self-titled debut album, Baltimore's indie rock duo Underlined Passages has been developing a reputation for their guitar-driven and lush, emotionally intense music. Consisting of guitarist/vocalist Michael Nestor and percussionist Jamaal Turner, the duo continues to deliver songs that resonate, with a fusion of soulful, borderline-wistful vocals, catchy and twangy guitars, and tight drums on their upcoming new album, Tandi My Dicafi, which will be released on September 15th on Mint 400 Records.
Recorded and mixed by Frank Marchand (The Thermals, Bob Mould) from April to June of this year, according to Michael, on Tandi My Dicafi, Underlined Passages presents a "…sonic palette filled with nods to mid-'80s Flying Nun Records, mid-aughts sweater indie rock, and modern alternative rock music. "We wanted the album to be sonically heavier, and more dynamic than our last, The Fantastic Quest.", but still in tune with the core sound that is Underlined Passages.
Michael continues, "The record is the audio culmination of the last six months of our ups, downs, gains, and losses. Its creation served as our catharsis through the emotional roller coaster we as a band have endured. Jamaal lost his wife in tragic freak car accident right before we went into the studio in April 2017, and we struggled to find our footing. This record was like an emotional foundation upon which we could walk step by step out of that tragedy for our band family."
Simultaneously heavy and ethereal, the eight tracks on the record ebb and flow from softened layers of melody to frenetic shreds of distortion to catchy, twangy pop. Igniting a shared emotional connection, the band takes their listeners along their journey from song to song. Tandi My Dicafi opens with the track "Feelings", which is the first video from the album.
"This song is about our current culture of oversharing," Michael says. "Everyone expects you to have feelings about everything. It is not possible as a human to do that. Sometimes, as the chorus states "You don't have those feelings". It is OK to just be and not think. However, the song also deals with the desire to be heard. This modern life is all about the juxtaposition of needing to be seen, and wanting to be anonymous."
Official Site
Facebook
Bandcamp