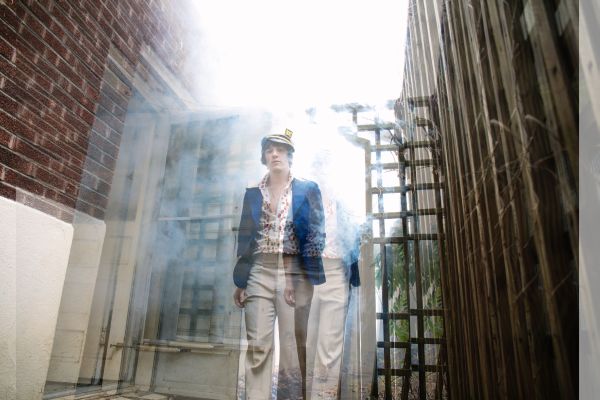 12 January 2018
Nova Flares; Photo Credit: Destiny Robb
It's not very often that The Big Takeover explores the musical offerings from the state of Kentucky, but today we do with artist Nova Flares who presents one impressive track.
This is the solo project of Jason Wagers, and we introduce you to his debut single "Gut Splinter" and accompanying video. The video itself presents hazy footage that weaves in and out of the reverse imagery of photographic negatives, as if depicting an alternative metaphysical dimension within our realm. As for the track itself, here we find a few hot faves in the jangle-pop and shoegaze sphere merging together to create something brilliant – a thick layer of Foliage with a dash of Be Forest and sprinkle of Alvvays and sugar icing from Foals' Antidotes period. A stellar recipe.
Wagers skillfully blends shoegaze and jangle-pop but with a distinct hints of surf rock. But he has not always played the genres being explored through Nova Flares. Now 24 years old, his previous band The Corridors were more into eclectic indie rock. In any case, Wagers new initiative should be music to your ears, so feel free to just trip and gaze in stride.
"Nova Flares is my next step up as a project. I am more excited than ever to share my new music with the world! These songs are past experiences expressed through sound. Each song is applicable as a personal sonic memoir to the listener," explains Wagers. "I imagined video sequences while recording every song for this project and, as a result, all of the songs sound very cinematic and picturesque."
Nova Flares music is heavily influenced by neo-psychedelic bands of the '90s through to those currently active, such as Black Market Karma, Mystic Braves, Holy Wave, and The Brian Jonestown Massacre.
Wagers has dubbed his sound "surfgaze", the style borrowing gazey elements that can be traced back to My Bloody Valentine, Slowdive, The Jesus and Mary Chain, and Beach Fossils, while also being influenced by surf and beach goth bands like The Growlers, La Luz, The Warlocks, and the Allah-Las.
"The songs I create through Nova Flares are supposed to be very cinematic and capture memories and feelings from situations I'd experienced in my childhood and adult life, but these songs are also meant to be left open ended so that the listener could have their own personal sensory experience as well," says Wagers.
Playing in bands and writing music since the age of 14, he eventually learned enough in the music sphere to start producing his own records, appreciative of the freedom and ability to record his own songs and release his own records. Growing beyond guitar to also bass guitar, drums, and piano and also dabbling with vocals over the years. His Nova Flares project provided the perfect opportunity to develop his skills even further.
"A key component to the Nova Flares sound comes from the 1971 Fender Mustang electric guitar that I use in the music. This is a vintage instrument with a "dynamic vibrato tailpiece" located at the palm of the guitar. I move my palm on the dynamic vibrato tailpiece as I strum and pick the guitar to add a wavy effect in the guitar tone. This guitar has a classic American surf guitar tone making it perfect for the "surfgaze" music I've been making.", Wagers concludes.
While The "Gut Splinter" single will be released in early March, it is already available for pre-order via Nova Flares' Bandcamp
NOVA FLARES
Website
Facebook
YouTube
Instagram
Twitter
Bandcamp