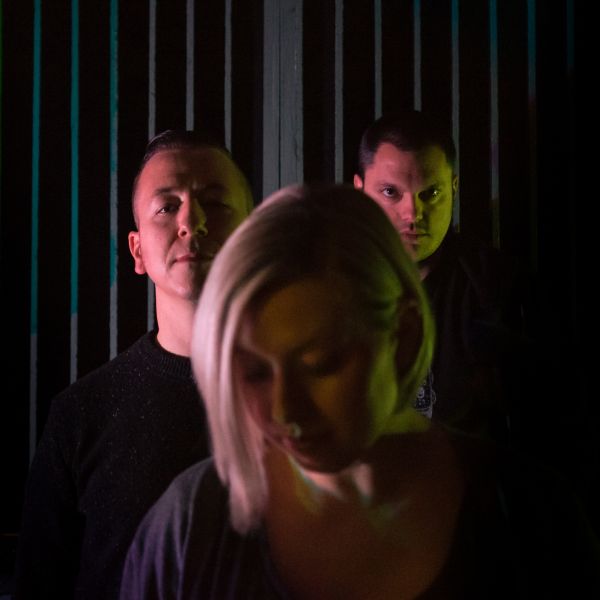 12 July 2017
The Holy Circle; Photo Credit: Nathan Jurgenson
Baltimore, Maryland-based The Holy Circle is the newest band from professor, writer, visual artist, and synthesis wiz Terence Hannum (synths), Erica Burgner-Hannum (vocals), and Nathan Jurgenson (drums), previously of Screen Vinyl Image. Hannum, who is known for playing in the black metal-influenced/drone group, Locrian, takes a completely different route with The Holy Circle pulling together elements of R&B, synth-pop, and shoegaze to create something completely new.
While the phrase, "dark pop" is easily applied here, it doesn't begin to describe the complexities of The Holy Circle's sound. At times, one feels as though this music could have come straight out of 1983, and at others, the forlorn keyboard strains and heartbreaking chorals are achingly modern. Existing beyond the constraints of designations such as "goth" or "synthwave," while the sonic palette may be—broadly speaking—downtempo and sombre, The Holy Circle defies simplistic genre definitions, projecting an aura of pure light.
The band's debut self-titled album was released June 6th via ANNIHILVS. The LP was recorded in Baltimore with J. Dobbins (Dismemberment Plan, Ponytail, Roomrunner).
The Big Takeover is pleased to premiere the video for the dreamy and haunting synth-pop single "Hearts Called". Burgner-Hannum gives some details about the creation of the song, revealing, "This is the only song on the album that we wrote in the studio. It started out as a beautiful, music-box-like riff that Terence recorded on my parents' baby grand piano. I wanted to write lyrics about the difficulties I have experienced as an adult, maintaining a good relationship with my Christian evangelical family while being at odds with their belief system and world view. The riff and the lyrics worked really well together. We intended to record the piano-based version but Nathan had an idea in the studio for the drum beat and we ended up liking that version best."
The video was directed by Dina Fiasconaro, who states, ""Hearts Called" was truly a collaboration between myself, my Director of Photography, Shannon Palmer and our choreographer/dancer, Adrienne Kraus Latanishen. I was initially inspired by the surging forward movement and energy I felt in the song, and knew that I wanted to explore some of the themes in Erica's lyrics (compromise in belief, diametric relationships) via a juxtaposition of geometric patterns of power lines and shots looking skyward, with grounded shots, facing down at cracks in the pavement, weeds pushing through concrete, natural life prevailing despite man-made restrictions. Shannon mentioned that she had always wanted to shoot a dancer, and viola, our two ideas were merged thanks to our picturesque location and the lyrical camerawork and choreography created by Shannon and Adrienne."
Purchase The Holy Circle Digital
Purchase The Holy Circle Physical