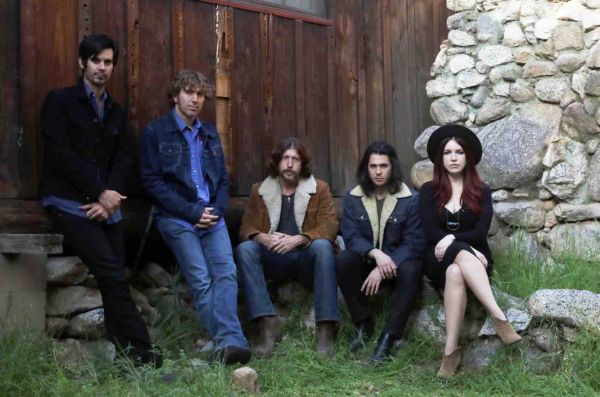 18 April 2017
The Stevenson Ranch Davidians; Photo Credit: Angela Clement
American psych rock mainstay The Stevenson Ranch Davidians are gearing up for their new long-player. Called Amerikana, this 9-track offering will be released on vinyl and digitally via Minneapolis-based Picture In My Ear Records Today, The Big Takeover has the pleasure of premiering the video for "Holy Life", the lead single from this album, produced by Jacob Kedzierski.
Based in Southern California and morphing into who they are since forming in 2006, the band is very much of the now, despite being heavily influenced by a number of key vintage threads, including 1960s psychedelia, folk, and early American roots music. At the same time, the bands that "Holy Life" most distinctively summons to mind are British, including James, The Verve, Mazzy Star, and Spiritualized. On this first single, there's also a dose of The Brian Jonestown Massacre (not surprising considering the band's connection to that project – see below) and Devendra Banhart.
"Holy Life'"exerts a trance-like pull with its swaying, lilting in a mix of psychedelia in what are mere minutes of spacey zen that lend to a sense of timeliness. With vocals as incredibly powerful as James' vocalist Tim Booth, the singer's magnetic factor matches this fantastical piece of music mastery.
Not only this track, but the whole Amerikana album was written, performed, and produced by Dwayne Seagraves, who has been the central force of this band since its inception. Bryan Showalter handled mixing and Isaac Betesh did mastering.
Amerikana is The Davidians first album since 2009, representing a new direction for the band. The band's trademark dreamy, flowing sound remains intact, but is infused with fresh zest and vigor. Here again, they remain true to the band's goal of creating music that seeks to simultaneously demystify and deify the human experience.
Seagraves hopes to convey the sense that human beings have been the sole source of all great insights and achievements throughout history, and that power originates from within individuals rather than from gods, governments, or other external sources.
""Holy Life" is basically a deification of the Human Spirit," says Seagraves. "I view the record and every song on it as a celebration of the human spirit as well as a condemnation of those who seek to destroy it. What inspired it was a period of time in which I was exposed to those who seek to destroy it and the record was written as a direct counter balance to that."
The band's new line-up brings a range of talent, experience, and inspiration to The Stevenson Ranch Davidians' sound. In addition to long-time Davidians' bassist Jessica Latiolait, guitarist Rob Campanella is a member of The Brian Jonestown Massacre and The Quarter After, while his brother, drummer and backing vocalist Andy Campanella, is a veteran of Occult Wisdom, Imogene, and Chief Nowhere. Guitarist Misha Bullock, the sole Englishman in the fold, formerly played with Tennis System.
Slated for release on June 5, the Amerikana LP can be pre-ordered via Picture In My Ear Records On this label, the band joins a healthy roster, which includes Chatham Rise, Negative Lovers, Driftwood Drones, The Volta Sound, First Communion Afterparty, and Barcelona's STAY, who teamed up with Andy Bell (RIDE, Oasis, Beady Eye, Hurricane #1) for this latest release.
Also check out the tracks "Lookin' For a Line" and "Feelin' Good", both taken from their album Life & Death:
THE STEVENSON RANCH DAVIDIANS
Official Site
Facebook
Twitter
SoundCloud
Instagram
Last FM