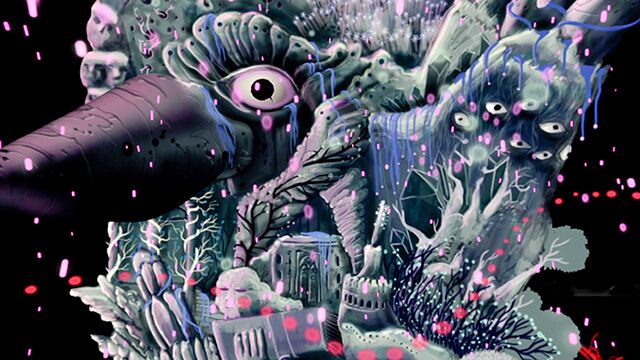 5 December 2016
Video Still; Photo Credit: Davide Di Saro
In collaboration with prolific director and mixed media animator, Davide Di Saro (Land of Talk, Malajube, Coheed and Cambria)​​, Ronley Teper releases her latest video "Lucky and Finnegan" exclusively on The Big Takeover.
The video is the final in a trilogy that includes two other animated short films soundtracked by her songs Faith and Pointy Pedals. The final piece of animation showcases an exuberant and imaginative universe; a perfectly unique pairing for the song's gritty, slow-trotting delivery.
Based on a live recorded song, "Lucky and Finnegan" is a surreal animated film narrating an adventure of mystical creatures racing toward a new world of self-discovery within a shamanic experience. A colourful vision of a surreal voyage through enchanted forests, gloomy haunted houses, monstrous magical towers, giant walking volcanoes, and vertiginous space-time warps.
The video itself is entirely hand-drawn, revealing Di Saro's incredible sensitivity to detail and scale, utilizing low frame- rate, vintage-style classic animation. The film recently went through the festival cycle, and was nominated for the prestigious Jutra award.
Teper has just returned home from a European tour with her band the Lipliners. You can catch her live show in Toronto at The Tranzac Club on December 9th and 17th. You can also choose to download her music via Bandcamp
Find more information about Ronley Teper on Facebook, Instagram, and Twitter